Data Deep Dive
A new tool makes high-resolution imaging data on human tissues easier to understand and use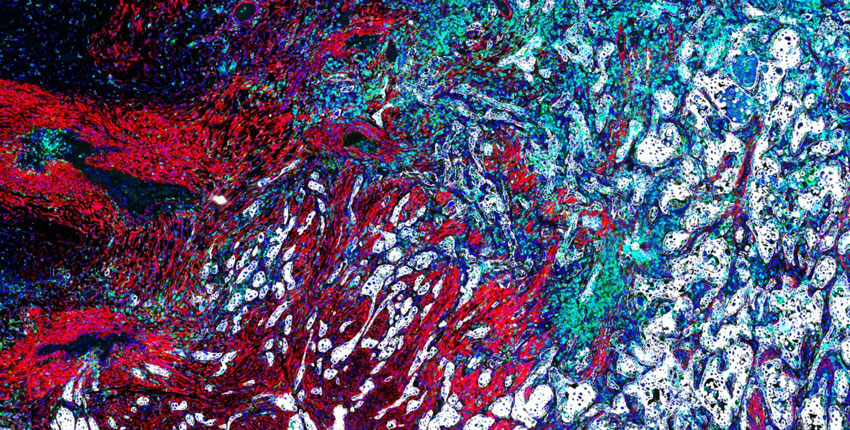 For many of us, Google Maps has become an indispensable daily tool: We pop open a web browser and instantly access a powerful map where we can get directions, zoom in and pan, overlay features like traffic and terrain, and search for specific landmarks.
But what if there were a tool with similar functionality to explore an entirely different kind of map? What if we had a Magic School Bus-esque ability to dive deep into the details of tissues that make up the human body?
This is precisely the idea behind Minerva, a software tool developed by Harvard Medical School researchers in the Laboratory of Systems Pharmacology in the Department of Systems Biology in the Blavatnik Institute at HMS.
Minerva, available online to anyone, is named after the Roman goddess of wisdom. It allows users to access in-depth maps of tissue samples gathered during research, ranging from cancerous tumors to heart muscle in distress. On each map, users can zoom and pan, overlay features such as immune cells, and explore noteworthy areas. The maps also incorporate the expertise of scientists and medical doctors who can create narratives to guide users through the samples.
The researchers hope that as Minerva's library of tissue samples grows, the tool will be used by other scientists, scientific journals, clinicians, trainees, medical students, or anyone who is simply curious, thus allowing scientific information—and scientific expertise—to be shared more broadly.
"We collect a lot of research data, but not a lot of it is very accessible yet, so the question is how do you mobilize complex data so people can get to it in a useful way," said Peter Sorger, the HMS Otto Krayer Professor of Systems Pharmacology, who co-leads the project with Sandro Santagata, an HMS associate professor of pathology at Brigham and Women's Hospital. "That's really what Minerva is about."
Drowning in data
As imaging technology has advanced, so too has scientists' ability to gather extremely high-resolution data about tissues in the human body. With multiplexed imaging techniques, researchers can gather such details at the single-cell level—and that data can contain 50 or 60 layers of information about protein markers and other features. Several years ago, Sorger, Santagata, and their team developed their own multiplexed imaging technique, cyclic immunofluorescence, or CyCIF, that is freely available and uses instruments and chemicals found in most labs.
As the scientists used CyCIF in their own research, they were frustrated by the fact that terabytes of complex, high-resolution imaging data were routinely distilled down into a few small, static images when they published papers in scientific journals.
"What you publish is a postage stamp—a little, tiny JPEG figure, 600 pixels wide—while the real image is well over a few billion pixels, but is stuck on someone's computer," Sorger said.
In recent years, the research community has increasingly emphasized the importance of more complete data sharing, or what has been termed "FAIR" data: findable, accessible, interoperable, and reproducible. In January 2023, a new National Institutes of Health policy on data management and sharing will go into effect, requiring all scientists who receive NIH funding to submit a plan outlining how their data will be managed and shared
We collect a lot of research data, but not a lot of it is very accessible yet, so the question is how do you mobilize complex data so people can get to it in a useful way.
Peter Sorger