News
Daphne Haas-Kogan Named Radiation Oncology Professor at HMS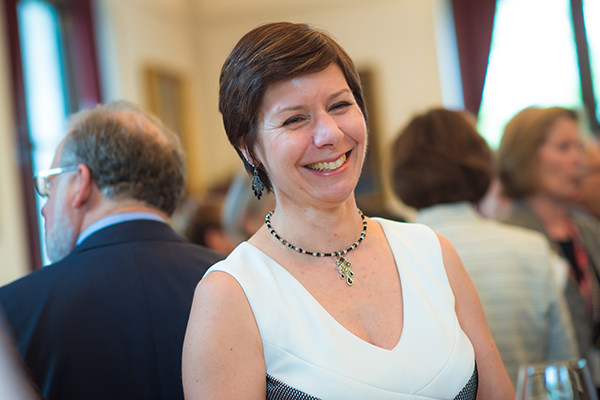 On May 9, friends and colleagues gathered in the Waterhouse Room at Gordon Hall to celebrate the installation of Daphne Haas-Kogan as the Radiation Oncology Professor at Harvard Medical School.
A respected researcher and clinician, Haas-Kogan studies new therapeutic agents for adult and childhood brain tumors and other pediatric cancers. She is the principal investigator for several clinical trials, including cooperative group trials in pediatric oncology.
"Through the establishment of this professorship, Brigham and Women's Hospital is ensuring that Harvard Medical School, Dr. Haas-Kogan and all future incumbents of this professorship will be privileged to advance research and treatments for cancer while continuing to honor Dr. Haas-Kogan's lifelong commitment to the field of radiation oncology," said HMS Dean George Q. Daley.
Haas-Kogan joined the HMS community in 2015 as head of the Department of Radiation Oncology at Brigham and Women's Hospital, Boston Children's Hospital and Dana-Farber Cancer Institute. She received her bachelor's degree at Harvard University and her MD from the University of California, San Francisco School of Medicine. She worked for many years at UCSF in radiation oncology and neurological surgery.
"As we recruited Daphne to this position," said Betsy Nabel, president of Brigham and Women's and professor of medicine at HMS, "what charmed us was she was a brilliant physician-scientist who cared deeply about her patients, but also she was a very thoughtful and collaborative leader who brought a depth of experience in patient care, research innovation, teaching and administration.
"The chemistry was a perfect fit with her many other chair colleagues who I see in this room, for whom collaboration, trust, respect and collegiality go a long way," Nabel added.
Sean McBride, radiation oncologist at Memorial Sloan Kettering Cancer Center and a close friend of Haas-Kogan's, praised her as a mentor and role model. Haas-Kogan's three children also spoke.
Haas-Kogan's daughter Maetal said her appreciation for her mother's commitment to others deepened after visiting the sites of concentration camps in Poland, where members of their family had been killed.
"Through your work, the way you live your life totally dedicated to those around you, you honor and commemorate not only our family and all those who died during World War II, but also those who die every day fighting against persecution and disease," Maetal said.
At the end of the program, Haas-Kogan also spoke about how her family's core values arose from their experiences during the war. Her parents, both Holocaust survivors, "lived because selfless, brave strangers made a choice to put their families' lives at risk to save Jewish children," she said. Thinking about those who survived thanks to "deep-seated, genuine, selfless, brave kindness has really shaped my life's aspirations," she said, including raising children who want to do right by others and being "truly present" while treating children with cancer.
"Looking around the room today, I know with certainty that you are granting me this wish in spades," she said. "I am eternally grateful. I am so honored, so genuinely and deeply privileged to be part of a community in which coalesce genuine kindness, thinking outside the box, imagination, brilliance, dedication and deeply felt caring.
"I really feel like we can change the world together, and I cannot wait to do it with you."
Follow
HMS
Stay informed via email on the latest news, research, and media from Harvard Medical School.