Cultivating Leaders
Visiting Research Internship Program completes successful 10th year at HMS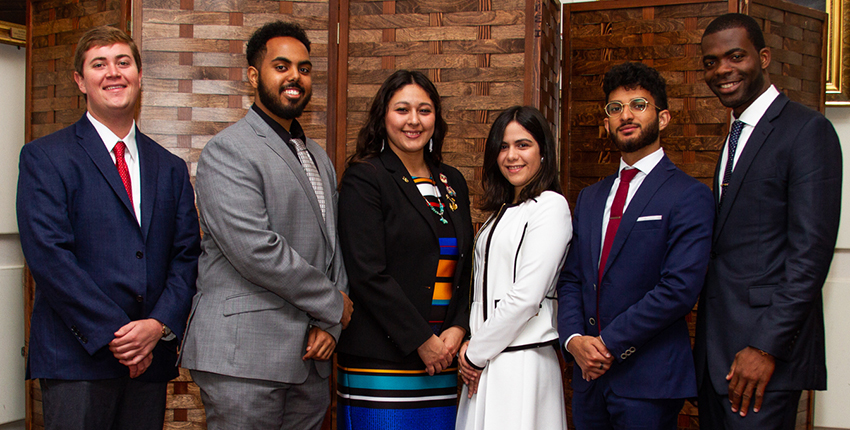 How much research can a medical student get done in only eight weeks? It turns out, quite a bit.
"This experience introduced me to clinical and translational research, and it really opened my eyes. It made me enjoy research even more than I had before," said medical student intern Abraham Isak, a participant in Harvard Medical School's summer Visiting Research Internship Program (VRIP).  
Isak, from Howard University College of Medicine, spent the summer analyzing differences in how female and male brains respond to concussions, working under the mentorship of Alexander Lin, HMS assistant professor of radiology at Brigham and Women's Hospital.
The goal of VRIP is to generate interest in clinical and translational careers among promising medical students, especially students from groups underrepresented in medicine.
VRIP is one of many programs offered by Harvard Catalyst, Harvard University's center for collaborative, university-wide clinical and translational investigation. The program invites six medical students from around the U.S. to come to HMS each summer. Once on campus, they take skill-building courses in clinical and translational research and get firsthand experience working in the lab of a mentor.
Carol Martin, program manager of Harvard Catalyst's Program for Faculty Development and Diversity Inclusion, says VRIP interns demonstrated the scope of their achievements in oral presentations during the program's closing ceremony July 26.
Mariah Cooper, from the University of North Dakota School of Medicine, spent her internship undertaking an analysis of patents from 2001 to 2016 that were related to adipose derived stem cells. She worked in the lab of Dennis Orgill, HMS professor of surgery at Brigham and Women's, with Giorgio Giatsidis, HMS instructor of surgery at Brigham and Women's.
"Clinical and translational research has never been a part of my life before, and I loved being here and getting that experience and working with leaders in innovation," Cooper said.
Cooper's research complemented the work of two previous interns in the Orgill lab and Giatsidis plans to co-write a paper with all three interns—Cooper, Barbara Jones, a member of VRIP 2017, and Trevon Waters, a 2016 intern through another Harvard Catalyst program. Giatsidis said he enjoys keeping in touch with past interns and is excited to collaborate with them.
Giatsidis is not the only mentor who has chosen to participate in VRIP over multiple years. Ronilda Lacson, HMS assistant professor of radiology and member of the Center for Evidence Based Imaging at Brigham and Women's, credits the VRIP interns with being very important contributors to her research on pulmonary nodules.
"We've had more than a couple of interns who've worked on this project over the past several years, and it has had a large impact, both as far as research and operations," Lacson said.
Lacson's mission is to improve Brigham and Women's practices for following up on the detection of pulmonary nodules. The nodules are often found incidentally during scans for more urgent medical problems and then ignored, even though they can be an early sign of lung cancer. Her intern this year, Cristina Rivera Ramirez, from the University of Puerto Rico, knew little about pulmonary nodules before Lacson asked her to study the factors affecting rates of follow up.
Now, Ramirez hopes that her work will help Brigham and Women's and other hospitals improve their reporting and management of patients with pulmonary nodules, thus increasing early detection of lung cancer.
Intern Imazul Qadir, from Howard University College of Medicine, also researched lung cancer under mentor Carmen Priolo, HMS assistant professor of medicine at Brigham and Women's. Priolo and Qadir spoke about the mutually beneficial experience of participating in VRIP. Priolo explained that having Qadir in the lab enabled her to make progress with a project—identifying possible therapeutic targets for small cell lung cancer—that was of great importance to her but had taken a back seat to other priorities in the lab.
"It's been so many years for me thinking about this project," Priolo said. "So thank you to the program for giving us a chance to move it forward."
Godwin Boaful, from the Warren Alpert Medical School of Brown University, similarly helped his mentor, Peter Moschovis, HMS instructor in pediatrics at Massachusetts General Hospital, make progress in a project that has proved work-intensive for the lab.
The lab is designing an app to quickly and accurately diagnose respiratory diseases in children, a challenging task due to the large overlap in symptoms. Boaful helped identify which symptom combinations most strongly match with certain diseases.
William Blake Swicord, from the University of Alabama School of Medicine, researched the mechanisms that lead to atrial fibrillation, an irregular heartbeat that causes much higher risk of heart failure and stroke.
Swicord, under mentor Anthony Rosenzweig, the Evelyn and James Jenks and Paul Dudley White Professor in the Field of Cardiology at Mass General, hypothesized that one mechanism causing atrial fibrillation was an elevated level of a certain protein, Activin A, reducing the availability of channels called connexins between cells in the heart. Although further studies are needed, his research supports that hypothesis.
 "It was really Blake who came up with the hypothesis about connexins, and we were very excited to see that bearing fruit," Rosenzweig said.
Joan Reede, director of the Program for Faculty Development and Diversity Inclusion and HMS dean for diversity and community partnership, wrapped up the closing ceremony by encouraging the VRIP interns to return to the Harvard medical community at any point in their careers.
Image: Brendan Keegan for Harvard Catalyst