News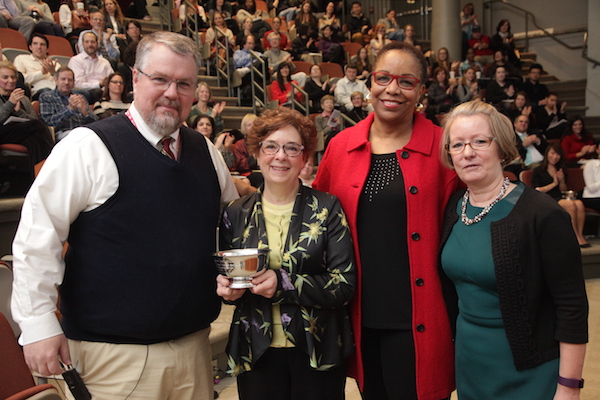 "I always smile inside . . . when I hear students say, 'Thanks, you've just lowered my stress level,'" said Kari Hannibal.
Hannibal, administrator and program manager in the Scholars in Medicine program, part of the Program in Medical Education, was one of this year's two recipients of the Daniel D. Federman Award for Exceptional Service to HMS/HSDM.
"When my boss told me he was going to nominate me for this award, I told him not to bother.  So, I was totally surprised to receive the call telling me I was a recipient," she said.
The Federman award honors a sustained commitment to advancing the School's mission through exceptional service. Last week faculty, students and staff from across the Quad gathered to recognize the first recipients. 
"This, in many ways, is HMS at its best," said John Czajkowski, executive dean for administration, "for it pays tribute to the critical role that staff members play in the overall success of Harvard Medical School and Harvard School of Dental Medicine."
The inaugural honorees were Hannibal and HMS staff members May Corrigan, director of administration and finance in the Department of Neurobiology.
Corrigan has been a member of the HMS community for two decades; Hannibal has worked at HMS for 12 years.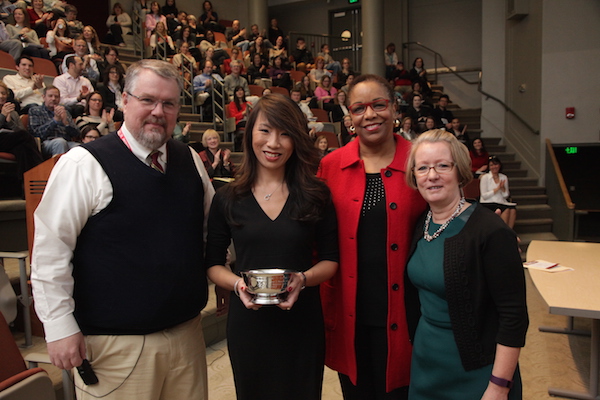 In their comments after receiving the award — an engraved silver bowl — both women emphasized the important role that their relationships with colleagues, faculty and students play in their work at HMS.
"For me, work has always revolved around personal relationships—there is something in each of us to help one another and continue the mission of the School," Corrigan said, as she thanked all those she has had the opportunity to get to know and work with during her time at HMS.
Corrigan supports the day-to-day operations of the Department of Neurobiology. She also plans department initiatives and participates in campus-wide administrative planning.
"I would also like to thank my family for understanding how important my job is to me," Corrigan said, adding laughingly, "and for allowing me to spend so many hours here."
"Recipients are often the unsung heroes among us, who work behind the scenes ..."
"What I enjoy about working at HMS is I know each day I will work with talented faculty, staff and students who are professional and great to work with," Hannibal said to a full auditorium.  
In her role as program manager, Hannibal gives advice to students on funding, project options, deadlines, forms to complete and requirements.
Hannibal said it's the welcoming atmosphere at HMS that keeps her motivated to come to work every day.
"The faculty, staff and students I work with day in and day out are professional problem-solvers and so pleasant and interesting to talk to," said Hannibal. 
The Daniel D. Federman Staff Award for Exceptional Service was established in 2014 to recognize HMS and HSDM staff members who embody Federman's 50-year commitment to service and civic engagement at HMS.
"Recipients are often the unsung heroes among us, who work behind the scenes, giving generously of their time and their talents," said Joan Reede, dean for diversity and community partnership. The recipients were honored at a Dec. 10 HMS Town Hall Meeting in the Armenise Amphitheater.
An advisory committee made up of faculty and staff from HSM and HSDM, as well as HMS-affiliated hospitals, reviewed this year's 43 nominations. The advisory committee reports to the dean of the faculty of medicine, who reviews and discusses each nominee's contributions to the institution and, ultimately, selects the award recipients.
To nominate a member of the HSM/HSDM community for the Daniel D. Federman Staff Award, fill out the nomination form by Jan. 8, 2016. Nominees must work for HMS or HSDM and receive a Harvard paycheck to be eligible.
Follow
HMS
Stay informed via email on the latest news, research, and media from Harvard Medical School.