At the Core of It All
Multitude of facilities offer specialized services, equipment, expertise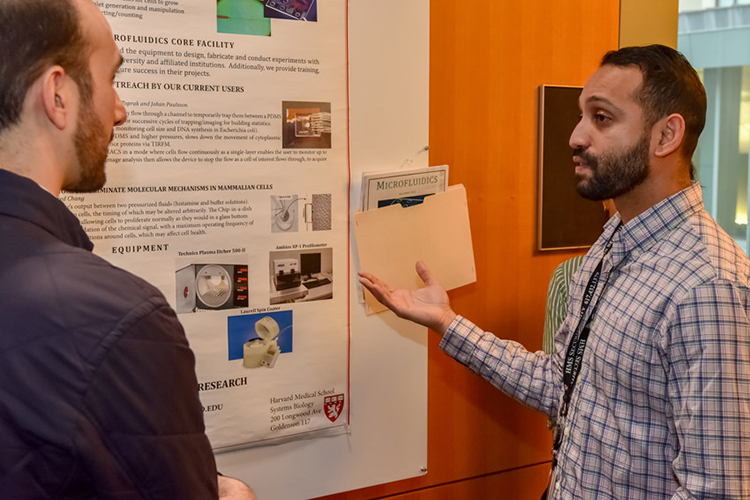 Solving biomedical research problems often requires advanced technology and multiple processes. For individual labs to buy and house expensive instrumentation and train and pay staff to run the experiments for every step can be prohibitive.
So, where do Harvard Medical School scientists turn for more centralized resources to accomplish their research goals?
Whether they need to engineer a quantum device, profile the microbial community in the human gut, or recruit and retain patients in a clinical trial, investigators have access to the services of a number of research cores located either at the Blavatnik Institute at HMS, in the School's affiliate institutions or at other Harvard schools.
Getting the answer
"We can just hand somebody some protein, and they'll do the experiment and tell us the answer," said Jeffrey Way, senior staff scientist at the Wyss Institute and HMS lecturer on systems biology. Wray said, for example, that if he needs to analyze the glycosylation pattern of a particular protein, it would be next to impossible to do in-house. By taking advantage of core facility expertise, Way said, his lab would not need to invest in training staff to run the experiment, only to never use the information in the future.
"We just kind of want the answer," Way said. 
Way hopes the Glycomics Core at Beth Israel Deaconess Medical Center will provide the services he needs. He learned about the core at the Longwood Medical Area Research Cores Poster Showcase, held in the New Research Building at HMS on Nov. 29. More than 400 faculty, staff, and students attended, and 112 core facilities from Harvard and HMS-affiliated institutions presented about their services.
"I think there is a trend, and more of an appreciation, for having shared resources like these cores," said Caroline Shamu, event organizer and director of ICCB-Longwood Screening Facility at HMS. She said there has been a recent push by the School and its affiliates to work together to reduce redundancies across institutions and lower fees for research services.
"Making the core directors aware of each other is a good first step," said Shamu of the inaugural event.
Spreading the word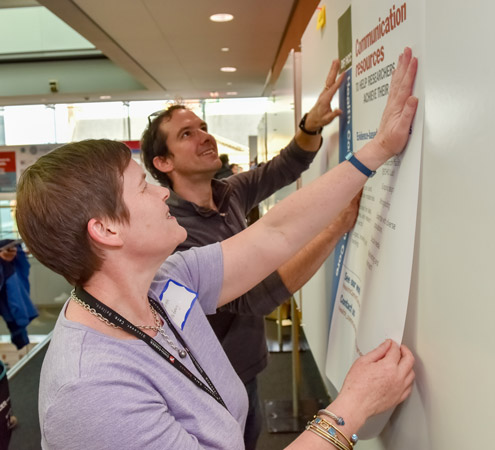 "Everyone is like, oh, this is great—we didn't know that you were here," said Shana McGough, who works in the Health Communication Core at the Dana-Farber/Harvard Cancer Center.
McGough and co-presenter Dave Rothfarb said they met with HMS-affiliated researchers at the showcase who wanted to spread the word about a clinical study and could use the Core's services.
Many of their clients are at the Dana-Farber Cancer Institute and other HMS affiliates, they said, but they also have clients across the nation, as well as in India, Africa and China.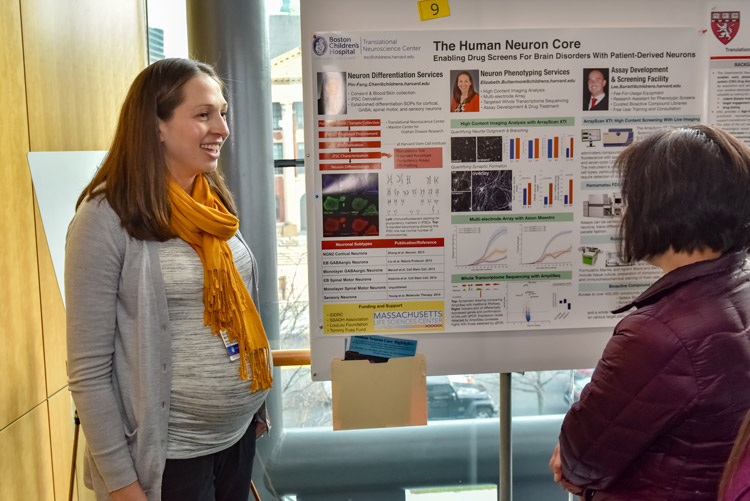 "We feel like even people on our own floor don't even know what services we have to offer," said Elizabeth Buttermore, an assistant director at the Human Neuron Core at Boston Children's Hospital.
The majority of those using the core are local, she said, including researchers at HMS, Massachusetts Eye and Ear and companies and startups in the Boston area. Since they are funded by the Massachusetts Life Sciences Center, "we really want to be a resource for the community," she said.
Seeking services
"I am interested especially in the single-cell core," said Ana Clara Pedroni, a visiting graduate student from Brazil doing research at Harvard School of Dental Medicine. Pedroni visited the poster session to see what new technologies are available at the research cores, learn what training is available and see how the technologies could be applied to her research.
Single-cell sequencing also drew Ann Jacobi to the poster showcase. Jacobi is an HMS research fellow in neurobiology in the lab of Zhigang He at Boston Children's.
"[Here] I can compare directly with other core facilities that offer the same processes that our lab is using," Jacobi said.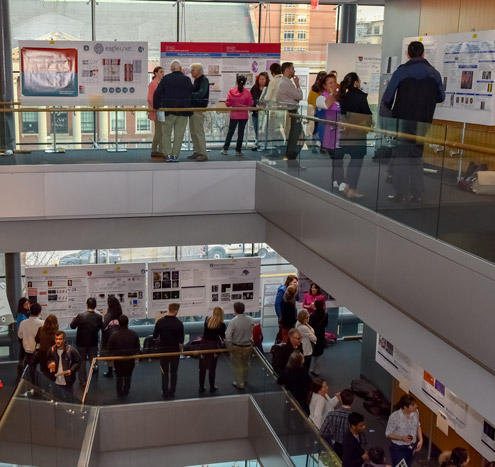 A relatively new facility, the Single Cell Core at HMS was established in mid-2016.
"The technique is pretty new," said Mandovi Chatterjee, core deputy director and a research fellow in therapeutic science at HMS. She said encoding the cells using a method called inDrops, invented at HMS, is just the first step.
"After the product is delivered to the users, those [the cells] need to be sequenced and bioinformatically analyzed," said Chatterjee. Investigators are then referred to sequencing and bioinformatics cores in the LMA, such as the Biopolymers Facility at HMS or the Harvard Chan Bioinformatics Core.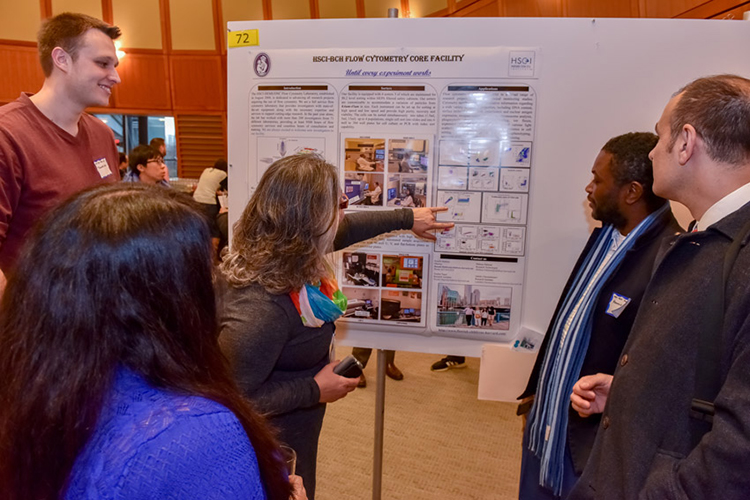 Accessing expertise
"In a lot of cases, these new technologies are so expensive you really have to collaborate," said Shamu.
Co-investments among HMS and its affiliates have resulted in consortium agreements for various facilities, such as the new Harvard Cryo-Electron Microscopy Center for Structural Biology at HMS and the Longwood Medical Area CyTOF Core at Dana-Farber.
"It's also an efficient way to introduce a new technology because a few experts can teach everybody," Shamu said.

Most of the services provided by the Biopolymers Facility are conducted by next-generation sequencing core technicians, such as poster presenters Ashley Ciulla, Baldwin Dilone and Vikram Vishwanath.
They said they've supported a range of interesting projects, such as sequencing the RNA of a young patient with Batten disease to see if a treatment was effective and could be approved by the FDA.
"Being so integrated with the medical community, there are real-life impacts," said Ciulla.
"People have been asking what we offer compared to different cores," said Baldwin. Because of the variables, such as pricing, turnaround time, location, expertise and even the different animal species that cores work with, researchers can find the most convenient and appropriate services for their lab, added Vishwanath.
Helping yourself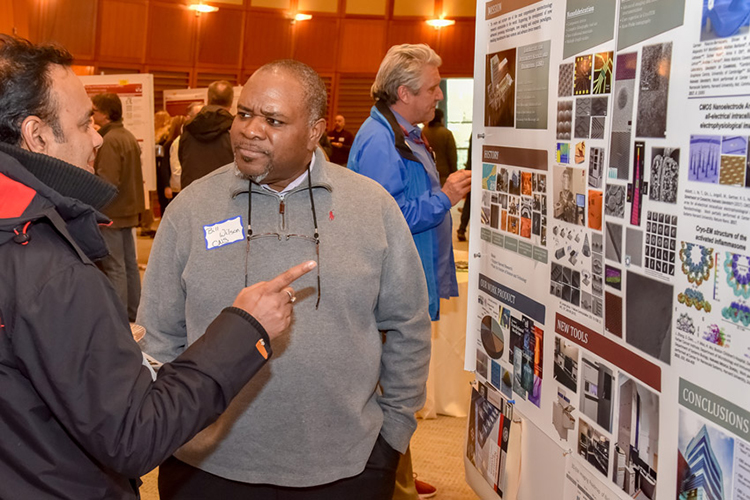 While the work at some facilities is conducted by core staff, other cores have a self-service approach. The Harvard Center for Nanoscale Systems provides training on the instrumentation, which users then have open access to.
"If you are interested in measuring or making anything at the nanoscale, you can do it in our building," said Executive Director Bill Wilson.
Some of the core's clientele from the medical school has included exploratory projects funded by Harvard Catalyst | The Harvard Clinical and Translational Science Center, including "people who are developing assay devices in our nano-fabrication facility to people doing direct measurements, either on electron microscope or in our optics and spectroscopy laboratory," Wilson said.
Looking to the future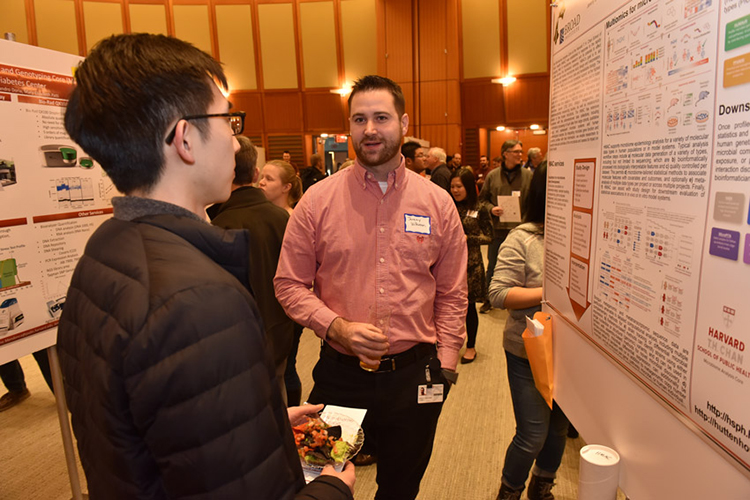 "There was lots of excitement and activity," said Shamu about the event. She hopes the LMA Research Core Poster Showcase will be held every two to three years.
"Bringing the shared resources together from across the medical area is a great way to start the communication between the core directors and the institutions," Shamu said.
For a descriptive list of core facilities at HMS, visit https://corefacilities.hms.harvard.edu/.
Harvard Catalyst has created a searchable database of core facilities within the Longwood Medical Area, now powered by the eagle-i resource discovery platform.
In previous years, a poster showcase was held for research cores on the HMS campus. Read more about the 2018 show here.