Community Service Standouts
HMS/HSDM faculty, staff and students recognized by dean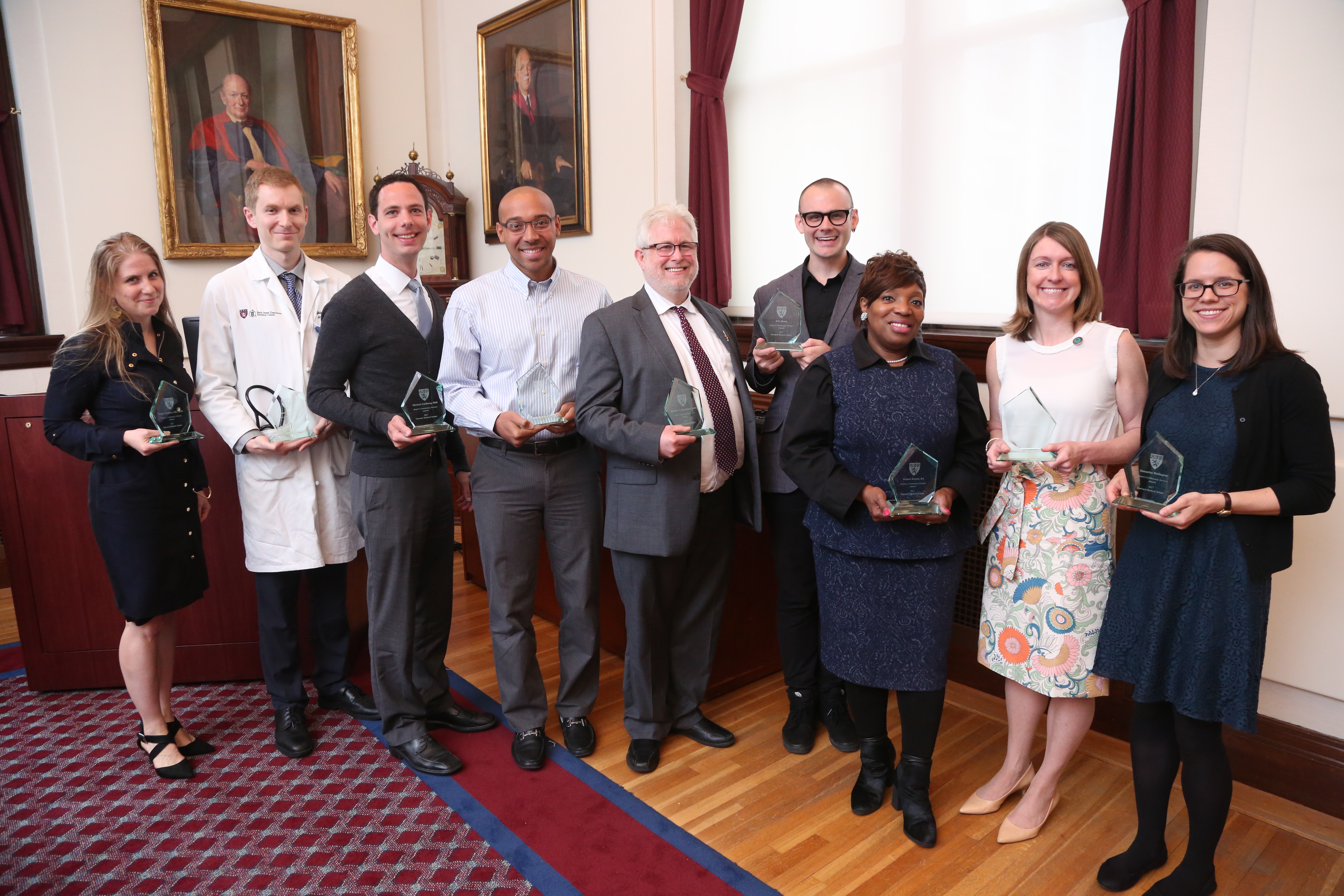 From left: Hanni Stoklosa, Gabriel Foster, Michael Goldberg, Alister Martin, Herbert Birnbaum, Eric Busse, Denise Brown, Sara Looby and Samantha Wellington Image: Jeff Thiebauth

Of the many diplomas, certificates and honors in Herbert Birnbaum's office, his father's diploma from Germany draws the most attention.
Birnbaum's father, Jacob Birnbaum, a Holocaust survivor and former president of the Dental Laboratory Association of Massachusetts, instituted continuing education programs for the advancement of dental technicians and advocated for their right to provide services directly to the public, making them more accessible to those less fortunate. 
Because of these efforts, he says, Birnbaum's father was ostracized publicly and blackballed by dentists, which resulted in the loss of many of his accounts. But Birnbaun said his father was determined to do the right thing by helping others.
Today, just like his father, Birnbaum is committed to giving back and fostering tolerance, understanding and peace through interfaith dialogue.
An instructor of restorative dentistry and biomaterials sciences at Harvard School of Dental Medicine, Birnbaum says his father's selflessness and resilience empowered him to continue his father's legacy of giving back to others. Currently, he works with the Union of Minority Neighborhoods, an organization that empowers low-income people to advocate for resources in their communities, to expand access to dental care.
Birnbaum was one of nine individuals honored at the 2017 Dean's Community Service Awards in June, which recognizes staff, faculty, trainees and students from across HMS and HSDM for outstanding contributions and service to their local, national and international communities. At the event held in Gordon Hall's Waterhouse Room, Birnbaum shared wisdom from a first century Jewish leader, Hillel the Elder, that he said inspired his work. It reads:
If I am not for myself, who will be for me?
And if I am only for myself, what am I?
And if not now, when?
This year's ceremony highlighted how giving several members of the HMS community are with their talent, expertise and time.
Other award recipients included:
Denise Brown, staff assistant in the Office of Student Affairs and  co-pastor of the Greater Vision Tabernacle Church, a faith-based organization that provides support services to people in need. Brown and her congregation distribute food, clothing and other essentials all year round. In addition, Brown has established a mentoring program called "Liberating Our Daughters" that empowers young women.
Eric Busse, a master's candidate in Bioethics, works with Scouts for Equality to promote a more inclusive environment within the Boys Scouts of America organization and to address bullying against LGBT individuals. Busse has contributed to the mission and strategy of Scouts for Equality through advocacy and cultivation of diverse partnerships.
For the past seven years, Gabriel Foster, a clinical fellow in medicine at Beth Israel Deaconess Medical Center, has worked with DR Help, an organization in the Dominican Republic that provides medical services and outreach to rural areas that are most in need. Foster has been instrumental in recruiting and training other medical and pharmacy students to become group leaders.
Michael Goldberg is an HMS assistant professor of microbiology and immunology at Dana-Farber Cancer Institute and co-founder of Camp Casco, a one-week camp for children with cancer. Goldberg helps the organization through strategic planning and by leading fundraising activities.
Alister Martin, a clinical fellow in emergency medicine at Massachusetts General Hospital and Brigham and Women's Hospital, has committed himself to improving access to care for the most vulnerable populations. At Mass General, Martin established a shelter placement program to prevent homeless patients from being discharged back to the streets. He is also developing a program that would facilitate transitions to detox services for patients suffering from substance abuse who request it.
Sara Looby is an HMS assistant professor of medicine at Mass General and a board member with Healing Our Human Collaborative, an organization that has dedicated itself for the past 20 years to mitigating health disparities through educating and empowering women who have been affected by or are at risk for HIV. Looby devotes her time to developing creative educational programming and fundraising.    
Hanni Stoklosa is an HMS instructor in emergency medicine at Brigham and Women's and co-founder of HEAL Trafficking, an organization that brings together multidisciplinary professionals to share resources and best practices to end human trafficking and support its survivors from a public health perspective. Stoklosa has also worked with the U.S. Department of Health and Human Services on federal legislation that calls for health care professionals to recognize and care for human trafficking victims.
Samantha Wellington, a doctoral candidate in the Chemical Biology PhD Program at HMS and Harvard, serves as the pathways director for Y2Y Harvard Square, a homeless shelter for young adults run entirely by students. Wellington works to provide access to medical care, job training, legal aid and other critical services for at-risk youth. Since its inception in 2012, Y2Y Harvard Square has served over 150 young adults age 18-24.
Below are the 2017 Dean's Community Service Awards recipients and the organizations they serve.
Staff
Denise Brown
Greater Vision Tabernacle Church
Students
Eric Busse
Scouts for Equality
Samantha Wellington
Y2Y Harvard Square
Faculty
Herbert Birnbaum
Union of Minority Neighborhoods
Michael Goldberg
Camp Casco
Sara Looby
Healing Our Community Collaborative
Hanni Stoklosa
HEAL Trafficking
Trainees
Gabriel Foster
DR Help
Alister Martin
Mass General Emergency Medicine Department