Code Collaboration
Symposium at HMS launches the Initiative for RNA Medicine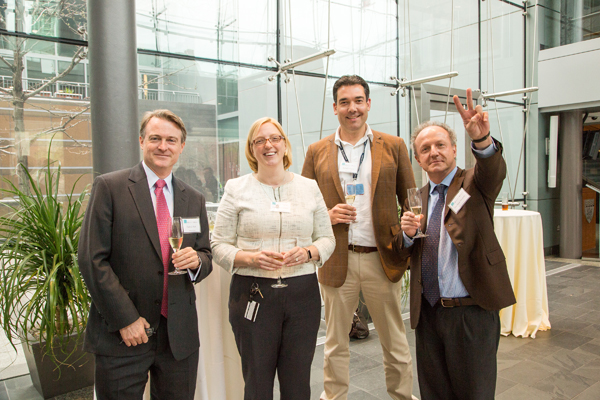 Pictured, left to right: Frank Slack; Gretchen Brodnicki, HMS dean for faculty and research integrity; Richard Gregory and Pier Paolo Pandolfi. Image: Danielle Duffey/BIDMC


Revolution was in the air at the third annual RNA Medicine Symposium, a joint effort by Harvard Medical School and Beth Israel Deaconess Medical Center. In addition to the dozens of presentations given by pioneers in one of biomedicine's most promising fields, the event doubled as an official launch party for the newly minted HMS Initiative for RNA Medicine hosted by the Cancer Center at Beth Israel Deaconess.
"It has only been two or three decades since we recognized the awesome power of RNA," said Frank Slack, the HMS Shields Warren-Mallinckrodt Professor of Medical Research at Beth Israel Deaconess and director of the new collaboration, in his welcoming remarks.
"Our mission is to make breakthrough medicines for patients by breaking down the barriers to RNA research. Our emphasis on clinical impact is what distinguishes us," he said.
Like its better known counterpart DNA, which contains instructions for building the proteins all life depends on, RNA molecules play an integral role in coding, decoding, regulation and expression of genes. But the vast majority of RNAs—about 98 percent of them—were long considered meaningless "junk."
It was only in the 1990s that researchers began to understand these noncoding molecules' significance in the growth, division, survival and migration of cells. It's the ubiquity of RNA molecules across these critical biological processes that makes them such promising new targets for treatment of a wide swath of diseases including cancer.
"I'm so proud to be one of the founders of this research effort," said Pier Paolo Pandolfi, the HMS George C. Reisman Professor of Medicine, director of the Cancer Center at Beth Israel Deaconess and co-director of the new initiative, who established the Institute for RNA Medicine at Beth Israel Deaconess in 2014 with Slack, oncologist Daniel Tenen, and pathologists John Rinn and Jeffrey Saffitz.
"We cannot talk about personalized medicine if we understand only 2 percent of the genome," he said.
"RNA medicine is having a profound impact on every aspect of cell biology and cuts across every disease," said Saffitz, HMS Mallinckrodt Professor of Pathology and chief of the Department of Pathology at Beth Israel Deaconess.
"The opportunities are almost unprecedented. We've made great progress so far and I think we've only just begun."
Among the speakers was Richard Gregory, a professor of biological chemistry and molecular pharmacology at HMS, co-director of the initiative and a cancer researcher at Boston Children's Hospital. Gregory and colleagues investigate RNA's role in allowing stem cells to continually renew themselves.
Also a member of the Harvard Stem Cell Institute, Gregory described his research into Perlman syndrome, a rare genetic disorder that causes often fatal excess growth of organs in newborns, and the role an RNA inhibitor may play in it.
Anna Krichevsky, an associate professor of neurology at HMS and Brigham and Women's Hospital, gave an overview of her work investigating RNA's role in glioblastoma, the most deadly of all brain cancers.
Her team found the RNA molecule known as miR-10b in malignant brain tissues but not in normal tissues. Inhibiting it in mouse models, they found, slowed the growth of glioma tumors.
"Several lines of evidence show that glioma cells cannot survive without miR-10b," she said, making it an attractive therapeutic target for this currently incurable cancer.
Krichevsky's lab has made similar strides in Alzheimer's disease, identifying miR-132 as a significant player in neurodegenerative diseases. 
She and her colleagues defined several miR-132-mediated signaling pathways underlying the pathology, and they suggest that miR-132 supplementation can protect neurons and may one day help prevent or treat Alzheimer's and other forms of dementia.
David Mooney described his research developing new drug-delivery devices that may be relevant to emerging RNA-based cancer therapies. Mooney is a professor of bioengineering at the Harvard John A. Paulson School of Engineering and Applied Sciences and a core faculty member at the Wyss Institute for Biologically Inspired Engineering at Harvard University.
"How do we get cells in contact with the agent we're interested in?" he asked the audience. "About 10 years ago, we decided not to depend on the cells that happen to be there. We decided to actively accumulate the targeted cells and make them more amenable to the cargo we're interested in."
In studies he has conducted in collaboration with Dana-Farber Cancer Institute, this technique has been effective in patients with melanoma, Mooney said.
He is also working on "more friendly" drug-delivery devices like minimally invasive elastic discs that can be injected with a hypodermic needle. His research group is looking into ways to refill drug-delivery devices up to 20 times while they remain inside the body.
Mooney and colleagues are also investigating ways to control the rate of drug delivery from outside the body. One method under consideration is the use of ultrasound waves as a noninvasive trigger.