Christopher T. Walsh Dies
Biochemist revealed molecular basis of antibiotic resistance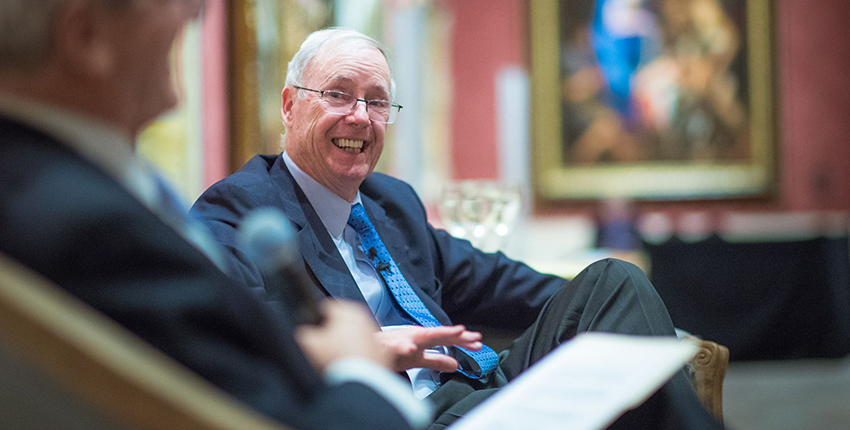 Christopher T. Walsh in 2019 being interviewed by former ABC evening news anchor Charlie Gibson. Image: Gretchen Ertl

Christopher T. Walsh, the internationally respected and unconventional enzymologist who revolutionized the study of antibiotics, including antibiotic resistance and the natural production by living organisms of molecules that can become new medicines, died on Jan. 10, at the age of 79, following a fall.
At the time of his death, Walsh was the Hamilton Kuhn Professor of Biological Chemistry and Molecular Pharmacology, Emeritus, at Harvard Medical School. He formerly served as president of Dana-Farber Cancer Institute, founding chair of the Department of Biological Chemistry and Molecular Pharmacology (BCMP) at HMS, and chair of the Department of Chemistry at MIT.
Walsh's work at HMS and MIT broke ground by bringing together the traditionally separate fields of chemistry, biology, and medicine. The melding of these disciplines allowed Walsh and those who followed him to make headway in areas that had thwarted predecessors and to forge new paths toward improving human health.
One of his pivotal achievements was the unraveling of the molecular mechanisms by which bacteria develop resistance to antibiotics, specifically vancomycin, a last-ditch option for drug-resistant infections.
Those who knew Walsh were as moved by his warmth, humor, encouragement, out-of-the-box thinking, high standards, and dedication to mentorship and gender equity as they were by his scientific achievements.
"Chris Walsh possessed a luminous intellect and a generosity of spirit that made him an inspirational leader by example: Everyone around him aspired to work harder and be more rigorous because he respected excellence and inspired excellence in others," said HMS Dean George Q. Daley, who worked alongside Walsh as faculty in BCMP.
"His leadership at MIT, HMS, and the HMS-affiliated Dana-Farber Cancer Institute has left a legacy of rigor and excellence," Daley added. "Our hearts go out to his family as we send our condolences for his untimely passing."
Back to basics
Walsh was driven by curiosity about the chemistry that occurs inside living creatures.
In a 2010 video from the Welch Foundation, he spoke about developing a talent for "prospecting for new chemical reactions in living organisms."
"I think my 'aha' moments are realizing this may be the first time anyone is seeing this chemical transformation in a living system," he said.