A Chance to Serve
HMS student Adam Beckman on joining federal COVID-19 response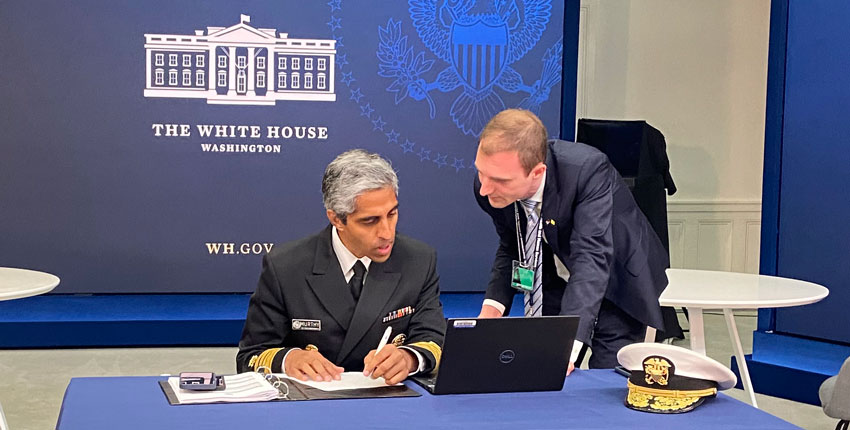 U.S. Surgeon General Vivek Murthy in the South Court Auditorium at the White House prior to delivering remarks about the COVID-19 pandemic, with Adam Beckman (right). Image: Office of the Surgeon General
This article is part of Harvard Medical School's continuing coverage of COVID-19.
Fourth-year Harvard Medical School student Adam Beckman has witnessed a pattern throughout his clinical training: The policies governments set often affect a patient's health as much as decisions made in the clinic.
Seeing this resonated with him. His grandmother—a social worker still working in her 90s—emphasized to his family the importance of tikkun olam, a Hebrew phrase that means "repairing the world." Beckman came to understand the concept as an ideal that promotes structural change.
Those values, he said, partly influenced his decision to pursue a career in medicine and health system reform—and that, in turn, recently led to a role in federal government as an appointee in the Biden administration.
The joint MD-MBA candidate took a one-year leave of absence in 2021 to serve as the special advisor to the 21st Surgeon General of the United States, Vivek Murthy, who was then appointed by President Joe Biden and Vice President Kamala Harris to serve as one of their core advisers and a leader on the White House COVID-19 Response Team.
Beckman was tapped as one of the Office of the Surgeon General's first hires. He was responsible for helping to build a fast-paced organization, advising on the COVID-19 response, and leading initiatives in the Department of Health and Human Services.
Those efforts included a historic surgeon general's advisory on health misinformation—an issue during COVID-19 as well as with HIV, AIDS, and Ebola—and a major initiative focused on the nation's youth mental health crisis, among others.
Harvard Medicine News caught up with Beckman recently to talk about his experiences in Washington, D.C., his contributions there, and what he has learned.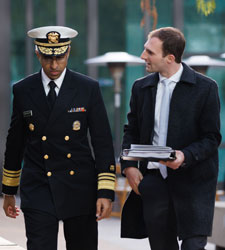 HMNews: Why did you decide to take a leave from HMS and HBS to work in government?
Beckman: I certainly did not come into medical training expecting to leave in the middle—let alone during a daunting public health emergency and the first days of a new administration.
Of course, the idea was humbling and terrifying. Mentors and close friends were extraordinarily supportive, though; they were unanimous in saying absolutely, go.
The decision ultimately came down to a combination of factors. The moment in history we were in. The possibility of the government launching a coordinated federal public health response, with health equity at its core, that could strengthen our institutions. An opportunity to learn from experienced clinical leaders who had the backing of political officials that valued scientific expertise. And a chance to contribute in a small way during a time of need in this country.
On top of that, here was a window to learn day in, day out from a mentor I long admired, Dr. Vivek Murthy. I am grateful to the School for their support in pursuing this opportunity.
HMNews: What did you hope you would learn going into the experience?
Beckman: I wanted to develop a deeper understanding of how federal government functions—the process of making decisions, the messiness of reacting to new information in real time, how people go about changing broken policies in a country as big and full of different communities as ours.
Before this role, I had worked with a group of unbelievably talented peers on policy memos and op-eds about the COVID-19 response. With classmates and faculty mentors, we had also written articles and conducted health policy research. Such pieces regularly conclude with statements about what policymakers could or should do to solve a challenge. But what is it like to be on the other side, in the thick of a disaster? When all these experts have really good ideas about what to do, how do you prioritize—and, most importantly, actually turn those into reality?
HMNews: And what did you find you actually learned, looking back?
Beckman: From the outside, the U.S. government can look like a large, amorphous thing, full of a lot of people doing a lot of things. What I saw during my short time in government, though, was inspiring. I met hundreds of people—individuals with deep expertise and creativity who served for often very personal reasons—working their hardest at nearly every hour of the day to make this country a better, more just, healthier place. It's astonishing how many times I encountered a team or program I didn't previously know existed, only to discover its staggering responsibilities. And rarely were these jobs easy; these are individuals balancing how to advance large, ambitious efforts through complex organizational hurdles with, at times, limited resources, public scrutiny, and high stakes.
I walked away with a lot of gratitude for my colleagues and our government officials—and with a hope that more clinicians will choose to serve. Government isn't perfect, but at its best, I think it can reflect the people who serve and the future they want to build. Coming back to graduate school, I see many classmates and individuals in medical training who we'd be very fortunate to have in there.
HMNews: So you hope this experience will make you a better policymaker. But how do you think it's going to contribute to your being a better doctor?
Beckman: When we are taking care of patients and run into those infuriating systems moments—say, a patient needs a mental health treatment but a bureaucratic barrier is making it impossible to access and afford necessary care—that can be exhausting, frustrating, demoralizing for the patient and care team. But those are probably the most urgent times to find our way back to hope. I believe experiences like working in government can help provide some of that energy and perspective. There's something magical about pairing clinical skills with other ways of affecting structural change, whether advocacy, entrepreneurship, policymaking, and bringing all of that to bear in working towards healthier, more equitable communities.
HMNews: Were there any experiences in medicine that unexpectedly carried over to government?
Beckman: Well, on the medicine subinternship at HMS, my attending—Dr. Emmanuel Mensah —drilled into us a systematic, effective process to prepare for rounds every morning. The type of information we consumed was obviously different from patient lab values or EKGs. But, within the first few weeks of government, I had adopted a similar system to get through the large volume of data, documents, articles, and emails that we were reviewing in time for the first day's meeting. Medical training was helpful for navigating that fast environment, often on not very much sleep.
HMNews: What was one of the most memorable moments?
Beckman: I can think of many and each with different flavors—some memorable for the sense of deep team cohesion, others for the steep learning, others for the sheer scope or awe of what we were part of.
One meaningful moment came on July 15, 2021. That was the day we released Confronting Health Misinformation: The U.S. Surgeon General's Advisory on Building a Healthy Information Environment. Dr. Murthy was invited to the White House Press Briefing Room by Press Secretary Jen Psaki, and I was fortunate to join him.
There's a line from the president when he announced Dr. Murthy as the nominee for surgeon general, where he said—and I'm paraphrasing—"Doctor, when you speak, people listen." I remembered that while watching Dr. Murthy take the stage in front of a packed room of reporters and cameras. He spoke both as a doctor and from the heart about a delicate but critical issue. Our team had poured countless nights into making that launch a reality. The briefing, subsequent national conversation, and actions that emerged was an illustration of how that surgeon general's bully pulpit can elevate an urgent public health challenge and catalyze action.
HMNews: Is there anything else would you like to add?
Beckman: Just that as I mentioned before, I was in government for a brief period—but so many colleagues have been there working all in for years, particularly during the pandemic. Knowing they are still there gives me a lot of hope, as does the possibility that more of our classmates will serve down the road.
This interview was edited for length and clarity.