News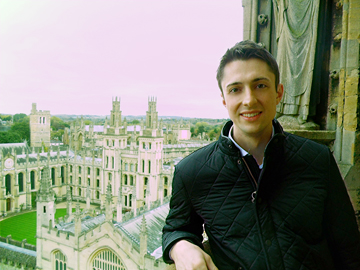 During his clinical years at Harvard Medical School, Will Carspecken '13 experienced firsthand the challenges of taking care of patients with chronic disease and the toll hospital readmissions had on families.
"I was frustrated that despite working with excellent clinicians, there were often issues in the healthcare system itself that ended up preventing my patients from achieving better health," said Carspecken, who spent his third year at Brigham and Women's Hospital. "Oftentimes, patients didn't need a molecular intervention but one that incorporated technology framed by how they received care."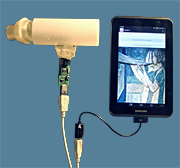 Carspecken decided that to meaningfully tackle these problems as a researcher, he needed a technical background. He found a mentor in Daniel Talmor, HMS associate professor of anaesthesia at Beth Israel Deaconess Medical Center and an expert in ventilation methods, who encouraged him to think differently about disease. "Will is hugely enthusiastic and constantly coming up with ideas," Talmor said.
With the aid of the HMS Scholars in Medicine program, Carspecken won a Harvard University Knox Fellowship to do a Master of Science degree at the University of Oxford. He did his thesis research in Gari Clifford's lab, where they developed a device intended to address a growing need in developing countries: accurate diagnosis at the point of care for chronic obstructive pulmonary disease (COPD), a disabling combination of emphysema and chronic bronchitis.
"Chronic lung disease in the developing world is both staggering and growing as a result of increased air pollution, tobacco use, indoor cooking and workplace exposures," Carspecken said.
Clinicians often rely on spirometers to diagnose and manage lung disease. But these sensitive devices, ubiquitous in the developed world, are not designed for use in rural or resource-poor settings where there is often no power or financing for sophisticated equipment. Spirometers require sterilization, steady power and computers to process and store their data. The problem is a familiar one: The World Health Organization estimates that half of all medical equipment in developing countries sits idle, broken or unusable in clinics without power, sterilization or other basic resources or training. In sub-Saharan Africa, that figure is near 70 percent.
Using low-cost components, Carspecken designed a spirometer that could be produced for under $20 and powered from a phone or other mobile device. He continued work on the project after returning to HMS in fall 2012, and in January, his paper describing the device, "TeleSpiro," won first prize at an engineering conference on Point of Care Healthcare Technologies in Bangalore, India. In March, he'll present work on a related device at a symposium on Intensive Care and Emergency Medicine in Belgium, taking a week off from a clinical oncology rotation at the Pitié-Salpêtrière Hospital in Paris.
Now, Carspecken is looking forward to Match Day, and he hopes to enter a program in anesthesia and critical care and a career in translational research. "The gap between innovation and meaningful translation in the lives of patients is staggering," Carspecken said. "I believe that for technology to change the course of chronic disease, it has to incorporate the economic, behavioral and environmental challenges outside the hospital." 
Follow
HMS
Stay informed via email on the latest news, research, and media from Harvard Medical School.