News
Case Study in Camaraderie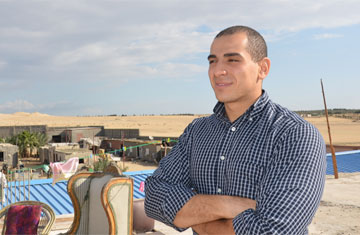 A camping expedition set the tone for Arsani William's experience at Harvard Medical School when he first arrived in New England in August 2011. During the trip, organized annually for incoming medical students, William, 23, of Palo Alto, Calif., ventured into the mountains of New Hampshire with a group of classmates. Their long hikes over rough terrain generated a close camaraderie that the students brought back to Boston and HMS, where the bonds grew only stronger. William, who is now a second-year student, said the solid sense of community the students formed during their first few weeks together continues to contribute to an atmosphere of learning and success for him.
Does camaraderie enhance the educational experience?
Absolutely. Take last spring when we were getting ready for our final exam in physiology, one of the toughest courses we take in the first year. We were given a case a few days prior to the exam with details on how a particular patient was presenting. Our responsibility was to break down the case in different ways, focusing on, for example, the endocrine, renal, respiratory and cardiovascular systems. It was inspiring to see our entire class come together and collaborate to tackle this challenge. Students worked together in small groups for hours at a time, exchanging ideas and preparing with a spirit of collaboration.
Have you found mentors here at Harvard Medical School?
There is certainly no shortage of mentorship here. With so many choices for career paths in medicine, we're lucky to have access to Harvard faculty at all the affiliated hospitals for questions and advice. There are outstanding teachers and clinicians here who are always willing to guide us on things ranging from basic science research to all facets of medical life. This has been my experience throughout. I've even found great mentors in fields that I had not before considered pursuing, including neurosurgery and radiation oncology. The HMS student societies provide us with easy access to faculty members in a wide range of roles and specialties.
What are the societies and how do they foster mentorship?
Each medical and dental student is assigned to one of five academic societies, creating small communities for socializing, learning and advising. The societies host roundtable discussions where we meet different clinical preceptors and physicians from the hospitals who come talk to us about medicine and their profession. The society masters and fellows are available to answer our questions and give us guidance. I can't put into words what Dr. Anthony D'Amico, my society master, has done on behalf of his students.  
Have you pursued any research interests during your first two years of medical school?
As an undergraduate at Stanford University, I had done a lot of basic science immunology research, so when I came to medical school, I wanted to maneuver myself to the clinical realm. Clinical faculty are well integrated into the curriculum here at HMS, and I've become involved with several research projects at the HMS-affiliated hospitals. One of them is in orthopedics, analyzing various procedures to clear fibrotic buildup in people who have undergone knee transplants. Another project, in neurosurgery, focuses on deep brain stimulation in patients with central pain disorders. I'm also working with a fellow classmate to decipher biomarkers for an illness called chronic fatigue syndrome, which isn't well understood. The curriculum at Harvard gives students optimal flexibility with enough time to complete classwork and pursue research and extracurricular interests.
What career paths are you considering?
Ultimately, I want to pursue some mix of academic and clinical work. I'm particularly interested in global health, one of Harvard's strengths. Back in undergrad, I was fortunate to work alongside Dr. Donald Laub, a global health star, who inspired me to start a charity called the Archangel Michael Foundation. The foundation works to set up clinics in different parts of Egypt to help prevent hepatitis C transmission and infection. I've come to realize that medical organizations can have a significant impact on public health through select targeting of particular diseases or issues.
Since arriving at HMS, I've decided to pursue an MBA to supplement my expertise in medicine with organizational management skills. Ultimately, I want to build a career where I can reach an entire community and impact a population at large. I believe my experiences and interactions with fellow students and professors at Harvard will help me navigate that route in the end.
Learn more about the HMS Program in Medical Education.
Follow
HMS
Stay informed via email on the latest news, research, and media from Harvard Medical School.