Call to Service
Hundreds of HMS, Harvard alumni and friends "Meet the Dean" in Washington, D.C.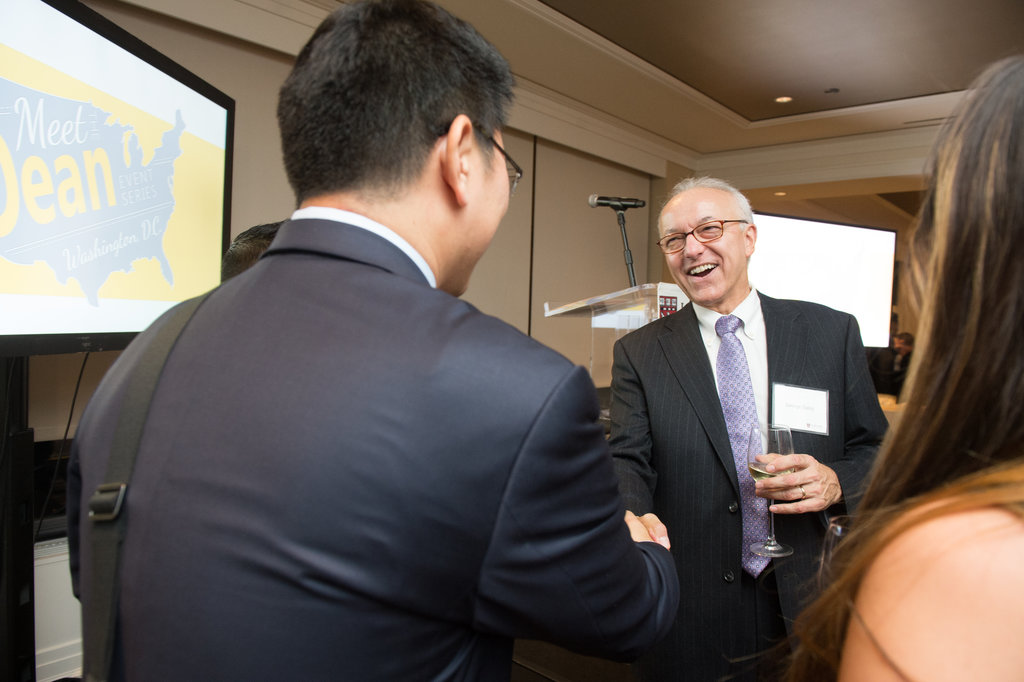 Hundreds of HMS and Harvard alumni and friends attended the "Meet the Dean" event in Washington, D.C. on Sept. 19. Image: Abby Jiu Photography
At an event where reservations filled less than 24 hours after it was announced, almost 250 Harvard Medical School and Harvard alumni and friends packed a hotel ballroom in the heart of Washington, D.C., to hear HMS Dean George Q. Daley share his vision for the future of the school at a Sept. 19 reception.
"At Harvard Medical School, we're discovering the medicines and technologies that will change human history. Just imagine a world where health is assumed and illness is the exception, where doctors intervene before disease ever hits, and where no disease is a death sentence," said Daley, AB '82, MD '91, PhD, who spoke as part of a series of HMS "Meet the Dean" events that started in Boston in May and will continue across the country this fall.
"That's a world we won't have to imagine for much longer, because it will soon become a reality that Harvard will lead," Daley added.
The interstate tour serves as a unique opportunity for the broader Harvard community to meet Daley, who was appointed dean in January, and a way for the School to build closer ties with its alumni and friends.
In Washington, the third of six stops on the tour, Daley was introduced to the standing-room-only crowd by his HMS classmate Jim Yong Kim, MD '86, PhD '93, now president of the World Bank Group.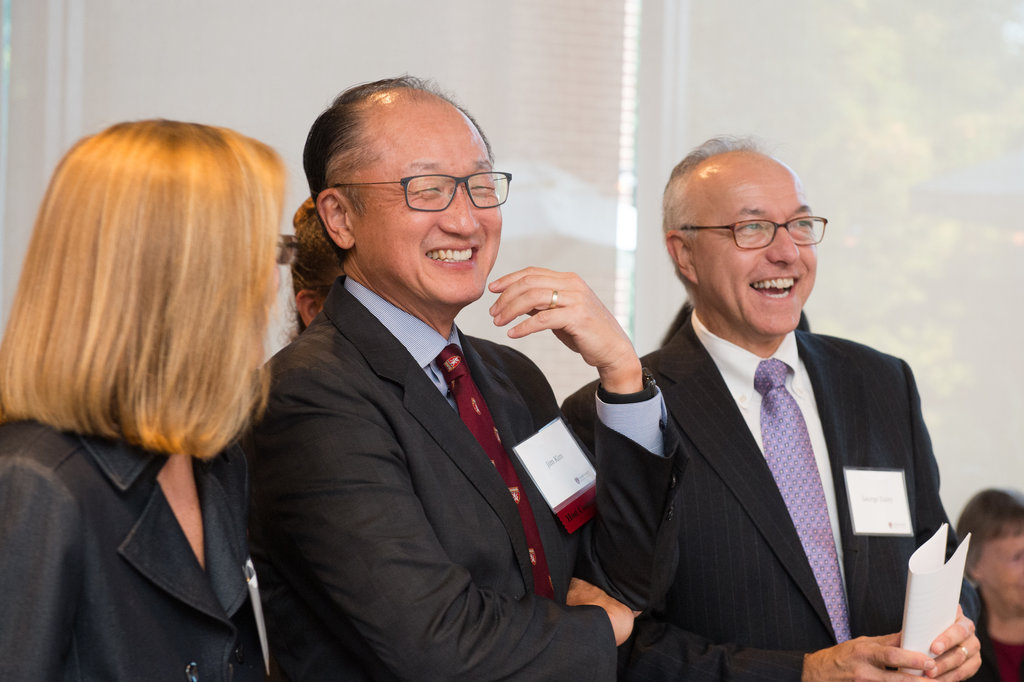 Kim, wearing an original HMS crimson tie for the occasion, in contrast to the green ties he sported as president of Dartmouth, fondly recalled first meeting Daley when both were young medical school students living in Vanderbilt Hall. He reminisced about their resulting decades-long friendship.
"I wore these colors today because for me they signify my great pride in having my friend—and an absolute visionary—lead our institution," said Kim, former chair of the HMS Department of Global Health and Social Medicine who, along with current department chair and Kolokotrones University Professor Paul Farmer, MD '88, PhD '90, Ophelia Dahl, and other colleagues co-founded Partners In Health some 30 years ago.
"George is a brilliant researcher. He's at the top of his game right now. He didn't need to do this. These jobs are usually taken by people like me who failed in their research," Kim joked.
"But George, as a matter of service, as a matter of sense that he needs to serve a broader purpose, has taken this job. We are so lucky that he has," Kim continued.
Cut from the cloth
Daley's visit to the nation's capital, which included a Q&A and ample time for conversation, was received with excitement and enthusiasm by the alumni and friends who attended.
Andrea Reid, MD '88, MPH '01, who served as a physician at Massachusetts General Hospital and as a member of the HMS faculty for two decades before moving to the Washington DC VA Medical Center, was one such alumna in attendance.
"To have George come and share his vision here is just a source of great joy and pride. I think Washington needs more of HMS," said Reid, who trained together with Daley as an internal medicine resident at Mass General.
"As a resident, there was no question George was cut from the cloth, someone who could lead any number of endeavors," Reid recalled. "He's facing many challenges for the Medical School but he's got an amazing vision and focus, and I think it's his time to take HMS to the next level. I'm very excited about him being the dean, very excited."
For Cheryl Gorelick, whose late husband, Kenneth Gorelick, MD '67, was a member of the HMS family, the event was her first opportunity to meet the new dean.
"Harvard was very important to my husband because it opened a lot of opportunities for doctors like him, who are interested in the kinds of wonderful plans that George is talking about—taking the latest and greatest research and making it available to heal patients," Gorelick said.
"I think it's so wonderful that George is visiting D.C. to come here and tell us about what he has planned for the Medical School and to open it up for an exchange of ideas," she added. "It was a fabulous evening."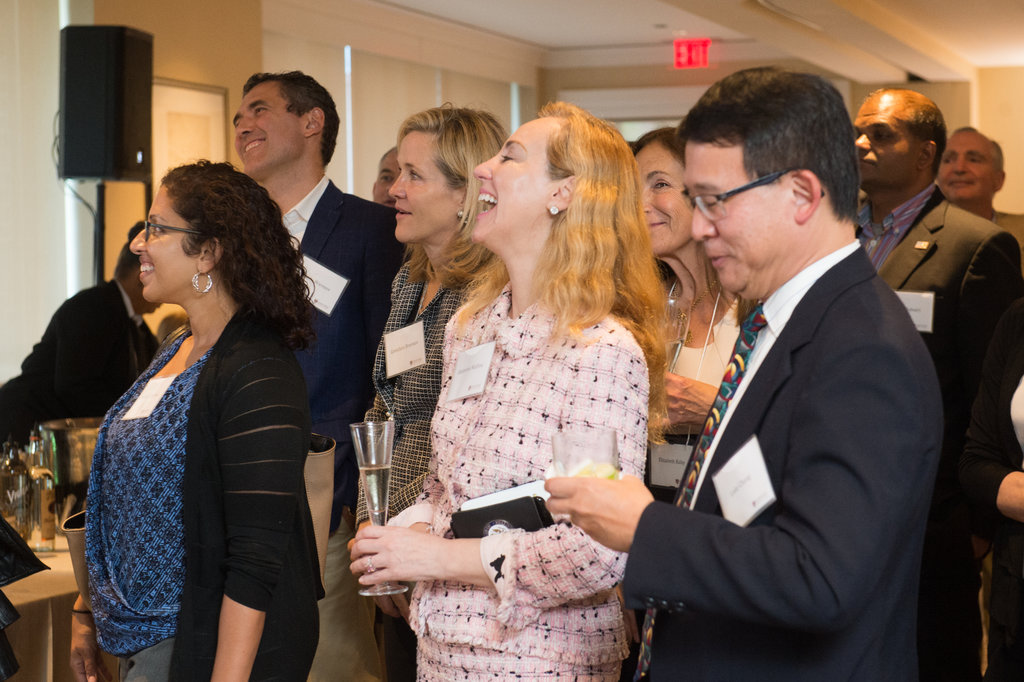 Ben Nguyen, AB '88, MD '92, chief medical informatics officer at Pragmatics Inc., emphasized the appreciation that alumni like himself had for the dean's visit.
"I think it's so important that the dean and other members of HMS have taken the time to come locally and engage with us because the challenges and tasks at hand for the School are something that can be met by alumni the world over," Nguyen said.
"He's a remarkable man with a great background, and I think he's the right person to take on the challenges at the Medical School," he added.
The sentiment was echoed by T.K. Yang, AB '98, president of the Harvard Club of Washington, D.C., who met Daley for the first time at the event.
"I really appreciate the vision he cast for HMS, and coming to D.C. shows a lot of commitment on his part to reach out to the broader Harvard community," Yang said. "We at the Harvard Club in D.C. are celebrating the start of his tenure, and the amazing turnout tonight shows that he has really wide appeal."
No better time
The crowd listened attentively as Daley took the stage and spoke about his personal journey and aspirations for HMS.
Daley said he was born and raised in a small town in upstate New York and wanted to be a teacher and scholar like his mother, until a series of chance opportunities, including an undergraduate work-study gig as a dishwasher at a Harvard Biology lab, drew him to biomedical research and clinical care.
Although his interest surfaced late, Daley said he was not a stranger to medicine. His grandfather was one of only two doctors in his hometown, and he made house calls in a horse-drawn sleigh through rain or snow, night or day.
"People in the medical profession come from all walks of life. But all of us were driven to become doctors for the same reason my grandfather was: a genuine calling to help people in need," Daley said.
"I'm honored to serve as dean of Harvard Medical School because there's never been a better time in human history to pursue that calling," he continued.
Human health and well-being are undergoing a sea change, Daley told the group, evidenced by an ever-increasing number of diseases, once thought incurable, which are being successfully treated thanks to advances in technology, pharmaceutical science and research innovations—many of which were first developed in laboratories at HMS.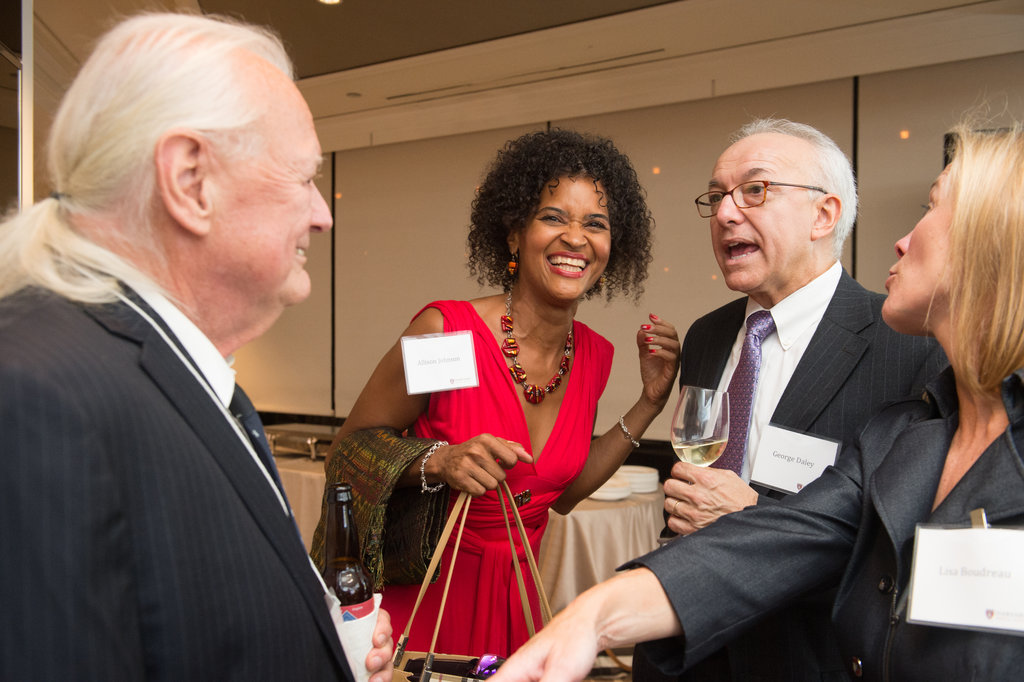 To ensure that Harvard continues to lead the way in enriching quality of life and alleviating human suffering caused by disease, Daley said he is focusing on three key priorities: fostering therapeutic innovation, reorganizing and revitalizing the HMS campus, and enhancing access to education.
In education, for example, he said he is committed to nurturing the next generation of leaders in biomedicine who represent the brightest from all corners of the U.S. and globe, and whose backgrounds reflect the rich diversity of the patient populations they will serve.
Daley said he also aims to double the size of the MD-PhD program at HMS and to find new sources of financial aid to support all students so that they can make career decisions based on their true passions rather than their financial prospects.
"We're on the brink of a sweeping transformation of the human condition. Medical breakthroughs in the next 50 years will dwarf those of the last 1,000," he said. "Our mission at Harvard Medical School is to lead the way in this new era of possibility."
In a final impromptu set of remarks that capped the evening, Kim again took the stage and addressed his fellow alumni.
"I think that George is going to change the world as dean of HMS. I think we're so lucky to have him at HMS, and I would urge you to think hard about supporting him in accomplishing a mission that will make all of us as alumni of Harvard University very, very proud," Kim said.
The Meet the Dean series continues with events in San Francisco on Oct. 10, Los Angeles on Oct. 11, and Philadelphia on Nov. 1. To learn more, visit https://hms.harvard.edu/meet-the-dean.