Bridging the Trust Gap
Unlikely partners aim to reduce disparities in genetics education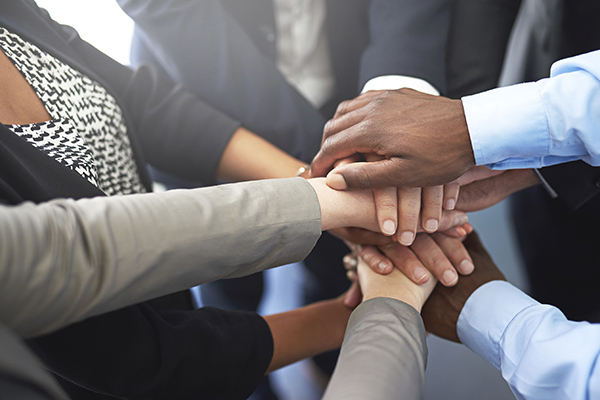 Image: PeopleImages/iStock
They came from across the country: representatives from genetics, genomics and gene-editing companies; leaders of faith-based communities and members of the entertainment industry; experts in education and health care; business executives and government officials.
These seemingly disparate groups gathered at Harvard Medical School to identify common goals, build trust and advance efforts to engage underserved communities in conversations about personal genetics.
The "Industry Forum for Forging Community Partnerships" was convened in May by the HMS Department of Genetics' Personal Genetics Education Project, or pgEd, as part of its mission to raise public awareness of and start conversations about genetics research and its ethical, legal and social implications.
"Now that gene editing and the $1,000 genome are a reality and national projects like the Precision Medicine Initiative are trying to recruit more people from underserved and minority communities, it's especially important for people with different perspectives to exchange ideas about how to best serve communities who, for historical reasons, might be suspicious of geneticists," said meeting organizer Johnny Kung, HMS research associate in genetics and director of new initiatives for pgEd.
The HMS Office of Communications talked with two attendees about some of the goals and challenges of reducing disparities in genetics education:
Jeri Lacks Whye, granddaughter of the late Henrietta Lacks, an African American woman whose cancerous cells became a widespread medical research tool without her consent; and
Ann Merchant of the Science & Entertainment Exchange, a program of the National Academy of Sciences that connects scientists and engineers with entertainment industry professionals to combine accurate science with engaging storylines.
Abbreviated versions of the conversations follow.
---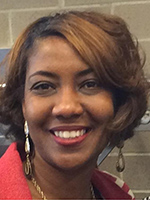 Jeri Lacks Whye works for the domestic violence unit of the judiciary system of Baltimore and was invited to the meeting by the Minority Coalition for Precision Medicine.
HMS: What brings you to this forum?
JLW: I was here to talk about my grandmother's story. It's our platform to address health disparities, health equity, bridging the trust gap between researchers and research participants, racism and other issues her story touches.
Our family has been thrown into science, into genetics, into being patient advocates, and we try to serve where our service is needed. Attending events such as this allows people to learn from us, and we learn from them—and there's so much to learn.
HMS: What do you ultimately hope will come out of meetings like this?
JLW: The ultimate goal is for people to know Henrietta's story and to figure out ways to have a great number of minorities participating in research instead of being afraid. Each individual's history and distrust of the medical establishment varies, so we need to have a better understanding of their issues and fears. We need to build trust with communities, whether it's through more understandable communication, fun engagements, or other ways that will allow relationships to progress. We have to make sure research studies are a partnership, so people know what's being done from the very beginning, know what's expected and have knowledge of the entire process.
It's going to take a long time to build trust. We have to involve not only community members but also community leaders, nurses, scientists, doctors, geneticists, researchers … everyone.
HMS: Why do you believe it's important for people to learn what's going on with genetic research?
JLW: Genetic research gives people specific information about themselves. They might inherit something they wouldn't have known about if they didn't do genetic testing. Everyone has a choice about doing something, even when it comes to having their genome mapped. Individuals think differently about how they want to handle that, but I think everyone should at least be informed about what genetic mapping is and what it can do for them. Give people the basic understanding.
Some people are skeptical about genetics testing. I'm on the fence. Our family was asked if we wanted to have our genomes mapped. I wasn't interested. It wasn't about not trusting but the simple fact that I didn't want to stress out about something I don't have control over, like going bald. I'm definitely for diagnostic testing, though.
HMS: What still needs to be done?
JLW: A lot of things. I think it's important that scientists try to do what's best for everybody collectively, not only for their own gain but for the benefit of the individual. Better communication is an important step, as are bringing awareness through engagements and forming partnerships with patients. I think these are the core to moving forward in a positive and productive direction.
---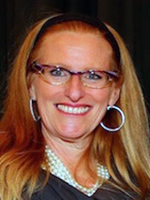 Ann Merchant is deputy executive director for communications at the National Academies of Sciences, Engineering and Medicine.
HMS: What brings you to this forum?
AM: Meetings like this create interesting conversations that allow me to discover complexities surrounding genetic and genomic research. We can then turn around and present those not-so-obvious nuances to the entertainment industry. A film or television writer may go on to create a scientist character and add a colleague from the divinity school, or a sister or a spouse from a more religious background, and write a conversation that bubbles up from some of the issues we've been discussing with communities of faith over the last couple of days.
HMS: But surely your goals go beyond helping the entertainment industry?
AM: Our bigger agenda is for audiences to have a similar experience to what I've had here by seeing a movie or a television show that takes some of these conversations and dramatizes them. The medium makes the stories more accessible to people who can't attend a meeting like this or don't think they're interested in genetics and genomics. They can see these conversations play out and come back and talk about them.
HMS: What can entertainment do for genetics education?
AM: We keep hearing that there's not a wide acceptance of genetics. People don't understand why it's relevant to them. There's a sense of mistrust. The science is new and people don't really get it. How do you make it all come together?
You don't have to turn to complicated science or arcane applications. Tell a story about sequencing a character's cancer and how that provides an opportunity to treat that cancer, and people will understand about personal genomics very quickly.
When people are diagnosed with cancer, most doctors wouldn't tell them to get their cancer sequenced. But I bet if you put that story on film or television and a viewer gets a diagnosis, then they'll say, "Wait a minute, doc, could I get my cancer sequenced?" I see this as a real public health opportunity. Then there are these tipping points. You get into some of the other applications for personal genomics and people start to see the bigger picture.
HMS: What still needs to be done?
AM: People need to see characters on screen they can relate to, and that means characters who look like them. Hollywood has a well-known problem with diversity. There are writers, producers and directors who are trying to address it. They have to make sure it's not just white characters who embody stories about genetics. And it can't be just an African American patient talking to a white doctor, either; diversity has to be seen throughout the continuum of care and research and across different shows and films.
---
pgEd is supported by the HMS Department of Genetics and recently received a National Institutes of Health Science Education Partnership Award to expand its programs in high schools and the broader community, particularly in historically underserved urban and rural communities. pgEd had also previously received funding from Sigma-Aldrich, Autodesk, Genentech, IDT and an anonymous donor and in-kind support from Front Line Genomics and Veritas Genetics.