Bone Deep
A new 'atlas' of genetic influences on osteoporosis may unlock better treatments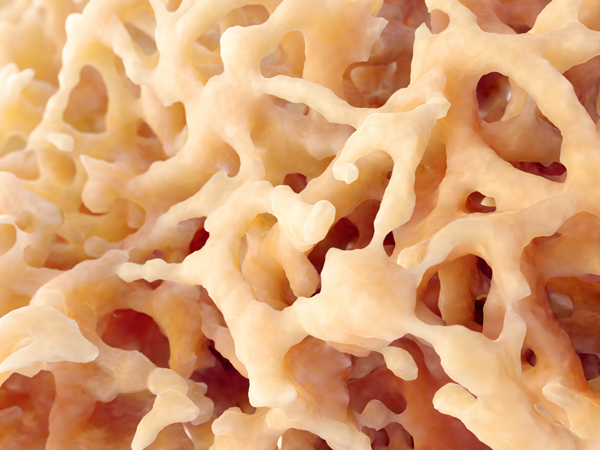 A new study by an international research team including Harvard Medical School faculty has compiled an "atlas" of genetic factors associated with estimated bone mineral density, one of the most clinically relevant factors in diagnosing osteoporosis.
The paper, published online in Nature Genetics, identifies 518 genome-wide loci, including 301 newly discovered ones, that explain 20 percent of the genetic variance associated with estimated bone-mineral density.
Identifying this number of genetic factors offers promise for the development of new therapies aimed at treating osteoporosis and reducing the risk of bone fractures.
"Our findings represent the largest study of genetic associations with the density of bone. This study provides potential future targets for drug development to treat osteoporosis," explained Douglas Kiel, HMS professor of medicine and director of the geriomics program at the Hinda and Arthur Marcus Institute for Aging Research at Hebrew SeniorLife and one of the authors on the study.
Although there are available treatments for osteoporosis, many of the drugs have side effects that deter patients from adhering to treatment. "Our patients need additional therapies to treat their osteoporosis, and genetic studies like ours can identify new biologic pathways related to bone that can be leveraged to develop new drugs capable of preventing fractures," Kiel said.
Worldwide, about 35 percent of women and 20 percent of men over age 50 will experience a bone fracture due to osteoporosis, an age-related condition characterized by progressive reduction in bone strength that increases the risk of fracture. Especially among older patients, fractures can have severe consequences, such as disability with loss of personal independence and in some cases death. Fractures impose major burdens of hospitalization, extended rehabilitation, mobility limitations and even destitution. As the world's population ages, the need for improving preventive measures becomes all the more urgent.
This study is the largest undertaken to date of the genetic determinants of osteoporosis, assessing more than 426,000 individuals who were part of a large study called the UK Biobank. After analyzing the data, the researchers further refined their findings to isolate a set of genes that are strongly enriched for known drug targets. This smaller set of target genes can form the basis for developing treatments to increase bone density and prevent fractures. Also, the findings in humans were tested in a set of mice that had these genes altered to determine if they had weak skeletons.
"Although it might seem overwhelming to sort through the many genes we found to be associated with bone density, we are able to focus on those with the greatest effect to potentially target for drug development," said Kiel. "Another value of our study is that it can be used to estimate a person's risk for having weaker bones, thereby alerting them to the need for adapting healthy lifestyle choices, such as physical activity and diet, and to make sure they get screened with bone-density testing."
Adapted from a Hebrew SeniorLife news release.
Image: spanteldotru/iStock