Blue Skies Ahead
HMS Class of 2017 grads celebrate, look to future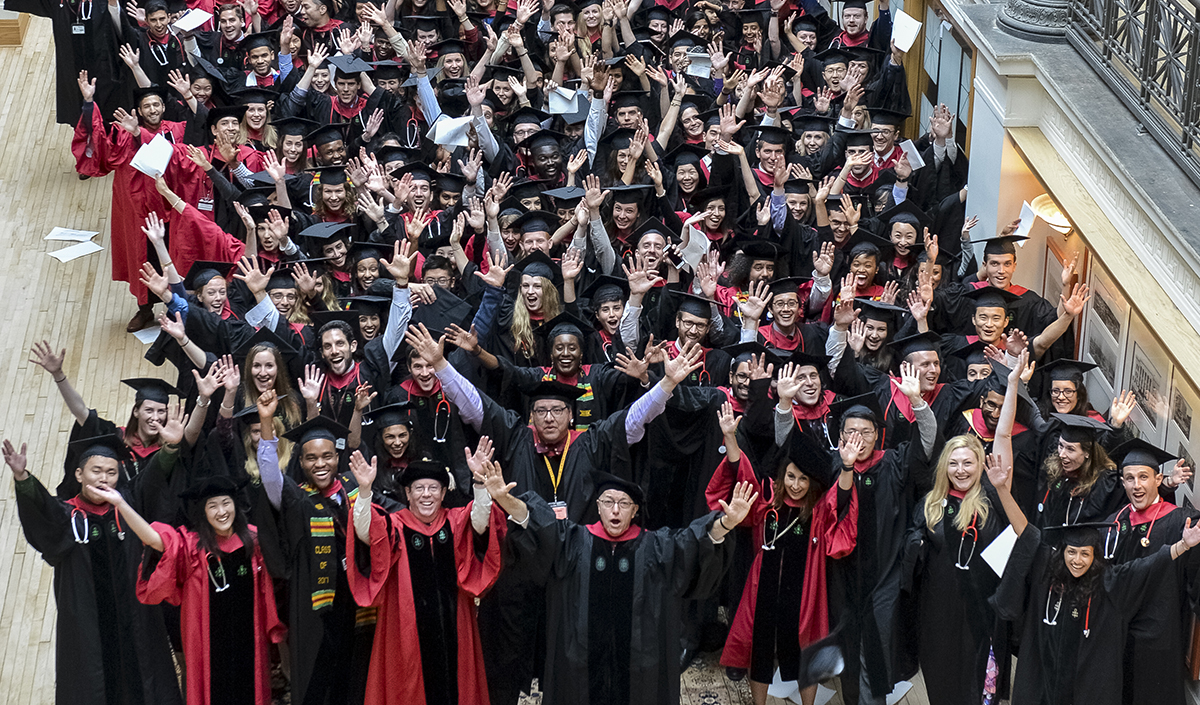 Grey skies did little to dampen the spirits of more than 200 Harvard medical and dental school graduates who received their diplomas at the 2017 Harvard Medical School Class Day on May 25.
Sheltered from the cold, wind and rain by the massive white tent blanketing the HMS quadrangle, the graduates and their friends and families celebrated a day that represented the culmination of many years, if not a lifetime, of hard work.
Read more about Commencement and Class Day celebrations here
Many reminisced about shared school memories, friendships that were made, lessons learned and challenges overcome as they looked forward to the bright futures ahead of them.
But on a day meant to celebrate individual achievements, graduates never lost focus of the singular importance of relationships—with professors and mentors, classmates and family, and above all, patients — that shaped their experiences as students and future doctors and dentists.
"I was very excited and then overwhelmed when I officially received my degree, thinking of all the hard work and all of the family that came today to support me," said HMS graduate Michael Waul, reflecting on the path that took him from a childhood in Jamaica to college in Minnesota and then to a Rhodes Scholarship in Oxford, England, before arriving in Boston for medical school.
"I think the biggest lesson I learned is to never forget your compassion and humanity in the practice of medicine," said Waul, who will be doing an internship in primary medicine at Mt. Auburn Hospital before starting a residency in dermatology at UCSF.
"I aspire to be a doctor who is first and foremost compassionate, which is not mutually exclusive from being knowledgeable," he said.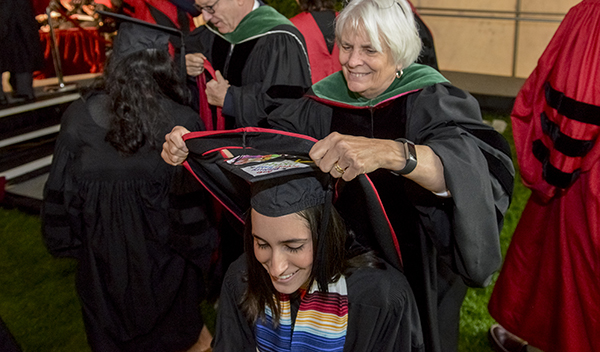 HMS graduate Daniela Delgado, a 2015 Paul and Daisy Soros Fellow, has spent most of her life thinking about how to help patients from marginalized communities.
Soon after immigrating from Colombia to Miami with her family at the age of 12, Delgado found herself having to translate at doctor's appointments for her chronically ill grandmother.
Her experiences inspired her, and Delgado finally got the chance during her third-year rotation at CHA Cambridge Hospital to work with the kind of patients who first moved her to apply for medical school.
"After two years in the classroom, it was the first time that I felt like I was integral to their care. It reminded me why I wanted to do this in the first place," said Delgado, who is moving across the country next week to start a residency in family medicine at Harbor-UCLA in Los Angeles.
"As I transition from being a student to being a doctor, from being in a hospital to learn to now taking care of people, I have to make sure that whenever I'm in a hospital, anything I do is what is best for my patients," she said.
Unexpected discoveries
This year, 166 new Doctors of Medicine and 68 Masters in Medical Sciences, Bioethics or Biomedical Informatics received their diplomas from HMS. They were joined by their fellow students from Harvard School of Dental Medicine, which awarded 35 Doctor of Medicine in Dentistry, 9 Doctor of Medical Science, and 17 Master's degrees to its graduates.
Some graduates discovered during the course of their schooling that they would head down career paths they never imagined.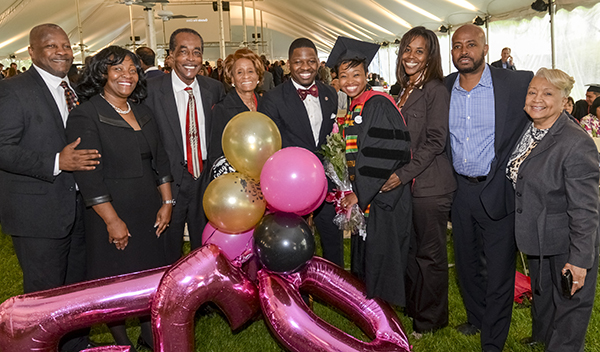 "My favorite memory is learning about psychiatry and falling in love with that specialty, because I didn't expect to be interested in that field," said HMS graduate Devin Cromartie, who also earned a Master's in Public Health for her work studying health disparities.
"I think I expected to come out of here knowing everything, but knowledge isn't something that you just get and you have. You have to continue to strive to grow your knowledge, and I'm excited to continue to learn," she said.
Others discovered something even more unexpected.
HMS graduates Andrew Taliaferro and Amy Le met during their first year. They shared numerous classes together, were anatomy lab partners and neighbors in the dorm, and are now graduating medical school together. They also happened to fall in love and, only two days after graduation, they will get married.
"It's been a long path. It's been really fun, I've learned a massive amount, I've had to work really hard, but it was all worth it in the end," said Taliaferro, who matched as a couple with Le into residency programs in San Francisco.
"Always try to keep an optimistic outlook on things and persevere, because there's always light at the end of the tunnel," Le said.
HMS graduates Zoe Bouchelle and Gregory Parker met before they entered medical school but got married while they were students. Despite being a newly married couple, they continued to live with their friend and roommate, HMS graduate Mia Geurts. Dressed in the academic regalia earned through years of hard work, the three sat next to each other at Class Day and reflected on their time together.
"I think my favorite memory was the Second Year Show," said Parker, referring to the HMS century-plus-long tradition, discontinued with the new curriculum, in which students produced a show filled with song, dance and parody.
"We hung out every day and wrote a play, even though most of us aren't actors and singers. It was the last time we were all together as a class before we all separated and went our separate ways to different sites and hospitals," Geurts said.
"It's been an incredible privilege to be here," Bouchelle said. "I think that's one of the things that resonates with you on your last day here—realizing that you've just had this incredible opportunity and that it's your responsibility to do something good with the education that you've received, wherever you go."
Bonds that bind
Throughout the day, graduates expressed their profound gratitude for the relationships that were so integral to their success.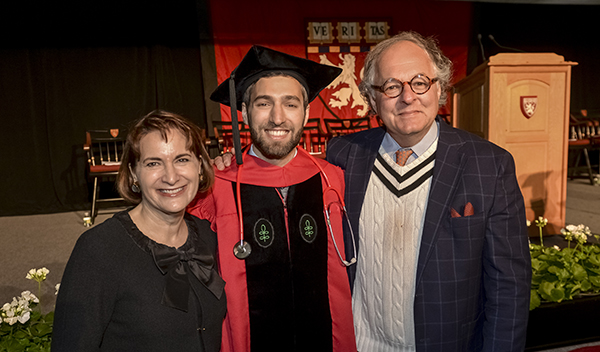 "To the people here who made us who we are, please know this: you formed the bedrock of who we will be as doctors," said HMS MD-PhD graduate Aaron Schwartz, to all in attendance as a student speaker during the ceremony.
"All the things we learned in medical school, every fact in our textbook, all of the pages in our library, these are just details compared to your lessons. And we are so grateful," he said.
Divya Jayaraman, an MD-PhD graduate of the Health Sciences and Technology program at HMS, credited her success to the patients with whom she formed close bonds during her rotations at an internal medicine clinic and to the support of the many people who helped her during her years in a laboratory studying child brain development.
"My relationship with my advisor, with my research collaborators, other mentors, other students and postdocs from other labs, it was all those relationships that helped me get through all of this," she said.
For HSDM students, the relatively small size of their cohorts highlighted the closeness created by their shared experiences.
"Our class size is only 35, and I think we're in a unique position where we've formed a really strong bond with our class, something I'm not sure other schools at Harvard get because they're a lot bigger," said HSDM graduate David Gu.
"Our classmates have been amazing and have really made the experience special," added HSDM graduate Cherry Choy.
As the ceremony progressed, the HMS and HSDM Class of 2017—a group composed of not just doctors and dentists, but scientists and public health experts, athletes and novelists, entrepreneurs and artists, soldiers and even a former Miss Massachusetts—each stepped on stage to receive their degrees to cheers from their family and friends.
The graduates ended the day by standing and reciting an oath, pledging to serve their patients with skill and compassion, to upholding ethical standards, to respecting science and medicine, and to their special obligation to their fellow human beings. And with those words and a final congratulation from HMS Dean George Q. Daley, they began a new chapter of their lives as physicians, scientists and dentists.