Bedside to Bench and Back Again
Termeer Fellowship to connect clinical, computational research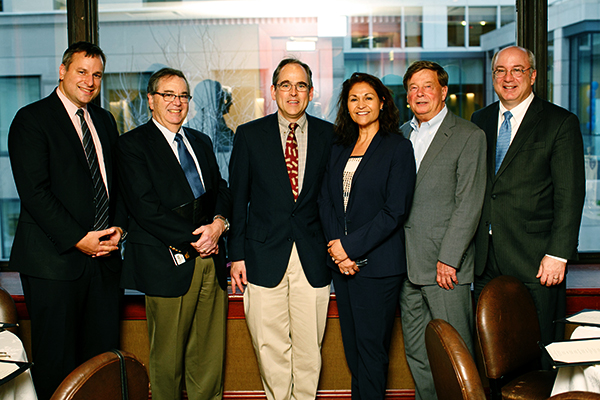 From left: Dejan Juric, director of translational research at the Termeer Center for Targeted Therapies at Massachusetts General Hospital; Jeffrey S. Flier, dean of Harvard Medical School; Peter Sorger, the Otto Krayer Professor of Systems Biology at HMS; donors Belinda and Henri Termeer; and Peter Slavin, president of Mass General. Image: Channing Johnson
Peter Sorger remembers the moment well.
As founding director of the Harvard Program in Therapeutic Science, or HiTS, which was launched in 2013, he had been supervising efforts to overhaul the basic and translational science efforts needed to discover, develop and deliver better drugs.
One day, Sorger's colleague Dejan Juric, a medical oncologist and director of translational research at the Henri and Belinda Termeer Center for Targeted Therapies at Massachusetts General Hospital, approached him.
"Dejan said, 'There are a lot of great things you're doing. You're just asking the wrong questions,'" Sorger recalls.
Their conversation highlighted a gap between the computational and experimental bench research being conducted in cutting-edge laboratories like HiTS and the needs of doctors and patients wrestling with incurable diseases in the clinic.
The creation of a new investigator position at Harvard Medical School and Mass General now promises to narrow that gap.
The Henri and Belinda Termeer Early Career Investigator Fellowship will support a physician-scientist with the rank of instructor or assistant professor at Mass General and a principal investigator position at HMS in the Laboratory of Systems Pharmacology, part of HiTS.
"I don't think there's ever been a position quite like it at the medical school," said Sorger, the Otto Krayer Professor of Systems Biology at HMS. "Having LSP-based physician-scientists active in clinical trials working alongside systems biologists and computer scientists will allow entirely new concepts to be brought to bear on precision medicine, unmet medical needs and drug safety."
The $5 million gift was celebrated with a scientific symposium, "Precision Medicine: Beyond Silver Bullets," delivered by Juric and Sorger on May 12 at HMS.
"This is a model I would like to see extended throughout the Harvard Medical School community," Jeffrey S. Flier, dean of HMS, said at the event. "It brings our strong basic science departments together with the power, capacity and personnel of our affiliated institutions. The gift will advance therapeutic approaches whose goal is accelerating basic science into important clinical outcomes."
"It's not easy to have institutions work together," said Henri Termeer, who earned a laugh when he joked that traffic was not the least of the community's challenges as Juric arrived late after traveling across Boston.
"When you're an outsider and you see the tremendous talent but also the tremendous hill still to be climbed, you inevitably want to find a way to connect the dots," Termeer said.
Embedding a practicing physician in the Laboratory of Systems Pharmacology serves two purposes, said Laura Maliszewski, executive director of HiTS and the LSP, in an interview.
First, it will make advanced computational, machine learning and other tools accessible and understandable for the clinical community, she said.
"Dropping clinicians into the lab allows them to get comfortable with computational biology concepts and methods and learn to use these tools in their own research," said Maliszewski, who is also a lecturer on systems biology at HMS.
Second, having a physician across the hall every day will teach LSP programmers "what the real clinical challenges are and how they can adapt the models they're building so they represent the biology in ways that will be useful, rather than ways we assume will be useful," she said.
Sorger added that he believes the fellowship will foster a "powerful combination" of two kinds of research: "disease-specific and programmatic science at the hospitals that focuses on immediate clinical needs, and curiosity-driven research in basic science departments that helps to solve long-term problems in new ways."
For the main portion of the symposium, Sorger looked beyond the current paradigm of "magic bullets" in precision medicine, an approach that focuses primarily on using genomic data and mutated drug targets to guide therapy. He argued that "we need a richer set of assays and a better understanding of how drugs act on cells, tissues, organs and systems—the traditional concerns of pharmacology," in order to make precision medicine truly effective.
He gave an overview of projects in HiTS that seek to deepen researchers' understanding of drug behavior and tumor responses, in some cases by extracting information hidden within massive amounts of complex biological data and in other cases by applying simple mathematical concepts.
Juric then spoke about the treatment challenges of temporal and spatial heterogeneity in advanced solid tumors.
"One of the reasons I need Peter and Henri is it's difficult to understand this heterogeneity and to have therapeutically meaningful interventions come out of research," Juric said.
The team expects to recruit the first Termeer fellow in fall 2016.