Back to Basics
New grant program to fund basic neurodegeneration research with therapeutic potential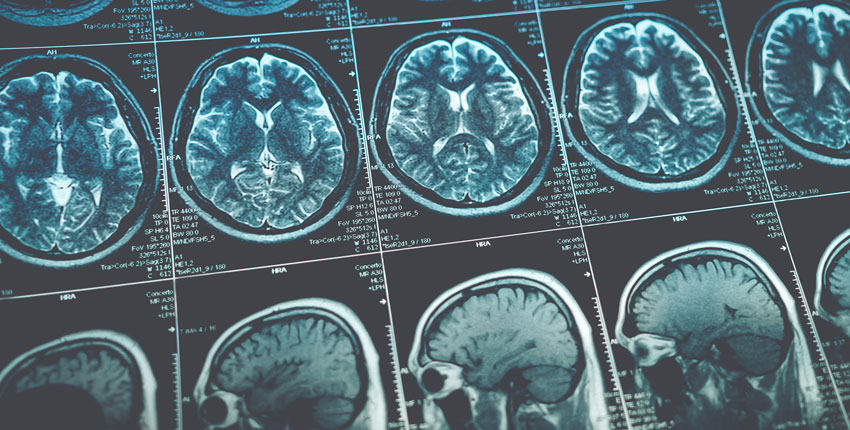 Image: DedMityay/iStock/Getty Images Plus
In an effort to bolster research on neurodegeneration at Harvard Medical School, the Carol and Gene Ludwig Family Foundation recently funded the first round of the Ludwig Neurodegenerative Disease Seed Grants Program.
Two awardees will each receive $350,000 for their proposed projects centered on basic neurodegeneration research with clear therapeutic potential.
"The goal is to go back to the drawing board and focus on very basic concepts in neurobiology that can lead us down new routes towards drug discovery," said Jonathan Schneiderman, associate director of neuroscience research at HMS and manager of the Ludwig Program.
Neurodegenerative diseases have long been of intense interest for researchers, yet progress in developing effective therapies for such diseases has been slow, Schneiderman noted, and many once-promising drugs have failed once they reached clinical trials.
In Alzheimer's disease, for example, a new drug called aducanumab recently achieved mixed results in clinical trials, leading to controversy over whether it should be approved by the FDA for clinical use. According to Schneiderman, these testing failures reflect, in part, an incomplete understanding of the basic cellular mechanisms that go awry in such diseases.
The Ludwig Neurodegenerative Disease Seed Grants Program was born of the many challenges that scientists have encountered in developing therapies for neurodegenerative diseases, especially Alzheimer's disease.
"Researchers working in the neurodegeneration space are keen to get therapies out there as quickly as possible, but if we only focus on what we already know, we may be missing fundamental aspects of the underlying mechanisms that could inform therapeutics," Schneiderman said.
The program strives to identify projects grounded in basic biology that have solid potential for translational impact.
The program committee is co-chaired by Mark Namchuk, executive director of therapeutics translation at HMS and Wade Harper, the Bert and Natalie Vallee Professor of Molecular Pathology and chair of cell biology in the Blavatnik Institute at HMS, who will ensure that research moves efficiently from the basic to the translational realm.
The inaugural recipients of the grants are Michael Greenberg, the HMS Nathan Marsh Pusey Professor of Neurobiology, and Stirling Churchman, associate professor of genetics at HMS. Both researchers are embarking on projects that focus on neurons—specialized cells in the nervous system that send and receive messages to coordinate bodily functions. In particular, Greenberg and Churchman are interested in understanding how aging affects neurons, which, unlike most cells, don't have the ability to replicate, and thus deteriorate as we age.
Greenberg is studying a consequence of this inability to replicate: Neurons lack the mechanisms other cells use during replication to repair the damage to their DNA that occurs over time. He and his team want to understand how DNA damage in neurons contributes to neurodegeneration, and how such damage can be counteracted. Previously, they discovered a protein complex called Npas4-NuA4 that appears to be involved in DNA repair outside the context of replication.
"Their preliminary work is really amazing in showing that key neurons linked to neurodegeneration require this machinery to persist," Harper said. "The idea is that if we can somehow target this pathway to make DNA repair more efficient in these neurons, we can extend their health."
Churchman is studying mitochondria, the structures inside cells that produce energy. Because neurons live for so long, they rely heavily on mitochondria to provide the energy they need to function properly. However, over time these mitochondria begin to wear out, threatening this essential energy supply. Churchman and her team are seeking to gain a basic understanding of mitochondria in neurons that will help them explore strategies for increasing mitochondrial lifespan.
"The hope is that understanding how to prolong the longevity of mitochondria in these neurons could potentially help these neurons live longer," Harper said.
Schneiderman noted that while Greenberg and Churchman may both be studying aging in neurons, they are tackling the topic from very different angles. They are also in different departments at HMS, he added, and their projects will benefit greatly from collaborations sparked by the program.
As the program continues, it will maintain its focus on basic biology, while expanding to include more of the HMS community. In the second round, applications will be open to all labs at HMS, not just those based on the Quad. In the third round, labs at hospitals affiliated with HMS will also be eligible to apply.
In addition to advancing research on neurodegenerative diseases, the program also aims to create a stronger research community around neurodegeneration at HMS. Awardees will share their findings at symposia, journal clubs, and other gatherings open to the broader HMS community. Their labs will also hold regular joint meetings where researchers can discuss how projects are progressing.
"The goal is to build a community within the recipients, and to seed a community around neurodegeneration at HMS that grows over time and focuses on training the next generation of researchers," Harper said.