Awards & Recognitions: April 2019
Honors received by HMS faculty, staff and students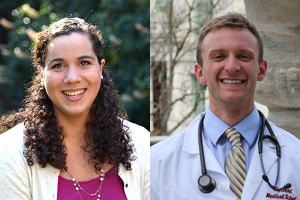 HMS students Rachael Acker and Derek Soled were selected to receive the Walter Byers Graduate Scholarshipsfrom the NCAA (National Collegiate Athletic Association).
Acker is a former swimmer for the University of California at Berkeley. A second-year student at HMS, she said that she hopes to pursue a surgical specialty such as obstetrics/gynecology or pediatric surgery. She noted in her application for the Byers Scholarship that she continually draws on her student-athlete experience as she works toward her future path in medicine.
"As student-athletes, we constantly work toward something bigger than ourselves, concurrently striving for personal and team excellence," Acker wrote in her application essay for the Byers scholarship. "In a medical context, resident and attending doctors, medical students, nurses, social workers and occupational therapists strive toward a common objective: optimizing patient care."
Derek Soled, a former fencer at Yale University, is pursuing a joint MD/MBA at Harvard. Previously, he received an NCAA postgraduate scholarship to pursue a Master of Science degree in medical anthropology from the University of Oxford. He is a co-founder of Medicine in Motion, a national organization dedicated to fitness and philanthropy in the medical profession.
In his application for the Byers scholarship, Soled described his long-term career plan as a desire "to become a practicing physician who works in domestic and international health policy to deliver high-quality care in resource-poor settings and tackle rampant disparities in health." The scholarship will help him on that path by combining training in both medicine and business.
---
Damir Ljuboja, an MD/MBA student, was among six students who received the Dr. Constantin Cope Medical Student Research Awardfrom the Society for Interventional Radiology, which recognizes outstanding achievements in research and innovation.
The purpose of this award is to introduce interested medical students to the greater interventional radiology community at the organization's annual scientific meeting and to recognize student authors who have participated in original research. 
---
Harvard Heroes, a University-wide recognition program, celebrates the accomplishments of Harvard staff whose work supports the mission of Harvard at the highest levels of contribution, impact and excellence. Harvard Heroes are selected for their hard work and dedication to the University, high level of service and their willingness to go above and beyond to help others whenever needed.
The following twelve winners are members of the HMS and HSDM community and will be celebrated at the Harvard Heroes Celebration on June 13:
Mary E. Anderson, senior human resources coordinator in the Harvard School of Dental Medicine Office of Human Resources
Margaret Ivins, manager of academic affairs at the Wyss Institute for Biologically Inspired Engineering
Laurie O'Connor, administrative manager in the Office of Faculty Affairs
Evan Sanders, associate director of curriculum services (teaching and learning technologies) for PME-Curriculum Services
Deborah Corwin Scott, chief information officer for the Department of Information Technology
Mirta Tejeda, custodian A in Custodial Services
Rainelle Walker-White, assistant director of the Family Van
Mary Walsh, chief scientific investigator for the Office for Academic and Research Integrity
---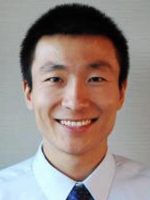 Zirui Song, assistant professor of health care policy in the HMS Blavatnik Institute, was named to receive the 2019 Bernie O'Brien New Investigator Award, which is given to an individual who has shown evidence of exceptional promise based on their emerging body of technical and scholarly work in the field of health economics and outcomes research. Given by ISPOR, the professional society for health economics and outcomes research (HEOR), the scientific achievement and leadership awards program fosters and recognizes research excellence, leadership and outstanding technical achievement in health economics and outcomes research. 
 Also assistant professor of medicine at Massachusetts General Hospital, Song is a physician and health economist whose work focuses on strategies to improve the value of health care spending, including evaluations of spending and quality under alternative payment models, the impact of Medicare and private insurer prices on provider behavior, the economics of Medicare Advantage and the effect of workplace wellness programs.
---
Two HMS clinical fellows are among six recipients of the Takeda/ACMG Foundation for Genetic and Genomic Medicine Next Generation Fellowship Awards announced during the American College of Medical Genetics and Genomics 2019 annual clinical genetics meeting in Seattle in April.
The awardees of Medical Biochemical Genetics Subspecialty Fellowships from HMS are:
Joshua Baker, HMS clinical fellow in pediatrics at Boston Children's Hospital and trainee in the HMS Genetics Training Program. Baker's research at Boston Children's Hospital covers, "A Retrospective Chart Review: Effect of Socioeconomic Influence on Phenylalanine Levels in PKU Patients", as primary investigator and "Gene Transfer of SB-913 in patients with MPS II" as a co-investigator. He plans on expanding his prior research to help assess and improve healthcare outcomes for patients with genetic and metabolic disease with the goal to assess the barriers to diagnose and treat individuals to lead to improved morbidity and mortality of this population.
William Brucker, HMS clinical fellow in pediatrics at Boston Children's Hospital and trainee in the HMS Genetics Training Program. Brucker's primary interests are in galactosemia, congenital disorders of glycosylation and biochemical medical education. His career goals are to both provide and advance the clinical care of individuals with inborn errors of metabolism and improve the understanding of these disorders by physicians and the lay public. The focus of his clinical project will involve the use of stable isotope studies in order to ascertain functional genotype/phenotype correlations in individuals with galactosemia and diverse genotypes.
---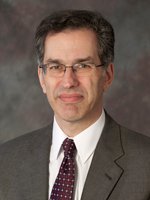 Elliot Chaikof, the HMS Johnson and Johnson Professor of Surgery, chair of the Department of Surgery, and surgeon-in-chief at Beth Israel Deaconess Medical Center, was honored for contributions to surgical research with the 2019 Flance-Karl Awardfrom American Surgical Association, which recognizes one surgeon in the U.S. who has made seminal contributions in translational research that have applications to clinical surgery of any specialty.
Chaikof, who is also an associate faculty member of the Wyss Institute for Biologically Inspired Engineering and principal faculty member of the Harvard Stem Cell Institute, has led a multitude of research efforts that have advanced the development of engineered living tissues, implantable devices and artificial organs, as well as cell-based therapies. Most recently, his work has focused on drug discovery, in collaboration with medicinal and computational chemists, to develop more effective treatments for atherosclerosis, venous thrombosis, metabolic syndrome and inflammatory bowel disease.
---
Four Harvard Medical School faculty have been elected members of the American Academy of Arts and Sciences. They are among more than 200 individuals recognized in the 2019 class for their extraordinary achievements in the arts, academia, business, government and public affairs. The new class will be inducted at a ceremony in Cambridge, Mass., in October.
The four HMS honorees are:
Barbara Kahn, the HMS George Richards Minot Professor of Medicine at Beth Israel Deaconess Medical Center
Ronald Kessler, the McNeil Family Professor of Health Care Policy in the Blavatnik Institute at HMS
Danesh Moazed, professor of cell biology in the Blavatnik Institute at HMS
Jeremy Wolfe, HMS professor of ophthalmology at HMS and of professor of radiology at Brigham and Women's Hospital
Also honored as part of the Academy's class of 2019 is Hansjörg Wyss, in the category of Business, Corporate and Philanthropic Leadership. 
Kahn, vice-chair for research strategy in the Department of Medicine at Beth Israel Deaconess and a senior associate member of the Broad Institute of MIT and Harvard, has identified fundamental molecular mechanisms underlying obesity, insulin resistance and type 2 diabetes. Her lab has made landmark contributions to the field of metabolic research, uncovering the complex mechanisms of insulin action, insulin resistance and type 2 diabetes. Kahn's research has shed light on how fat cells regulate insulin action in the liver and in muscle, as well as how they regulate energy balance by influencing pathways in the brain. Recently, she has shown that GLUT4-mediated glucose transport in fat cells stimulates the synthesis of a novel class of lipids that have antidiabetic and anti-inflammatory effects. These discoveries could lead to new therapies to prevent or treat type 2 diabetes and obesity.
Kessler's research deals with the social determinants of mental health and illness as studied from an epidemiological perspective. He is principal investigator of the U.S. National Comorbidity Survey, the first nationally representative survey of the prevalence and correlates of mental disorders in the U.S.; co-director of the World Health Organization's World Mental Health Survey Initiative, a series of comparative community epidemiological surveys of the prevalence and correlates of mental health disorders and treatment for these disorders in 28 countries around the world; and principal investigator of the HMS site for Army STARRS, a research program funded by the U.S. Army and the National Institute of Mental Health to study risk and protective factors for suicide among Army personnel. In addition, Kessler is involved in evaluating a number of innovative programs for the prevention and treatment of mental illness in high-risk segments of the population. 
Moazed's research focuses on understanding the processes that underlie epigenetic inheritance. His lab studies silent chromatin domains, also called heterochromatin, a conserved feature of eukaryotic chromosomes that play central roles in maintenance of chromosome stability and epigenetic memory of gene expression states. Applying a combination of approaches ranging from genetics, biochemical reconstitution, biophysics, proteomics, genomics and structural biology to study epigenetics in yeast and mammalian cells, Moazeds' work has shed light on the interplay between posttranslational histone modifications and other pathways that control epigenetic inheritance. These pathways include small and large noncoding RNAs associated with the RNAi pathways, DNA sequence motifs, histone modifying enzymes, chromatin replication and other factors. In addition to epigenetic memory, which is encoded at the DNA and chromatin levels, Moazed studies how microRNAs regulate neuronal memory and changes in synaptic plasticity. 
Wolfe is director of the Visual Attention lab, which focuses on understanding the mechanisms of vision and attention that dictate how people find what they are looking for. His work involves behavioral studies of visual search tasks and focuses on multiple aspects of visual processing, including preattentive vision, the processing of visual stimuli before they are selected by attention for further, more complete analysis; attentional deployment, the mechanisms by which attention selects specific items including studies of how to terminate searches without finding the target; and postattentive vision, the consequences of attention. The lab also applies the research to real-world applications of socially important visual search behavior in tasks such as airport security and cancer screening in radiology.
Wyss is dedicated to encouraging scientific and medical breakthroughs, helping to save the world's last remaining wild places and empowering the most vulnerable in society. His long-standing support for science, engineering and medical training include large gifts that enabled Harvard University and four Swiss universities to create multidisciplinary scientific institutes, including the Wyss Institute for Biologically Inspired Engineering, to produce groundbreaking research in a variety of fields. The Wyss Institute's unique model for integrating scientists and engineers from highly diverse fields with experts who have industrial experience and business development professionals has helped bridge the gap between academia and industry, enabling new technologies to leave the lab and enter the marketplace, including such breakthroughs as immunotherapy for cancer, organs-on-chips and others.
---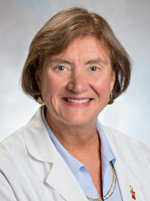 Christine Seidman, the HMS Thomas W. Smith Professor of Medicine at Brigham and Women's Hospital and professor of genetics in the Blavatnik Institute at HMS, is the recipient of the 2019 Vanderbilt Prize in Biomedical Science from Vanderbilt University School of Medicine. The prize honors women scientists with a stellar record of research accomplishments who have made significant contributions to mentoring other women in science.
Seidman's lab has identified the genetic causes of several human heart diseases including cardiomyopathy, the potentially fatal enlargement of the heart. Seidman aims to use these insights to improve diagnostic precision and effective therapies. She has supervised the training of more than 50 young scientists and has served on several committees and task forces focused on the advancement and support of women in academic medicine.
Seidman will receive an honorarium and present a seminar at Vanderbilt in September as part of the Flexner Discovery Lecture series. She will mentor a Vanderbilt Prize Student Scholar, a woman pursuing graduate studies in the biomedical sciences in the Vanderbilt School of Medicine.
---
A Harvard Medical School student and two admitted HMS students are among 30 recipients of 2019 Paul and Daisy Soros Fellowships for New Americans, a graduate school program for immigrants and children of immigrants. Selected from an applicant pool of 1,767 for their potential to make significant contributions to United States society, culture or their academic fields, each recipient will receive up to $90,000 in funding for the graduate program of their choice.
Ahmed Ahmed was born in a refugee camp in Mombasa, Kenya, after his family fled civil war in Mogadishu, Somalia, and he and his family immigrated to the U.S. when he was one year old. Ahmed earned a bachelor's degree in biology, magna cum laude, with distinction in research from Cornell University. As an undergraduate, in addition to researching the development of more sustainable plastics, Ahmed worked as a teaching assistant and student advisor, receiving awards for teaching, student excellence and service. He went on to pursue an master of medical science degree in education as a Rhodes Scholar at the University of Oxford. His work has been published in the Washington Post, the Journal of Academic Medicine and the Oxford Student; he contributed to a book, Journeys: An American Story, which highlights immigration as the bedrock of America. Ahmed is currently pursuing master in public policy at the Blavatnik School of Government and serves as the junior dean of Hertford College at the University of Oxford. He plans to pursue an MD at HMS and hopes to work on projects that increase healthcare coverage and efficiency.
Born in Quetta, Pakistan, Sana Batool and her family migrated to the U.S. in 2013 to escape persecution against the Hazara minority ethnic group. Batool earned a bachelor's degree in biochemistry, summa cum laude, from the William E. Macaulay Honors College at Lehman College, commuting four hours every day and sewing clothes to support her family's income. While attending college, she conducted cancer research in the lab of Prabodhika Mallikaratchy, designing and synthesizing novel, multifunctional oligonucleotides for biomedical applications, which resulted in five peer-reviewed publications. After graduating, Batool volunteered, taught and did research resulting in three additional manuscripts. She plans to pursue an MD at HMS and hopes to make lasting contributions to the Hazara community and to work with vulnerable refugees and asylees as a health professional on a global level.
Natalie Guo's parents were born in China during the Cultural Revolution and came to the U.S. to be physician-scientists. Guo was inspired by spending time in her parents' lab as a child. At Princeton University, she was awarded the Barry M. Goldwater Scholarship for sequential research projects in organ regeneration and the tumor microenvironment. After becoming fascinated in the economics of health care, Guo worked with management teams at Goldman Sachs and TPG and gained insight into balancing mission and profits. She recently completed her MBA at Harvard Business School, where she cofounded a specialist referral service to physicians caring for underinsured patients. At HMS, she aims to unite her business experience with the perspective and values of being a physician to restructure problems of coordination between institutions, caregivers and their patients.
The 2019 Fellows are all the children of immigrants, Deferred Action for Childhood Arrivals (DACA) recipients, green card holders or naturalized citizens. Founded by Hungarian immigrants Daisy M. Soros and her late husband Paul Soros (1926-2013), the fellowship program, now in its 21st year, honors continuing generations of immigrant contributions to the United States. The program has also released new eligibility requirements which broaden the definition of "New Americans."
---
Dany Thorpe, program coordinator in the HMS Office for Diversity Inclusion and Community Partnership, was named to receive the 2019 Dolores J. Brown Award from the HMS Office of Human Resources.
This year, eleven outstanding individuals were nominated for their dedication and commitment to high performance at HMS and HSDM. The 2019 award nominees are: 
Karrol Altarejos, program coordinator for the Harvard MIT Health Sciences and Technology program
Eileen Barrette, executive coordinator for the Campus Planning and Facilities Office
Laura Cowieson, senior grants manager in the Department of Health Care Policy
Mary Kathryn Fallon, financial associate with the Family Van
Heidi Fliegauf, staff assistant for Academic and Clinical Programs in the Office for Academic and Clinical Affairs
Cindi-Ann Hirst, conflict of interest coordinator with the Office for Academic and Research Integrity
Aga Jackson, OSCE program manager in the Program in Medical Education's Office of Educational Quality Improvement
Jake Jacobellis, program coordinator in the HSDM Office of Research 
Tania Rodriguez, community engagement curator in the Countway Library of Medicine
Dany Thorpe, program coordinator in the Office for Diversity Inclusion and Community Partnership 
Martha Vedrine, staff assistant in the HSDM Dental Education program
This award was established by the Brown family in 2002 to honor the memory of Dolores and to commemorate her contributions to the School. The award pays tribute to an exceptional staff member at HMS or HSDM who exemplifies the spirit and commitment that Dolores demonstrated in her work at the School.
Specifically, the award recognizes a staff member who has a record of outstanding service to their position, colleagues and the School; demonstrates respect for HMS and its mission; and helps to create a welcoming, friendly and inclusive work environment.
---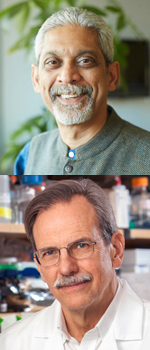 Two Harvard Medical School researchers have been named recipients of the prestigious Canada Gairdner Awards for transformational work in the fields of biomedicine and global health.
Vikram Patel, The Pershing Square Professor of Global Health in the Blavatnik Institute at HMS and professor at the Harvard T. H. Chan School of Public Health, will receive the 2019 John Dirks Canada Gairdner Global Health Award. Patel is being recognized for research that has transformed understanding and attitudes toward the importance of mental health in a global context, for his contributions to international mental health policy and for efforts to improve access to mental health services in areas of the world where mental health resources are acutely lacking.
Timothy Springer, the Latham Family Professor of Biological Chemistry and Molecular Pharmacology at Harvard Medical School and Boston Children's Hospital, will receive the 2019 Canada Gairdner International Award, which recognizes pivotal contributions in the field of biomedicine. Springer is being honored for his discovery of the first immune system adhesion molecules, for elucidating their roles in the body's ability to recognize foreign antigens and mount an attack against them, and for the subsequent translation of these findings into therapies for autoimmune diseases.
---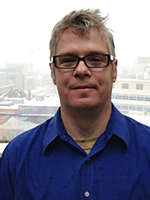 Scott Kennedy, the Philip and Aya Leder Professor of Genetics in the Blavatnik Institute at HMS, and his co-authors have received the Editors' Choice Award for an outstanding molecular genetics article published in GENETICS in 2018, for their article Transgenerational Epigenetic Inheritance Is Negatively Regulated by the HERI-1 Chromodomain Protein. This is one of only three articles selected for this honor each year.
The editor's note about the article reads: C. elegans is a well-established model organism for the investigation of the transgenerational epigenetic inheritance (TEI) mediated by small RNAs. The mechanisms by which TEI is regulated are not well understood. Perales et al. identified a negative regulator of TEI expressed in the germline that is recruited to target genes via the nuclear RNAi machinery. The authors propose that the generational perdurance of RNAi inheritance is set by competing outputs of this machinery.
Co-authors include HMS research fellows in genetics Daniel Pagano and Gang Wan, and former HMS research fellows in genetics Arneet Saltzman, Roberto Perales and Brandon Fields
---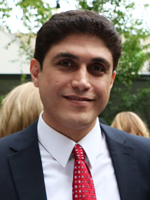 Alireza Haghighi, HMS instructor in medicine at Brigham and Women's Hospital and HMS research fellow in genetics in the Blavatnik Institute at HMS, received a Global Health Pioneer Award in Dubai in January. He was recognized for significant contribution to improving the quality of life through innovation and capacity building.
The award celebrates the dedication, innovation and commitment of health care leaders worldwide who have made significant contribution to the global health. Haghighi is the founding president of Advancement Initiative for Medicine and Science, a global foundation that brings together academics and physicians and is dedicated to advancing medical science and healthcare around the world. Haghighi investigates the genetic basis for human disease, with a focus on heart disease and translating the research discoveries into better diagnostics and improved patient care.
---