Awards & Recognition: March 2018
Herman Suit, the HMS Andres Soriano Professor of Radiation Oncology, Emeritus, has been awarded the National Association for Proton Therapy's Lifetime Achievement Award in recognition of his pioneering work in the field of radiation oncology and proton therapy.
The founding chair of Radiation Oncology at Massachusetts General Hospital, Suit began practicing while the field of radiation oncology was still in its infancy and served as a key leader in development of proton therapy as an effective, mainstream tool for treating cancer.
His early research in treatment of some of proton therapy's first patients with Michael Goitein, HMS professor of radiation oncology (radiation biophysics), emeritus at Mass General, led to the establishment of proton therapy as a mainstream medical modality. Among his accomplishments are his work with limb-preserving treatment for sarcoma patients and proton treatment for spine, sacral and skull base tumors. Suit continues to study tumor microenvironment and angiogenesis of tumor and normal tissue in the lab and has won numerous award for his work.
---

, HMS professor of ophthalmology at Mass. Eye and Ear, was named a Helen Keller Prize for Vision Research 2018 by the BrightFocus Foundation. He is one of four individuals who will be honored for their collaboration on the genetics of vision disease in June in Washington, D.C.
This award is given to an outstanding vision scientist, or group of vision scientists, selected by an awards committee of the Helen Keller Foundation for Research and Education. In the early 1990s, the discovery of the retinoblastoma gene by Dryja and his colleagues led to a revolution in our understanding of inherited retinal degenerations and the ongoing development of targeted gene therapies for this blinding group of eye disorders.
Additionally, Rachel Bennett, HMS research fellow in neurology at Mass General, was named a Spotlight: Emerging Researcher by the foundation. Her interests include mechanisms of neurodegeneration and in-vivo imaging methods. In her BrightFocus-funded research, Bennett is testing whether tau-induced vascular changes contribute to cell death and whether therapeutic interventions to prevent blood vessel changes could alter the course of Alzheimer's disease.
---
Ammar Sarwar, HMS assistant professor of radiology and an interventional radiologist at Beth Israel Deaconess Medical Center received the Dr. Gary J. Becker Young Investigator Award, which recognizes promising young practitioners to encourage the pursuit of academic careers, from the Society of Interventional Radiology Foundation (SIR) during the society's annual scientific meeting in Los Angeles on March 19.
Sarwar's research focuses on the costs and outcomes of health care delivery for image-guided procedures at the population level which he investigated while leading a SIR Foundation research consensus panel on "Evaluating the Costs of Interventional Radiology in Healthcare Delivery." In addition, he was the recipient of a SIR Foundation and Neiman Health Policy Institute grant evaluating readmissions after interventional radiology procedures.
---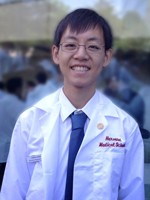 Aaron Cheng, fourth-year Peabody Society student, was named the 2017 CAF-ApoPharma Distinguished Scholar Award recipient by the Cooley's Anemia Foundation. This scholarship is presented to individuals in the United States with a clinically significant form of thalassemia who are pursuing postgraduate doctoral level studies in medicine or science.
Cheng's goal hopes to better understand the potential causes of hematologic diseases by using powerful computational tools to process many thousands of genetic variants that are present in the patients and their families and applying genetic filters in order to identify several mutations that may explain their disease. Last year, he worked on five different patients with blood disorders that were not explained by common genetic mutations. He plans to put the $20,000 scholarship toward an additional year at HMS to do hematology-related research.
---
Pamela Silver, the Elliot T. and Onie H. Adams Professor of Biochemistry and Systems Biology, received the David Perlman Memorial Lectureship, spon­sored by Bristol-Myers Squibb, from the American Chemical Society Division of Biochemical Technology (BIOT). Silver was recognized for her contributions and leader­ship in the areas of systems and synthetic biology. She received the award on March 18 during the spring ACS national meeting in New Orleans, Louisiana.
---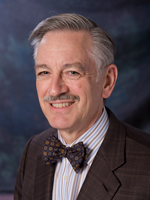 Mark Gebhardt, the HMS Frederic W. and Jane M. Ilfeld Professor of Orthopedic Surgery at Beth Israel Deaconess Medical Center, received the 2018 Diversity Award from the American Academy of Orthopaedic Surgeons during the organization's 2018 Annual Meeting. The Diversity Award recognizes members of the Academy who have distinguished themselves through their outstanding commitment to making orthopedics more representative of, and accessible to, diverse patient populations.
Chair and surgeon-in-chief of the Department of Orthopedic Surgery at the Beth Israel Deaconess Medical Center, Gebhardt was recognized for his unwavering commitment to advance diversity in orthopedics, having acted on his strong conviction that recruiting women and minorities into orthopedics is fundamental to advancing the field.
Having mentored numerous medical students, orthopedic residents and young orthopedic surgeons, he is a long-time advocate for recruiting and hiring women and minorities into the Harvard Combined Orthopaedic Residency Program–both as residents and as faculty. In addition, he is actively involved in treating patients from all ethnic and socioeconomic backgrounds.
---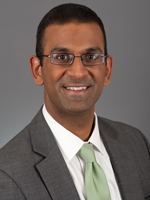 Vijay Sankaran, HMS assistant professor of pediatrics at Boston Children's Hospital, has been awarded the Gale and Ira Drukier Prize in Children's Health Research from Weill Cornell Medicine. The Drukier Prize honors an early-career pediatrician whose research has made important contributions toward improving the health of children and adolescents.
A pediatric hematologist and oncologist at Dana-Farber/Boston Children's Cancer and Blood Disorders Center, Sankaran investigates the molecular underpinnings of pediatric genetic blood disorders, focusing on inherited diseases such as sickle cell disease and thalassemia. He is being recognized for his innovative research on red blood cell disorders, using genetic studies to understand how blood cell production occurs normally and how it goes awry in disease. His findings have led to promising new therapeutic approaches for these disorders.
---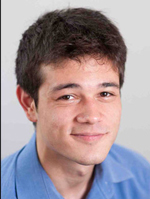 Nicholas Bodnar, a PhD candidate in the HMS Biological and Biomedical Sciences program, was one of 13 graduate students selected to receive a 2018 Harold M. Weintraub Graduate Student Award, which recognizes outstanding achievement in graduate studies in the biological sciences.
The awards will be presented May 4 at a scientific symposium at the Fred Hutchinson Cancer Research Center in Seattle, Wash. At that time, awardees will present findings from their respective research projects, which include how flu evolves, the impact of sleep on the brain, the biological mechanisms that maintain HIV infection and more.
---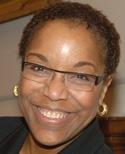 Joane Reede, dean for diversity and community partnership, was announced as the honoree for the American Cancer Society Cancer Action Network annual New England Research Breakfast on June 18 in Boston. The event brings together more than 300 leaders from business, academia, health care, government and life sciences.
Reede is being honored for her many contributions to the advancement of under-represented minority students, trainees, and professionals pursuing careers in the biomedical and health sciences.