News
Awards & Recognition: August 2017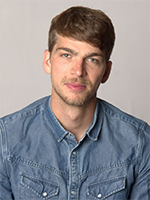 Moritz Kraemer, HMS research fellow in pediatrics at Boston Children's Hospital, has been selected as one of five new fellows by the Branco Weiss Fellowship for outstanding postdoctoral researchers by ETH Zurich (Swiss Federal Institute of Technology). The fellowship grant gives Kraemer up to five years of complete academic freedom to do interdisciplinary research at any institution in the world.
As a Branco Weiss fellow, Kraemer will work on building a framework to formally integrate viral genetic, epidemiological and spatial data with the aim to better predict the spread of infectious diseases. Kraemer aims to meld traditional epidemiological case-count data, pathogen genomes and high resolution geographic data into a single theoretical framework for reconstructing and predicting viral epidemics. Specifically, he will test whether integrating these data sources in existing predictive models can increase their accuracy and open up new ways of reconstructing epidemic pathways. The goal is to disentangle pathogen specific contributions of demographic, ecological and genetic factors that drive the expansion of disease. Kraemer believes they can be generalized into a modelling framework that accounts for real-world heterogeneity.
---
Eliezer Peli, HMS professor of ophthalmology at Schepens Eye Research Institute, was selected to receive the American Academy of Optometry's Charles F. Prentice Medal Award, which is given annually to a distinguished scientist or clinician scientist in recognition of a career-long record of advancement of knowledge in vision science.
As the recipient, Peli will present a special lecture at the American Academy of Optometry annual meeting in October 2017 that highlights his most significant scientific contributions. His research spans the interface between engineering and ophthalmic/vision research as it pertains to low vision rehabilitation.
---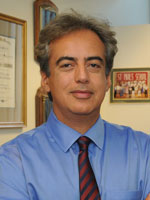 Reza Dana, the HMS Claes H. Dohlman Professor of Ophthalmology at Massachusetts Eye and Ear, received a 2017 Senior Achievement Award from the American Academy of Ophthalmology. The honor recognizes individuals who participate in the scientific programs at their annual meetings and contribute to more than 25 categories of the Academy.
Dana is an internationally recognized clinician scientist and a world leader in the field of corneal immunology and transplantation biology. As an ophthalmologist and an immunologist, he has a particular interest in the cellular and molecular mechanisms of inflammation as they pertain to ocular surface and anterior segment pathologies, including dry eye, allergy, wound healing responses, and transplant rejection.
---
Two Harvard Medical School researchers have received awards from Research to Prevent Blindness.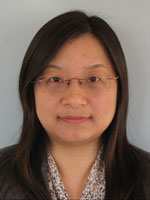 Jing Chen, HMS assistant professor of ophthalmology at Boston Children's Hospital, has received a 2017 Special Scholar Award from RPB to support her work developing a novel genetic mouse model of dry age-related macular degeneration (AMD). A leading cause of blindness worldwide, the dry form of AMD is more common, affecting 80-90 percent of AMD patients, and is characterized by slow deterioration of vision. In 10-20 percent of people, dry AMD progresses to wet, or neovascular, AMD, with growth of abnormal blood vessels underneath the retina that leak fluid or blood, which may result in relatively sudden loss of vision. While anti-VEGF medications can help slow the progression of wet AMD, there is currently no effective treatment for the more prevalent dry form. Chen's project will help researchers learn more about how dry AMD develops. With this understanding, vision researchers can work to improve the early diagnosis, treatment, and prevention of AMD.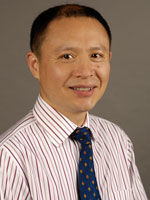 Gang Luo, HMS associate professor of ophthalmology at Schepens Eye Research Institute has received a 2017 Innovations in Technology Low Vision Research Award from Research to Prevent Blindness (RPB)/Reader's Digest Partners for Sight Foundation/Consumer Technology Association Foundation to support the development of a new vision assistance smartphone app to help the blind navigate their surroundings. Luo is a research scientist experienced in optics, image processing and biomedical engineering. He devotes much of his effort to developing and evaluating assistive technologies for visually impaired individuals. This will be the third vision assistance app developed by Luo's laboratory. More than 320,000 people around the world have downloaded his apps.
---
Three HMS faculty members were honored by the International Academy of Cardiology as recipients of the 2017 IAC Awards at the 22nd World Congress on Heart Disease held in Vancouver, BC, Canada, for major contributions to medicine and cardiology.
The following awardees from HMS were:
Luc Djoussé, HMS associate professor of medicine at Brigham and Women's Hospital, received the Walter Bleifeld Memorial Award for distinguished work in the field of Clinical Research
Guo-Ping Shi, HMS associate professor of medicine at Brigham and Women's Hospital, received the Albrecht Fleckenstein Memorial Award for distinguished work in the field of Basic Research
Samia Mora, HMS associate professor of medicine at Brigham and Women's Hospital, received the Jan J. Kellermann Memorial Award for distinguished work in the field of Cardiovascular Disease Prevention
---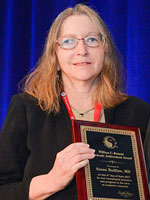 Susan Redline, the HMS Peter C. Farrell Professor of Sleep Medicine at Brigham and Women's Hospital, received the William C. Dement Academic Achievement Award from the American Academy of Sleep Medicine for exceptional initiative and progress in the areas of sleep education and academic research at SLEEP 2017.
Redline directs a program in sleep medicine epidemiology at Brigham and Women's Hospital and Beth Israel Deaconess Medical Center in Boston. Her research focuses on understanding the risk factors and outcomes of sleep disorders across populations, the role of sleep interventions in improving health, and the use of web-based resources to enable exchange and analysis of sleep data.
---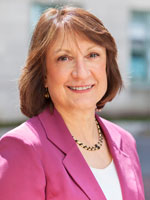 Elizabeth Rider, HMS assistant professor of pediatrics at Boston Children's Hospital, received the Platinum Medal for Excellence in Person Centered Healthcare from the European Society for Person Centered Healthcare (ESPCH), which recognizes achievement and excellence in person-centered healthcare advocacy, scholarship, research, teaching and in the design, evaluation and measurement of person-centered healthcare-driven clinical services.
Rider creates and directs programs to enhance the relational skills and professionalism of health care leaders, faculty, trainees and clinicians in her role as a member of the Division of General Pediatrics and the director of Academic Programs for the Institute for Professionalism and Ethical Practice at Boston Children's. She is a founder of and currently directs Boston Children's and Harvard Medical School's first Faculty Education Fellowship in Medical Humanism and Professionalism and the first Faculty Fellowship for Leaders in Collaborative and Humanistic Interprofessional Education. Rider also has a leadership role with the International Charter for Human Values in Healthcare, an inter-professional collaborative effort to restore core values to healthcare around the globe.
---
Four HMS researchers are among 18 to be named to Damon Runyon Fellows by the Damon Runyon Cancer Research Foundation. The recipients of this four-year award are outstanding postdoctoral scientists conducting basic and translational cancer research in the laboratories of leading senior investigators across the country. The fellowship encourages the nation's most promising young scientists to pursue careers in cancer research by providing them with independent funding ($231,000 each) to work on innovative projects that have the potential to impact cancer prevention, diagnosis and treatment.
The 2017 Damon Runyon Fellows from HMS and their work are the following:
Anne Dodson, research fellow in genetics at HMS, with her sponsor Scott Kennedy, the Philip and Aya Leder Professor of Genetics at HMS, is investigating how defects that are not strictly based on DNA mutations can be passed from parent to progeny for multiple generations. Germ cells, the producers of eggs and sperm in animals, normally transmit the blueprint for life from parent to progeny. When germ cells acquire defects, however, these defects may also pass from parent to progeny. These underexplored defects may contribute to the onset and inheritance of familial cancer syndromes, and a better understanding of them could result in new cancer therapies.
Phillip Dumesic, HMS research fellow in cell biology at Dana-Farber Cancer Institute, with his sponsor Bruce Spiegelman, the HMS Stanley J. Korsmeyer Professor of Cell Biology and Medicine at Dana-Farber, seeks to understand how physical exercise promotes health. In addition to strengthening skeletal muscle, exercise also benefits distant organ systems, providing protection from metabolic disorders and chronic diseases including cancer. These widespread effects highlight muscle's ability to communicate via secreted signals. However, the ability to pharmacologically modulate these signals for therapeutic gain is challenged by our limited understanding of their identities and mechanisms of action. By identifying muscle-derived signaling factors involved in muscle homeostasis and systemic metabolism, this research promises to suggest new avenues for therapy against cancer-associated cachexia, a condition of muscle wasting and perturbed metabolism.
Tikvah Hayes, HMS research fellow in medicine at Dana-Farber with her sponsor Matthew Meyerson, HMS professor of pathology at Dana-Farber, is focused on understanding and identifying mechanisms of resistance to cancer therapies. Why some cancers respond to some therapies at first, but later become unresponsive, is not well understood. Small cell lung cancer is an ideal cancer to investigate how and why chemotherapy, the oldest and most prescribed cancer regimen, initially causes tumor reduction but ultimately fails after some period of time. She will use a multifaceted approach to interrogate chemotherapeutic resistance with the goal of identifying new methods to enhance patient treatment.
Deepshika Ramanan, HMS research fellow in microbiology and immunobiology at HMS, with her sponsor Christophe Benoist, the Morton Grove-Rasmussen Professor of Immunohematology at HMS, studies the interplay between commensal microbes and immune cells in the intestine, and how these interactions influence the progression of inflammation and colorectal cancer. Her research particularly focuses on a cell type that dampens inflammatory responses, known as regulatory T cells. In the intestine, these cells can be broadly categorized into two subsets that differ in origin and responsiveness to microbes, but their exact functions remain unclear. She aims to identify the specific functions of these different subsets in intestinal inflammation, tissue repair, and tumor pathogenesis. These studies could provide invaluable information that can be harnessed to improve current cancer immunotherapy options.
Follow
HMS
Stay informed via email on the latest news, research, and media from Harvard Medical School.