News
Awards & Recognition: April 2018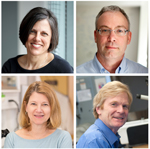 Four Harvard Medical School scientists have been elected to the American Academy of Arts and Sciences Class of 2018 for exceptional scholarship in the field of biomedicine. Founded in 1780, the Academy recognizes and celebrates excellence by honoring scholars, leaders, artists, and innovators and engages them in sharing knowledge and addressing some of the most vexing challenges facing the world. The newly elected members will be inducted at a ceremony in Cambridge, Mass., in October.
The four HMS honorees are as follows:
Patricia D'Amore, the Charles L. Schepens Professor of Ophthalmology and Professor of Pathology at HMS and Massachusetts Eye and Ear
Susan Dymecki, professor of genetics at HMS
Wade Harper, Bert and Natalie Vallee Professor of Molecular Pathology and head of the Department of Cell Biology at HMS 
Christopher A. Walsh, Bullard Professor of Pediatrics and Neurology at HMS and Boston Children's Hospital 
---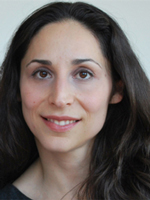 Anna Greka, HMS assistant professor of medicine at Brigham and Women's Hospital, was named a recipient of the 2018 Donald Seldin-Holly Smith Award for Pioneering Research, which honors early-career physician-scientists who have demonstrated exceptional creativity and accomplishments in biomedical research. She will be recognized on April 21 as part of the 2018 AAP/ASCI/APSA Joint Meeting and will deliver a scientific talk at the 2019 Joint Meeting.
Greka focuses on developing targeted treatments for kidney diseases. Her laboratory studies kidney podocytes, critical blood-filtering cells whose loss is responsible for progression to kidney failure. Her previous discoveries have formed the basis for precision therapies for kidney diseases, now in active development. In addition Greka is an institute member and director of Kidney Disease Initiative at the Broad Institute of MIT and Harvard and director of Kidney-NExT Center for Kidney Disease and Novel Experimental Therapeutics at Brigham and Women's.
---
Alex Keuroghlian, HMS assistant professor of psychiatry, part-time, at Massachusetts General Hospital, has been selected to receive the 2018 Jonathan F. Borus Outstanding Early Career Educator Award, which is awarded by the HMS Psychiatry Executive Committee to a junior faculty member at HMS who has demonstrated exceptional promise, initiative and commitment in the area of psychiatric education.
Keuroghlian, who is also director of education and training programs at the Fenway Insitute, will receive the award at the Harvard Medical School Symposium on Medical Student Education in Psychiatry at the Harvard Faculty Club on April 26.
---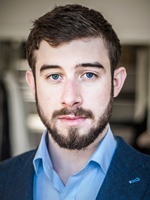 David Liebers, a third-year student at Harvard Medical School, is one of 14 medical students chosen for the 2018 Medical Program of the Fellowships at Auschwitz for the Study of Professional Ethics (FASPE) to participate in a two-week program in Germany and Poland this summer, which uses the conduct of physicians in Nazi-occupied Europe as a way to reflect on medical ethics today. The FASPE Medical program's holistic curriculum looks beyond the specifics of formal rules to focus on ethical problems faced by individual doctors in the various settings in which they practice.
"There are very few moments during medical school to step back and seriously consider professional, ethical and moral responsibilities that stretch beyond the clinic," said Peabody Society student Liebers. "My view is that there is a need to reaffirm and redefine the 'call to service' at the core of the medical profession, each generation; doing this through the historical prism offered by FASPE is a powerful way to do just that."
Liebers academic interests include the role of genetics in predicting disease course in neuropsychiatric illness and in informing clinical decision-making, as well as the history of medicine in interwar eastern Europe. He joins a diverse group of 64 FASPE fellows from the fields of medicine, business, journalism, law and seminary who were chosen from applicants across the U.S. and the world. FASPE covers all program costs, including travel, food and lodging.
---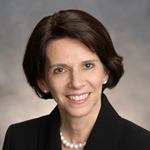 ​Janey Wiggs, the HMS Paul Austin Chandler Professor of Ophthalmology, associate chief of ophthalmology clinical research and associate director of the Howe Laboratory at Massachusetts Eye and Ear, was named the 2018 recipient of the Dr. David L. Epstein Award, an honor given by the Association for Research in Vision and Ophthalmology (ARVO). Wiggs will receive the award at the ARVO Annual Meeting this May in Honolulu, Hawaii.
Wiggs is being honored for her research studying genetic risk factors of glaucoma, which has been instrumental in advancing our understanding of the biology of glaucoma and has led to the development of diagnostic screening and prevention strategies for the disease. She currently investigates several specific sub-conditions of glaucoma, such as adult and juvenile onset primary open angle glaucoma. In conjunction with these studies, her laboratory has developed a registry of more than 2,000 early and adult onset glaucoma patients. She is also a member of eyeGENE, a genotyping project designed to study inherited ocular diseases.
---

Nancy Tarbell, the C.C. Wang Professor of Radiation Oncology at Massachusetts General Hospital and dean for academic and clinical affairs, has been chosen to receive the tenth annual Margaret L. Kripke Award by the University of Texas MD Anderson Cancer Center for her significant contributions to the advancement and promotion of women in cancer research and cancer medicine. She will give an address and receive a $5,000 award on April 3 in Houston, Texas.
Follow
HMS
Stay informed via email on the latest news, research, and media from Harvard Medical School.