Annual Event Showcases Diversity in Science
Symposium draws student scientists from some 100 institutions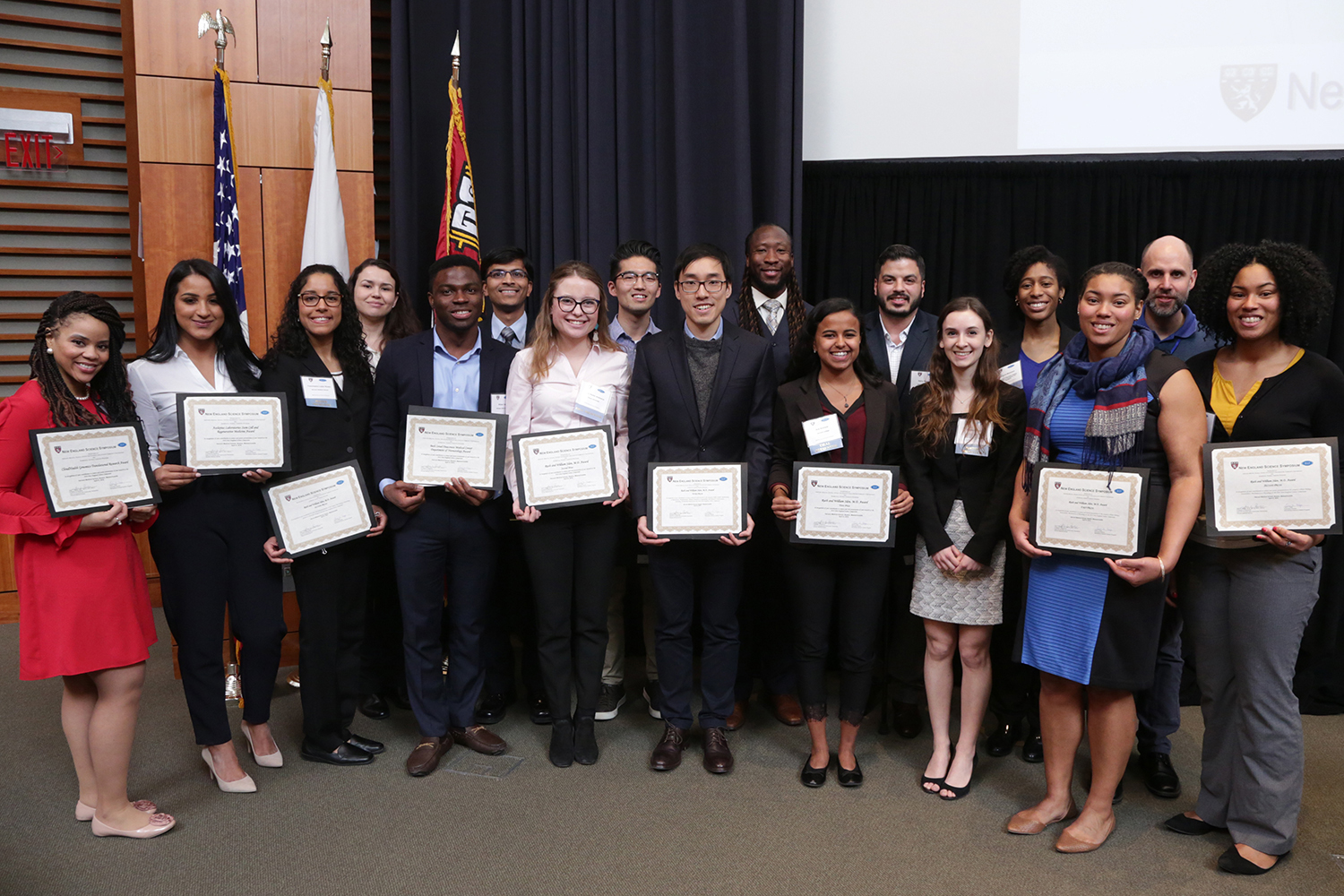 On April 8, Harvard Medical School hosted more than 350 students from some 100 institutions at the New England Science Symposium (NESS). The annual event, established in 2002, provides a forum for students at varying levels to share their research in biomedical and health-related fields.
Presenters, a majority of whom were from populations underrepresented in the sciences, ranged from postdoctoral fellows, medical, dental and graduate students, as well as post-baccalaureates and undergraduate and community college students.
In addition to sharing their research via an oral or poster presentation, attendees had the opportunity to expand their networks, exchange ideas and further develop their career paths.
Olajumoke Akinsulire, a medical student at Brown University, was a first-time NESS participant. For her, the research depicted in her poster, "Evaluation of an enteral lipid emulsion to prevent fatty acid deficits in pre-term infants using a pre-term piglet model," was an opportunity to ask new research questions, collaborate with a diverse team and gain unique perspectives while merging her interests during her medical training.
NESS, Akinsulire said, was a distinct opportunity to gain new contacts and meet new mentors.
"Mentorship takes different forms," said Fatima Cody Stanford, a NESS judge and HMS faculty member at Massachusetts General Hospital.
"It's a hard road with unique challenges for women of color," said Stanford, who herself once presented a poster at NESS and participated in the HMS Visiting Clerkship Program, adding that it is the support of programs like this that can make a pivotal difference in advancing careers and building meaningful professional relationships.
Tim Mitchison, the Hasib Sabbagh Professor of Systems Biology at HMS, was struck by the exciting science being presented by articulate and energetic students.
"NESS would be an ideal event to recruit students or postdocs for your group or program," Mitchison said.
Mentorship and career development were continuous themes at NESS. George Q. Daley, HMS dean, held a "fireside chat" alongside Joan Y. Reede, HMS dean for diversity and community partnership. When asked what inspired his career in science, Daley cited the critical importance of mentors along the way who "exuded that sense of excitement about discovery," while also facilitating and encouraging his success.
"It's not just the big names … I had someone at every stage," he said, reflecting on his early days as a dishwasher in a laboratory, observing experiments over the shoulders of others and asking questions as he went along. "Perseverance is one of the greatest attributes you can have," Daley said of a career in the sciences, adding that personal generosity and generosity of spirit in mentors of the future are what will carry the field forward.
For more information on the New England Science Symposium, other opportunities at HMS and programs of the Office for Diversity Inclusion and Community Partnership, please visit https://mfdp.med.harvard.edu/dicp-programs.