70 Years of Women at HMS
Women making history at HMS.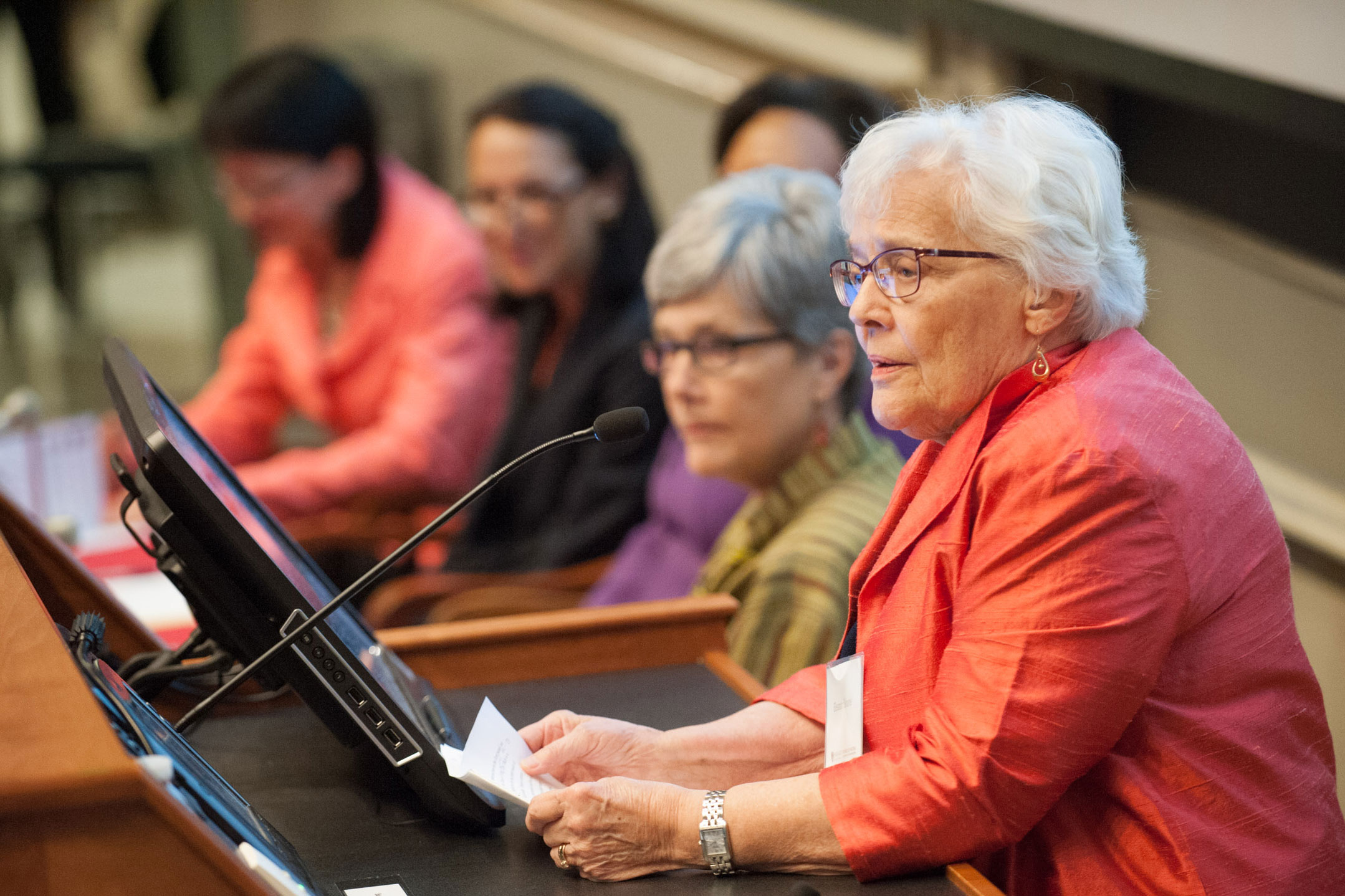 Eleanor Shore spoke at the HMSLXX: 70 Years of Women at HMS celebration. Image: Suzanne Camarata Ball.
Eleanor Shore stepped onto the Harvard Medical School campus as a first-year medical student in 1951, a time when women accounted for only 7 percent of the class.
"Today, and for most of the past 20 years, women student representation is hovering around 50 percent, as it should," said Shore '55, speaking at the HMSLXX: 70 Years of Women at HMS celebration on Oct. 21.
 "During my four years as a student, I met only two women faculty, and they were assistant professors of anatomy. There may have been others in the hospital but I never met them," said Shore, a co-chair of the event.
The history of women at HMS truly began in 1847 when the first recorded mention of women requesting admission appeared in medical faculty records on June 12 of that year. It wasn't until September of 1945, however, that female students were accepted at HMS. The decision was made to provide medical instruction for women in response to fewer applications from men due to World War II.
Progress for women in faculty positions at HMS began to be made in 1969, when Elizabeth Hay was named the first full-time female professor, nearly 10 years after Shore first entered the School. Shore noted that there are now more than 250 women who have been named to full professorships at HMS.
This year, HMS is also celebrating 20 years of the Shore Fellowships, awards given to clinical and fellow researchers as well as to faculty who are pursuing critical research. Shore and her husband, Miles, initiated the fellowships. 
Other milestones of 2016 include the 10th anniversary of the Archives for Women in Medicine, 42 years of the Joint Committee on the Status of Women at Harvard (JCSW) and the inauguration and funding of the Elizabeth Hay Professorship.
Shore joined co-chair Julia Haller '80, ophthalmologist-in-chief and the William Tasman, M.D. Endowed Chair at the Wills Eye Hospital in Philadelphia, along with co-hosts Barbara McNeil '66, acting dean of HMS, and Nancy Tarbell, dean for academic and clinical affairs, to celebrate 70 years of women's achievements at the School.
"I'm happy to see a community where women are seen and supported, and we have to keep mentoring the next generation." - Paula Johnson
The day featured a series of curated conversations followed by a reception and networking. The first of three symposia featured a panel of women leaders focused on progress and promise moderated by journalist and family physician Susan Okie'78. Panelists included HMS alumnae Margaret Hamburg '83, former commissioner of the U.S. Food and Drug Administration, Paula Johnson '84, president of Wellesley College, and Vivian Lee '92, dean of the University of Utah School of Medicine.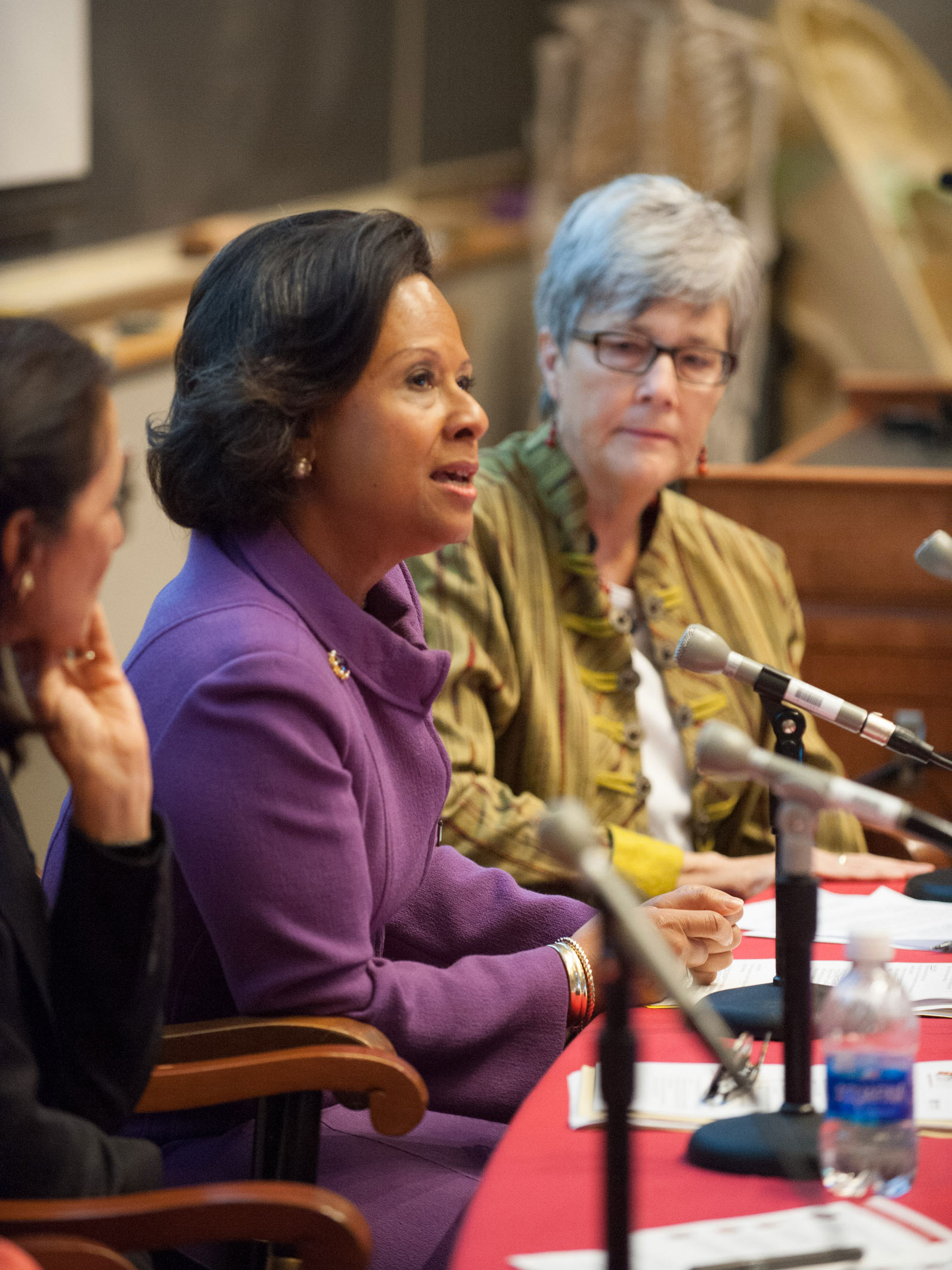 "It is encouraging to see how this community has changed," said Johnson, who spoke about the importance of female mentorship. "I'm happy to see a community where women are seen and supported, and we have to keep mentoring the next generation."
The theme of change continued as the second panel featured female progress at HMS then and now, moderated by Joan Reede, dean for diversity and community partnership and professor of medicine at HMS.
Panel members included HMS student Kia Byrd '18, Patricia Donahoe, chief emerita of pediatric surgical services and director of pediatric surgical research laboratories at Massachusetts General Hospital, and Linda Heffner, former chair of the JCSW and professor of obstetrics and gynecology at Boston University School of Medicine.
The symposium also featured a video from Raquel Cohen '49 discussing work-life balance and women's role in medicine. Cohen grew up in Peru and talked about her parents' influence on her education and her mother's plan for her to study in the United States, which ultimately led her to Harvard.
The third panel featured women's health in the forefront of research moderated by Maureen Connelly, dean for faculty affairs and an assistant professor of population medicine at HMS. The panel included Louise Aronson '92, a geriatrician, writer and professor of medicine at the University of California, San Francisco School of Medicine, JoAnn Manson, the Michael and Lee Bell Professor of Women's Health at HMS and chief of the Division of Preventive Medicine at Brigham and Women's Hospital, and Nancy Oriol '79, former dean for students and now faculty associate dean for community engagement in medical education at HMS.
"The speakers were inspirational, the moderators fantastic, and everything ran like clockwork," said Emily Oken '95, professor of population medicine at Harvard Pilgrim Healthcare.
The celebration concluded with a keynote conversation with Shirley Tilghman, president emerita and professor of molecular biology at Princeton University, as well as a member of The Harvard Corporation, highlighting the progress women have made over the past 70 years at HMS.