2 HMS Faculty Elected to National Academy of Sciences
Scientists honored for achievements in original research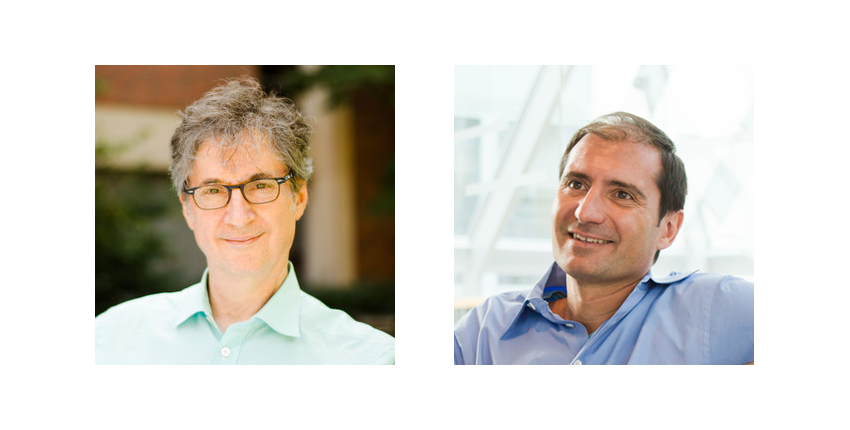 Two scientists from Harvard Medical School have been elected to the National Academy of Sciences (NAS) this year in recognition of their outstanding and continuing achievements in original research.
Daniel Kahne and Bernardo Sabatini are among the 100 new members and 25 foreign associates who will be inducted into NAS in late April 2020. The honor recognizes the significant contributions both have made to the body of scientific knowledge and underscores the intellectual richness of the HMS community.
Kahne, professor of biological chemistry and molecular pharmacology in the Blavatnik Institute at HMS and the Higgins Professor of Chemistry and Chemical Biology and of Molecular and Cellular Biology in the Faculty of Arts and Sciences at Harvard University, studies the problem of antibiotic resistance by investigating new approaches for treating resistant bacterial infections. His laboratory is focused on the mechanisms by which various antibiotics disrupt the protein machines that build and breakdown the protective outer membrane of bacteria, particularly those of Gram-negative bacteria. Understanding the mechanisms by which cell walls establish and maintain their integrity could lead to insights on how to interfere with them, presenting the possibility of new targets for antibiotic discovery.
Sabatini, the Alice and Rodman W. Moorhead III Professor of Neurobiology in the Blavatnik Institute at HMS and an investigator of the Howard Hughes Medical Institute, studies how experience changes the way brain cells communicate and connect with one another—knowledge that is critical to expanding our understanding of how new behaviors are learned and refined. This work includes biophysical studies of how individual synapses operate and integrative studies of how networks of neurons develop and function. Such studies are often made possible by the tools and techniques—particularly those that push the boundaries of imaging—that are conceived of, designed and built in his laboratory. By studying the developmental changes that influence the process of learning in animal models, his research seeks to determine how perturbations in these processes in humans may contribute to neuropsychiatric disorders such as Parkinson's disease.
Other Harvard faculty elected this year include: Joanna Aizenberg, the Amy Smith Berylson Professor of Materials Science and professor of chemistry and chemical biology; Cynthia Friend, the Theodore William Richards Professor of Chemistry, professor of materials sciences and director of the Rowland Institute at Harvard; David Laibson, the Robert I. Goldman Professor of Economics; Matthew Rabin, the Pershing Square Professor of Behavioral Economics; Zhigang Suo, the Allen E. and Marilyn M. Puckett Professor of Mechanics and Materials;
David R. Williams, the Florence Sprague Norman and Laura Smart Norman Professor of Public Health and professor of African and African American studies; and Amir Yacoby, professor of physics and of applied physics.
The NAS is a nonprofit organization of the country's leading researchers that provides independent, science-based advice to the U.S. government on scientific and technological issues. Scientists are elected by their peers.
The National Academy of Sciences was established under a Congressional charter signed by President Abraham Lincoln in 1863. It recognizes achievement in science by election to membership, and—with the National Academy of Engineering and the National Academy of Medicine—provides science, engineering and health policy advice to the federal government and other organizations.