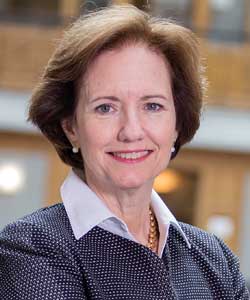 Lisa Muto, PhD
Executive Dean for Administration
Lisa Muto has been the Harvard Medical School executive dean for administration since June 2017. Previously, she served for nine years as associate dean for institutional planning and policy at HMS. Muto joined Harvard University more than 30 years ago and has held a range of senior leadership positions. As executive dean for administration, Muto oversees all HMS administrative functions, including finance, campus planning and facilities, communications and external relations, human resources, institutional planning and policy, information technology, and research administration.
Muto is a key strategic partner to the HMS dean and focuses on building a more cohesive community and sparking important synergies that will better align administrative and academic teams. She has a lead role in planning for the School's financial sustainability by assessing processes that support mission-critical research and operations while strategizing to create greater efficiencies.
As associate dean for institutional planning and policy, Muto was responsible for academic and strategic planning as well as the development of faculty policy for the preclinical departments at HMS. She managed initiatives to support the School's strategic vision, such as contributing to the formation of the Department of Biomedical Informatics. Additionally, Muto partnered with the Harvard University Office of Governing Boards and the HMS Visiting Committee.
Muto also co-led the School's planning process for the Liaison Committee on Medical Education accreditation visits and continuous quality improvement initiative. She was a leader in developing a fresh vision for the School's continuing medical education program and, in 2008, managed a School-wide strategic planning process that brought together faculty and administrative leaders from HMS, other Harvard schools, and HMS affiliated hospitals.
In 2007, Muto was honored with the Joseph B. Martin Dean's Award for the Advancement of Women Faculty and Staff. She received an AB with highest honors from Harvard College and a PhD from McGill University in Montreal.