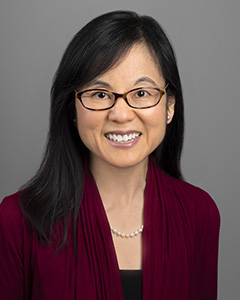 Grace C. Huang, professor of medicine at Harvard Medical School and Beth Israel Deaconess Medical Center, was named dean for faculty affairs effective July 2021. In directing the Office for Faculty Affairs, she is responsible for the strategic leadership, oversight, planning, and implementation for the Faculty of Medicine, including the recruitment, retention, academic promotion processes, and career advancement of our faculty through professional development programming, resources, and celebration of their accomplishments.
Huang is a hospitalist at Beth Israel Deaconess and nationally recognized educator with expertise in faculty development and educational scholarship. At BIDMC she was previously vice chair for Career Development and Mentorship in the Department of Medicine, director of Academic Careers and Faculty Development, and director of the Rabkin Fellowship in Medical Education, a yearlong intensive program founded in 1996 that has been responsible for training educational leaders across HMS. Her two decades of scholarship in medical education have led to contributions across the continuum of physician training.
She is the recipient of many teaching awards, including the 2021 Excellence in Teaching Award from the Society of Hospital Medicine, the 2021 Clifford A. Barger Excellence in Mentoring Award at HMS, and the 2022 Class Day Excellence in Clinical Instruction Award at HMS.
Dr. Huang served as associate editor of NEJM Journal Watch for nine years and was on the editorial board of Simulation in Healthcare for 14 years. She serves as editor-in-chief of MedEdPORTAL, a journal of the Association of American Medical Colleges. As a leading authority on educational scholarship, she gives presentations nationally and internationally on publishing and developing academic writing skills. She is an editorial board member of Academic Medicine.
Dr. Huang graduated with degrees in English and biological sciences from Stanford University and received her MD from Washington University in St. Louis. She completed her internship and residency in internal medicine at Beth Israel Deaconess. She has completed a Rabkin Fellowship in Medical Education, HMS Academy Fellowship, and Picker Fellowship in Evidence-Based Medicine.