About Spaulding Rehabilitation Hospital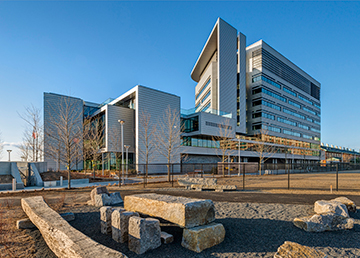 Founded in 1971 as the Massachusetts Rehabilitation Hospital, Spaulding Rehabilitation Hospital is one of the largest rehabilitation facilities in the U.S., providing comprehensive rehabilitation treatment. We offer world-class patient and strive to provide exceptional clinical care, promote medical education, and advance research.
In April 2013, Spaulding opened a new 132-bed facility in Charlestown which is national model for environmental and inclusive design. With a wide range of inpatient programs and 25 outpatient centers throughout Eastern Massachusetts, Spaulding strives to continually update and improve its programs to offer patients the latest, high-quality care through its leading, expert providers. Spaulding has been awarded a Model Systems designation in three specialty areas- Brain Injury, Spinal Cord Injury and Brain Injury Rehabilitation- by the National Institute on Disability and Rehabilitation Research.
Spaulding Rehabilitation Hospital has been ranked as the #2 rehabilitation hospital in the country by U.S. News & World Report for 2018-19 and is the only rehabilitation hospital in New England ranked each year since 1995.
Spaulding Rehabilitation Network is the official teaching partner of the Harvard Medical School Department of Physical Medicine and Rehabilitation (PM&R).
The Spaulding Network's facilities, including three inpatient facilities, a skilled nursing facilities, and 25 outpatient facilities spanning Cape Ann to Cape Cod are members of Partners HealthCare, founded by Massachusetts General Hospital and Brigham and Women's Hospital. The knowledge and expertise of this entire health care system is available to patients and caregivers. Spaulding is also affiliated with Partners HealthCare at Home, which provides high-quality services at home, where the comfort and security of familiar surroundings can greatly enhance quality of life.