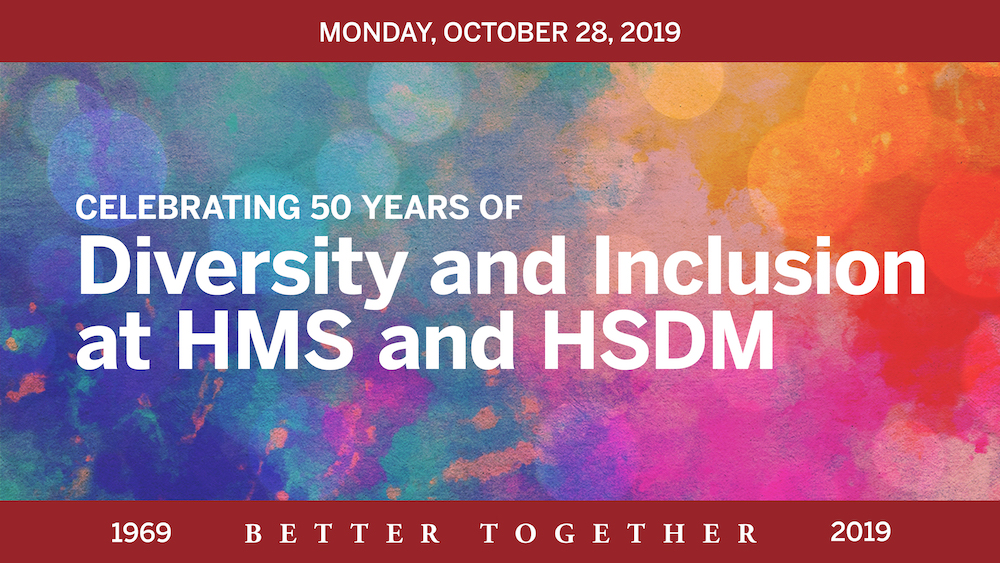 "On Thursday, April 4, 1968, upon hearing the news that Dr. Martin Luther King, Jr. was shot, a small but passionate group of nine Harvard Medical School (HMS) faculty felt they had to do something to change the way the world worked. The world they knew and could influence was Harvard Medical School. By Monday of the following week, these nine faculty met with Robert Ebert, the Dean of the Faculty of Medicine at HMS, insisting that HMS improve its relations with the black community (Eisenberg, 1968)." 
Excerpt from Thirty Years of Affirmative Action at Harvard Medical School: A Mixed Method Program Evalution by Alane K. Shanks
Presented April 12, 2004
American Educational Research Association
"It has been 50 years since HMS increased its enrollment to accommodate unrepresented minority students. Fourteen URM students were enrolled that first year. Leon Eisenberg was a prime leader and mover in that hallmark event that has resulted in a culture of diversity and inclusion not only at HMS and its affiliated hospitals, but influenced many other medical schools and academic medical centers across the country to self-examine and accept a more diversified student body and faculty."
Ronald A. Arky
Daniel D. Federman, M.D. Distinguished Professor of Medicine and Medical Education
Celebrating 50 Years of Diversity and Inclusion at HMS and HSDM
Monday, October 28, 2019
Tosteson Medical Education Center (TMEC) Amphitheater
260 Longwood Ave. Boston, MA
Noon-1pm
Talks@12
Then to Now: Reflections by leadership on the evolution of diversity and inclusion
Speakers
Kevin Churchwell
President and Chief Operating Officer, Boston Children's Hospital
Edward Hundert
Dean for Medical Education, Harvard Medical School
Nawal Nour
Chief Diversity and Inclusion Officer for Faculty, Trainees and Students, Brigham and Women's Hospital
Joan Reede
Dean for Diversity and Community Partnership, Harvard Medical School
Fidencio Saldaña
Dean for Students, Harvard Medical School
1-2:30pm
Optional activities including tours of the campus and the Countway Library Center for the History of Medicine diversity and inclusion archives
2:30-5pm
Symposium: Why We Are Better Together
Celebrating our progress, recognizing our heroes and looking to our future
Welcome remarks from George Q. Daley, HMS '91, Dean, Harvard Medical School and Edward Hundert, HMS '84, Dean for Medical Education, Harvard Medical School
Report by current HMS and HSDM students: Follow-up on the 1,350 URM students admitted since 1969
Recognition ceremony: Honoring the Heroes of our Diversity Story
Recollections from Dr. Alvin Poussaint's former students
Emilio Carrillo, HMS '76
Eve Higginbotham, HMS '79
Shirley Marks, HMS '73
Woodrow Meyers, HMS '77
Matt Plummer, HSDM '73
Fidencio Saldaña, HMS '01
Thomas Sequist, HMS '99
Town Meeting on Diversity lead by George Q. Daley, Dean, Harvard Medical School
A reception will follow in the TMEC Atrium.
Event Information
Harvard Longwood Campus Maps and Directions

here

.
Hotels
For reduced hotel rates, please use the booking links below, or contact these hotels directly. Hotels fill quickly and rates expire as indicated below. Rates below do not include prevailing state/local and occupancy taxes.
Use link or call hotel with code HMSD2019. Group rate expires on Sept. 26, 2019.
$249/night
342 Longwood Ave., Boston
800-468-2378
Closest to the HMS Quad.
Group rate expires on Sept. 12, 2019.
$219/night
40 Webster St., Coolidge Corner, Brookline
617-734-1393
Parking
Complimentary parking is not available. Self-park garages with varying rates are located at 300, 333 and 375 Longwood Ave.
Where to eat and what to see in the Longwood area
Visit www.longwoodarea.org for things to do, see, learn, visit and eat in the communities of Fenway, Mission Hill and the Longwood Medical and Academic Area.
Diversity and Inclusion Connections at HMS and HSDM
Office for Diversity Inclusion & Community Partnership (HMS)
Office of Recruitment & Multicultural Affairs (HMS)
Community Values Statement (HMS)
Office of Diversity and Inclusion (HSDM)
The Center for the History of Medicine's Archives for Diversity and Inclusion Program at the Countway Library
Items of interest
Harvard Medical School's Family Van reaches Boston's underserved neighborhoods in the most direct way possible: by driving there (VIDEO)
Harvard's MEDscience program offers local high-schoolers hands-on learning (VIDEO)
Harvard Medical News - Documenting Diversity: Countway archivist Joan Ilacqua on expanding diversity of representation in the library's collections