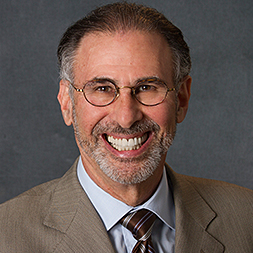 Lee M. Nadler, MD
Dean for Clinical and Translational Research
Lee M. Nadler was appointed dean for clinical and translational research at Harvard Medical School in February 2008. He is also the Virginia and D.K. Ludwig Professor for Cancer Research and Teaching and director of Harvard Catalyst at HMS. He is the senior vice president for academic integration and the Pan Mass Challenge Senior Investigator at the Dana-Farber Cancer Institute.
Dr. Nadler's laboratory discovered the human B-cell specific molecules CD19, CD20, CD21 and CD22 and the costimulatory molecules B7-1 (CD80) and B7-2 (CD86). His translational experiments established our understanding of human B-cell differentiation and led to the worldwide immunologic classification of human B-cell leukemias and lymphomas. Similarly, he was the first to administer a monoclonal antibody to a human and to use monoclonal antibodies to improve the outcome of human stem cell transplantation. His discovery and characterization of the B1 molecule (CD20) led to the development of Rituxan, which has significantly improved the survival of patients with lymphomas and other B-cell diseases throughout the world.
Dr. Nadler has been recognized with numerous awards for his pioneering efforts in the discovery and development of revolutionary treatments for cancer patients. He was the founding chief of the Division of Hematologic Malignancies and founding chair of the Department of Medical Oncology at Dana-Farber. He served as the first leader of the Center for Clinical and Translational Research at Dana-Farber. As director of Harvard Catalyst, he and his colleagues have worked to bring investigators together as "One Harvard" to begin to solve major issues in human health.