About The Forsyth Institute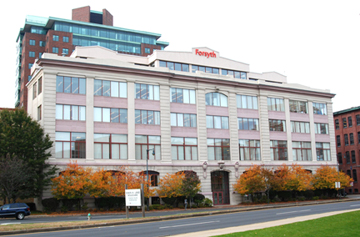 The Forsyth Institute is the only independent research institute in the United States focusing on the connections between oral health and overall wellness. Since its inception in 1910 as a dental infirmary for children, Forsyth has established itself as a pioneer in pediatric dentistry, treating hundreds of thousands of children in need across Massachusetts. Today, Forsyth is grounded in a 3-pillared strategic plan focused on biological research, clinical service and public health outreach, and technological innovation.
Research at Forsyth includes world-renowned expertise in microbiology and the oral microbiome, immunology and inflammation, and mineralized tissue.
In 2001, ForsythKids began using vans to deliver preventive dental care to children of all ages at schools, daycares, summer camps, and community centers across Massachusetts. Today, the ForsythKids team treats more than 3,000 kids per year at 60 sites throughout the state. More than 90 percent of the children we serve live below the poverty line.
Forsyth has a long legacy of developing novel oral health technologies. The Institute's Center for Clinical and Translational Research offers a highly skilled and experienced team of administrative staff, dental professionals, laboratory technicians, and subject recruitment specialists to meet every need of a clinical trial.