Vanderbilt Hall Athletic Facility
Vanderbilt Hall Athletic Facility
Harvard Medical School is proud to offer exciting fitness and recreation programs at the Vanderbilt Hall Athletic Facility.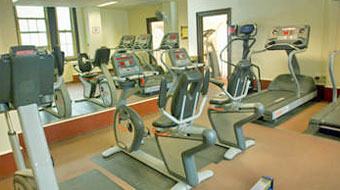 As a member, you can take advantage of the outstanding service provided by our professional staff. This includes:
A full-time, degreed personal trainer
Personalized fitness programs designed to reflect your fitness level, your interests, meet your goals, and fit into your schedule
Sports specific training
Organized fitness and recreational programs
Fitness assessments
Hours of Operation
Open Everyday: 6:00 am to 11:45 pm.
Open Holidays unless otherwise posted.
Amenities
Basketball Court (Schedule)
Cardiovascular Room
2 Weight Rooms
Group Fitness Room (Schedule)
Outdoor tennis court
Bouldering Room
SPIN Studio
Activities
Group Fitness Classes (schedule)
Intramural Programs

Basketball
Soccer
Volleyball

Recreation Programs
Facilities
Showers
Fully-equipped locker room
Free daily lockers
Locker rental available annually
Contact
For more information about the facility or programs, please contact the Athletic Director at (617) 432-1942, or email athletic_vanderbilt_hall@hms.harvard.edu.