Facts & Figures
HMS Mission
To create and nurture a diverse community of the best people committed to leadership in alleviating human suffering caused by disease
History
Established September 19, 1782
Leadership
Jeffrey S. Flier, MD
Dean of the Harvard University Faculty of Medicine
Departments
Number of hospital-based clinical departments 49
HMS by the Numbers
Total faculty 11,860
Tenured and tenure-track faculty on the HMS campus, in 9 preclinical departments 166
Voting faculty, campus and affiliates 4,980
Full-time faculty, campus and affiliates 8,924
Nobel Prizes (Medicine or Physiology; Peace) 9 prizes, 15 recipients
Howard Hughes Medical Institute investigators 31
Members, Institute of Medicine  (living) 115
National Academy of Sciences 62
Total MD students 709
Total PhD students 582
     *MD-PhD Basic Sciences 150
      Social Sciences 19
Total DMD students 150
Trainees (residents and postdoctoral fellows) 9, 376
 
Students
Entering MD students, 2011:
MD (includes 13 MD–PhD students) 165
Applicants 5,435
Admitted 223 (4.1%)
Matriculated 165
Men 88 (53%)
Women 77 (47%)
Underrepresented in medicine (African American, Native American, Hispanic) 31 (19%)
Asian 56 (34%)
Entering PhD and DMD students, 2011:
PhD 105
DMD 35
Additional joint-degree programs:
MD-MBA; MD-MPH; MD-MPP
Medical school alumni 9,582 (MD and MMS degrees)
MD Financial Aid (Fiscal Year 2012)
Average scholarship $39,110
Annual unit loan $26,950 (entering students); $24,500 (returnting students)
Students receiving financial aid (excluding MD–PhD students) 87%
Students graduating with loans 111
Average loan debt at graduation $104,836
Range of debt (Class of 2012) $22,088–$245,129
Tuition and Fees (2012–2013)
Tuition $49,875
Fees $3,621
Affiliated Hospitals and Research Institutions
Centers, Divisions and Institutes
Library
The Countway Library comprises the Harvard Medical School library and Boston Medical Library
Special Collections (available through Countway)
History of medicine (802 incunabula)
European books printed 16th–20th centuries
English books published 1475–20th century, American books 18th–20th centuries, Bostoniana
Medical Hebraica and Judaica 14th–20th centuries
Manuscripts and archives, especially of New England origin (20 million items)
Medical library of Oliver Wendell Holmes (900 titles)
Warren Library of early works in surgery (2,000 volumes)
Friedrich Tiedemann collection of anatomy and physiology (4,000 items)
Historical Collection in Radiology
National Archives of Plastic Surgery
Medical prints, photographs and artwork (35,000)
Renowned collection of medical medals (6,000)
Archives of Harvard Medical School, Harvard School of Dental Medicine and Harvard School of Public Health
The Archives for Women in Medicine
Nobel Laureates
Fifteen researchers have shared in nine Nobel prizes for work done while at HMS.
George Minot and William P. Murphy, 1934, Physiology or Medicine
Research on liver treatment of the anemias
Fritz A. Lipmann, 1953, Physiology or Medicine
Identified coenzyme A and discovered basic principles of the way cells generate energy
John F. Enders, Frederick C. Robbins* and Thomas H. Weller, 1954, Physiology or Medicine
Application of tissue-culture methods to the study of viral diseases, such as polio
Baruj Benacerraf, 1980, Physiology or Medicine
Discovered genetically determined structures on the surface of immune system cells that regulate immunological reactions
David Hubel and Torsten Wiesel, 1981, Physiology or Medicine
Research on information processing in the visual system
Herbert Abrams, Eric Chivian and James Muller (with Bernard Lown of the Harvard School of Public Health), 1985, Peace
Cofounders, with Evgueni Chazov, Leonid Ilyin, and Mikhail Kuzin from the Soviet Union, of the International Physicians for the Prevention of Nuclear War
Joseph E. Murray, 1990, Physiology or Medicine
Developed procedures for organ and cell transplantation in humans (with E. Donnall Thomas, Fred Hutchinson Cancer Research Center)
Linda Buck**, 2004, Physiology or Medicine
Discovered odorant receptors and the organization of the olfactory system, explaining the sense of smell (with Richard Axel, Columbia University)
Jack Szostak, 2009, Physiology or Medicine
The discovery of how chromosomes are protected by telomeres and the enzyme telomerase (with Elizabeth Blackburn, University of California, San Francisco, and Carol Greider, Johns Hopkins University)
*Robbins was awarded the Nobel Prize for work done while a member of the Harvard Faculty. When the award was made, he was a member of the faculty of Western Reserve University.
**Buck was awarded the Nobel Prize for work done, in part, while a member of the Harvard faculty. When the award was made, she was a member of the faculty of Fred Hutchinson Cancer Research Center.
Fundraising Highlights
Harvard Medical School depends upon thousands of friends, alumni, organizations, faculty and staff to advance the School's groundbreaking work in biomedical research and its unparalleled programs in medical and graduate education. In fiscal year 2011, gifts and pledges to the School totaled $95 million. To read and download the School's annual Honor Roll of Donors, published by the Office for Resource Development, visit http://give.hms.harvard.edu/honor-roll.
Total HMS gifts and pledges
FY11 $94,685,992
FY10 $113,763,436
FY09 $97,603,850
FY08 $87,107,000
HMS gifts and pledges by purpose
Teaching/Research 56%
Professorship/Faculty 29%
Discretionary/Unrestricted 7%
Financial Aid/Student Support 5%
Other 3%
Financial Report
Harvard Medical School ended fiscal year 2011 with an increase in net assets of $0.9 million, a significant improvement over 2010.
Operating revenues totaled $655.3 million, an increase of 11 percent. Sponsored research revenue grew by 9 percent, largely due to continued success in obtaining federal stimulus funding for research through the American Recovery and Reinvestment Act. Other factors contributing to this positive scenario were a change in accounting for Harvard Health Publications (HHP), philanthropic support for the new Center for Primary Care and support from School-affiliated institutions.
Total operating expenses rose by 6 percent, to $654.4 million, largely due to higher grant volume in sponsored research, the accounting restatement for HHP and new scientific collaborations across Harvard University. Overall growth in expenditures was partly offset by a reduction in annual debt service following a strategic outlay in 2010 to lower total debt. HMS continues to make strides towards a sustainable financial future. At the same time, the School remains committed to providing an affordable education for students, and to investing in its world-class faculty, laboratories and facilities.
FY2011 Operating Revenue
Research grants and contracts $304,521,297 (46%)
Endowment income $160,414,007 (25%)
Other Revenues (*) $92,430,535 (14%)
Rental income $46,663,460 (7%)
Gifts for current use $33,703,690 (5%)
Tuition (Net) $17,563,990 (3%)
Total $655,296,979
(*) Includes continuing medical education, publications and royalties
FY2011 Operating Expenses
Personnel cost $265,286,530 (40%)
Supplies and other expenses $155,028,253 (24%)
Plant operations $90,082,619 (14%)
Subcontracts $92,406,062
Debt service (principal and interest) $51,568,546 (8%)
Total $654,372,010
 
Buildings on Campus
South Quad
Main Quadrangle, opened 1906
Harvard School of Dental Medicine, 1867
Francis A. Countway Library, 1965 (re-dedicated 2000)
Laboratory for Human Reproduction and Reproductive Biology, 1972
Seeley G. Mudd Building, 1977
Tosteson Medical Education Center, 1987 (named 1997)
Warren Alpert Building, 1992
Goldenson Building Renovations, 1994
Armenise Building (named 2000)
Gordon Hall of Medicine (named 2000)
Jeffrey Modell Immunology Center, 2007
North Quad
Harvard Institutes of Medicine, 1996
Vanderbilt Hall (student residence), 1927
New Research Building, 2003
Joseph B. Martin Conference Center (named 2007)
Our
Mission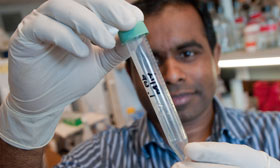 To create and nurture a diverse community
of the best people committed to leadership in alleviating human suffering caused by disease