Shining light on women in medicine
Shining light on women in medicine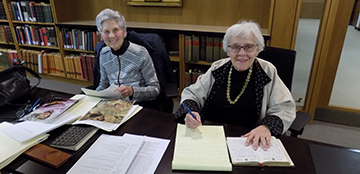 A professor of pediatrics and the first woman to chair a clinical department at Harvard Medical School—and the first woman physician-in-chief at Boston Children's Hospital—Avery is best known for her 1959 discovery of the cause of respiratory distress syndrome (RDS). Her discovery has helped to save hundreds of thousands of premature infants.
Avery is also among the extraordinary scientists whose manuscript collections are now part of the Archives for Women in Medicine at HMS. According to Scott Podolsky, AB '93, MD '97, director of the Center for the History of Medicine and professor in the Department of Global Health and Social Medicine, the Archives capture the behind-the-scenes efforts, relationships, successes, and struggles that comprise the recent and evolving history of women in medicine and biomedical sciences, particularly across the Harvard Medical community.
Now, the mission and work of the Archives are being advanced with a gift of $500,000 from Amalie Kass, a historian, author, and former teacher. "Somebody has to keep an eye on these women. I want to see the Archives grow. This will require new money to support all kinds of things we haven't even thought of yet," says Kass, whose book, "Midwifery and Medicine in Boston," chronicles the life and work of Walter Channing (1786–1876), MD, a prominent Boston obstetrician who co-founded the Boston Lying-in Hospital, now known as Brigham and Women's Hospital.
Since 2000, many faculty, staff, and friends, including Kass and Eleanor Shore, AB '51, MD '55, MPH '70, former HMS dean for faculty affairs and past chair of the Archives Advisory Committee,
have volunteered to make the Archives a reality. Together they have brought in more than 50 collections, organized them, and made them available to students and faculty around the world. They've also led educational outreach initiatives and launched several online exhibits, all with the goal of inspiring future generations of women to contribute to our knowledge in basic and clinical science.
In fact, the first archival research project undertaken by Kass and Shore focused on Anne Pappenheimer Forbes (1911–1992), MD, a clinical professor at Massachusetts General Hospital who became a pioneer in endocrinology and mentored several HMS alumni. Their profile of Forbes was published in Harvard Medicine magazine in 2015, followed by a talk on her life, which was attended by all five of Forbes' living children and their families.
"Over and over again, we have witnessed the impact and perpetuating nature of supportive mentorship. Amalie's philanthropy empowers the history of medicine to inform and shape contemporary medicine and society," says Podolsky.

Through this campaign, we will address the greatest health care challenges of our time to help people live longer, healthier lives. Learn more »
The Benefactor
Partners in Education, Discovery, Service, and Leadership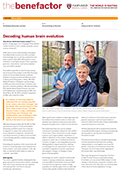 Download and read archived issues of our bi-annual publication to honor and acknowledge our most generous friends and supporters.