Richard and Susan Smith Family Foundation
Smith Family continues solid support for basic research

Loparo's work focuses on DNA damage and repair. This award will specifically be directed toward understanding a key player in the process of DNA transcription: an enzyme called translesion polymerase. Mistakes in the process of translating genetic information can lead to major diseases, including cancer.
Through their foundation, the Smith Family continues to enhance the greater Harvard medical community for the benefit of people everywhere.
"My family and I are proud to be associated with the groundbreaking research being done by the talented young recipients of these awards.
Our hope is that, through them, our foundation is making a real impact," says Richard.
Our
Mission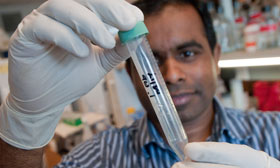 To create and nurture a diverse community of the best people committed to leadership in alleviating human suffering caused by disease