2013 Recap
Thank you to all who attended the 2013 Reunion and Alumni Week.
FACULTY SYMPOSIUM
Medical Discovery at HMS: Transplantation and Organ Regeneration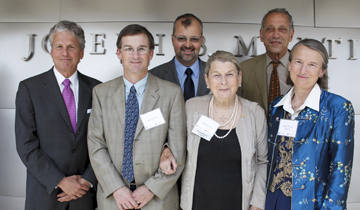 Dedicated to Joseph E. Murray, MD '43, in recognition of his contributions to Harvard Medical School, medicine, and humanity
Moderated by William W. Chin, MD '72, executive dean for research and Bertarelli Professor of Translational Medical Science at Harvard Medical School, panelists included Terry Strom, MD, professor of medicine at HMS; Joseph P. Vacanti, MD, John Homans Professor of Surgery at HMS; A. Benedict Cosimi, MD, Claude E. Welch Distinguished Professor of Surgery at HMS; and Bohdan Pomahac, MD, associate professor of surgery at HMS.
Read more about this symposium here
ALUMNI DAY SYMPOSIUM
Medical Education in the Era of Health Care Reform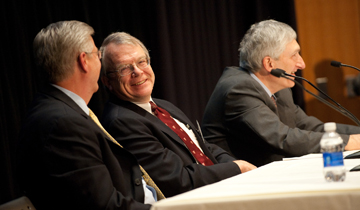 Moderated by George E. Thibault, MD '69, president of the Josiah Macy, Jr. Foundation, panelists included Steve Weinberger, MD '73, executive vice president and chief executive officer of the American College of Physicians; Eric B. Larson, MD '73, vice president for research at Group Health and professor of medicine and health services at the University of Washington; and Malcolm Cox, MD '70, chief academic affiliations officer for the U.S. Department of Veterans Affairs.
Read more about this symposium here
25TH REUNION SYMPOSIUM
Med Talks '88: Ideas Worth Sharing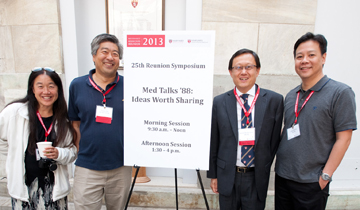 Four panels over a full day, moderated by Jeff Ecker, MD '88, professor of obstetrics, gynecology, and reproductive biology, Harvard Medical School, celebrated the accomplishments of the 25th Reunion Class, as graduates spoke about their work and its impact.
Panel 1: New Pathways in Academics and Education
Tony Monaco, MD '88, president of Tufts University; Jody Heymann, MD '88, dean of the Fielding School of Public Health at the University of California, Los Angeles, founding director of the World Policy Analysis Center; Andrea Reid, MD '88, physician in the gastroenterology, hepatology, and nutrition Section and program director of gastroenterology training, Washington, D.C. VA Medical Center;
Panel 2: Taking a Medical Education Down Different Paths
Claire McCarthy, MD '88, pediatrician and medical communications editor at Boston Children's Hospital, assistant professor of pediatrics at Harvard Medical School, and senior editor at Harvard Health Publications; Henry Chueh, MD '88, chief of the Division of Biomedical Informatics, director of the Laboratory of Computer Science at Massachusetts General Hospital; Sam Wong, MD '88, orchestra conductor in New York, London, Tokyo, and Hong Kong and ophthalmologist in private practice, and maestro of the 1988 Second Year Show
Panel 3: Research and Investigation - Different Ways to Push Boundaries
Jonathan Epstein, MD '88, William Wikoff Smith Professor and chair of the Department of Cell and Developmental Biology, scientific director of the Penn Cardiovascular Institute at the University of Pennsylvania's Perelman School of Medicine; Judy Chiao, MD '88, vice president of clinical development and regulatory affairs at Cyclacel Pharmaceuticals, Inc.; Stephen Blacklow, MD '88, Gustavus Adolphus Pfeiffer Professor and chair of the Department of Biological Chemistry and Molecular Pharmacology at Harvard Medical School
Panel 4: Adventures Near and Far
Paul Farmer, MD '90, PhD '90, Kolokotrones University Professor and chair of Department of Global Health and Social Medicine at Harvard Medical School; Phill Key, MD '88, doctor at Billings Clinic; Caren Solomon, MD '88, deputy editor of the New England Journal of Medicine and associate professor of medicine at Harvard Medical School; Tamara R. Fountain, MD '88, professor at Rush University Medical Center's Division of Ophthalmic Plastic and Reconstructive Surgery.
2013 Reunion
Photo Gallery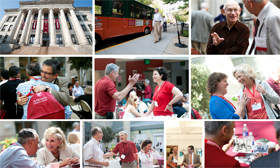 If you couldn't make it back to the Quad, or if you just want to relive the fun, event photographers were there to capture all the special moments. View our Flickr gallery here »
HMAA
Annual Meeting
Watch the 2013 Annual Business Meeting of the Harvard Medical Alumni Association here »
 
Reunion
Giving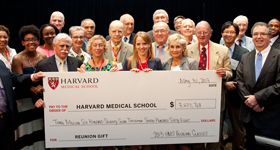 Thank you to the alumni who stretched their regular giving, or give for the first time, to present a class gift that will make a substantial impact on HMS and its students.