June 1-2, 2017
Classes ending in 2 or 7
Reunion Registration Opens Feb. 14. Check back for more information.
The majority of Reunion information will be provided electronically. If you haven't already claimed your HarvardKey, the University's replacement for alumni.harvard, visit key.harvard.edu today.
Thank you to all who attended in 2016!
2017 Reunion
June 1 - 2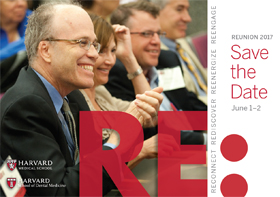 Classes ending in 2 or 7, Reignite the curiosity you enjoyed as a student. Start planning to Reconnect with your classmates and Rediscover the campus during your Reunion next June.

To provide you with the best Reunion experience the Alumni Relations Office reserved rooms at special rates at premier Boston venues. Click here for details »