June 2 - 3, 2016
Classes ending in 1 or 6
The majority of Reunion information will be provided electronically. To ensure you receive important announcements, please update your email address at alumni.harvard.edu.
Registration is open! Click the link to your class page to register.
Thank you to all who attended the 2015 Reunion and Alumni Week.
Information about your class photos can be found on your class web page:
REUNION REPORT SUBMISSIONS CLOSED
Thank you to everyone who submitted their entry to the Reunion Report. Your book will be mailed to you in May.

To provide you with the best Reunion experience the Alumni Relations Office reserved rooms at special rates at premier Boston venues. Click here for details »
2015 Reunion
Recap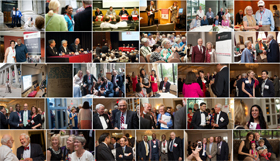 If you weren't able to return to the Quad, or if you want to relive the fun, event photographers were there to capture all the special moments. Videos are also available from the Alumni Day Symposium, the Dean's State of the School, and the Annual Business Meeting of the HMAA.