Professorship honors Chabner's roots and legacy
Professorship honors Chabner's roots and legacy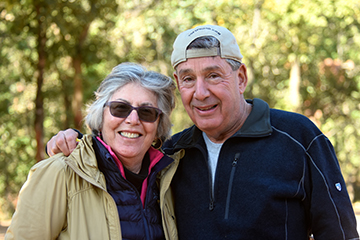 "So many patients come to him when they are told there are no more treatment options, and he frequently finds options that extend their lives. Like his father before him,
he is devoted to giving the best care," she says.
Bruce A. Chabner is considered a trailblazer in the field of cancer therapeutics. Prior to coming to MGH, he spent 25 years at the National Cancer Institute, where he was director of the Division of Cancer Treatment and responsible for cancer and AIDS drug development for 14 years. There his team developed Taxol and platinum derivatives, as well as the first effective anti-AIDS compounds. As a clinical investigator, he instituted drug-level monitoring to allow safe use of high-dose chemotherapy and participated in the development of standard therapies for lymphomas, breast cancer, and ovarian cancer.
To help further the field of cancer therapeutics, to which Chabner has dedicated his career, the couple have given $1 million in the form of a charitable remainder unitrust (CRUT), together with other gifts from patients, friends, and MGH, to establish the Shelby Memorial Professorship in Medicine in the Field of Cancer Therapeutics at HMS. Following Chabner's retirement, it will be renamed the Davi-Ellen and Bruce A. Chabner Professorship in Medicine in the Field of Cancer Therapeutics.
"When I arrived at MGH in 1995, there were no professorships in medical oncology. Now there are several but none specifically for cancer therapeutics, so I felt this was something we could do personally to help advance the field," says Chabner. He said that the Harvard CRUT was an attractive way to fund the professorship because it gave the couple a higher rate of return than virtually any other investment.
Personal Ambitions
Shelbyville, Ill., is the birthplace of Chabner's ambitions for cancer research. His sister was diagnosed with cancer at a young age, and though she was treated successfully, she later died of complications from radiation therapy.
As a high school student in Shelbyville, where he was born and raised, Chabner wrote a paper on the discovery and mechanism of action of aspirin, piquing his interest in drug development. And his father practiced medicine for the better part of three decades at Shelby Memorial Hospital, the town's rural community hospital.
"My father talked a lot about how new drugs, antibiotics, and steroids changed the practice of medicine. I was impressed by that and set my sights on bringing new drugs to patients," he says. "When I finished my internal medicine training, cancer was an obvious place to start. Davi and I thought that naming the professorship for this important place would be a nice way of remembering my dad and his colleagues in Shelbyville."
Chabner says he has never regretted his decision to pursue cancer therapeutics. "The field has evolved in ways that never would have been imagined, such as tailoring therapies to mutations in the tumor, but it is still a challenge every day."

Through this campaign, we will address the greatest health care challenges of our time to help people live longer, healthier lives. Learn more »
The Benefactor
Partners in Education, Discovery, Service, and Leadership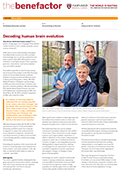 Download and read archived issues of our bi-annual publication to honor and acknowledge our most generous friends and supporters.