Paul Weiden, AB '63, MD '67
The power of planning ahead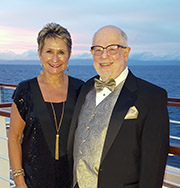 "What I valued most was the opportunity to interact with leading faculty who were committed to and cared deeply about medicine, research, and medical education. I also treasured my fellow students, who were bright, dedicated, hard-working, and destined to become leaders in American and international health care," says Weiden, who is clinical professor emeritus at the University of Washington.
This experience has inspired him to give back to HMS to support its strong reputation and the personal and professional growth of today's students. In honor of his upcoming 50th Reunion, he has made a substantial gift this year to add to his existing charitable remainder unitrust (CRUT), which ultimately will fund a scholarship in his family's name.
Weiden says his CRUT is part of a longstanding and slowly but steadily executed estate plan that both provides for his wife, Bev, using the no-fee services of Harvard Management Company, and allows him to support the School that provided his foundation in medicine and continues to do so for the most promising aspiring physicians.
"I am privileged to do what little I can to help alleviate the financial pressure often felt by college and professional graduates due to their massive educational debt to choose higher-paying careers and specialties instead of following their true passions," says Weiden.