Paralysis: Gordons push for better treatments, possible cure
Paralysis: Gordons push for better treatments, possible cure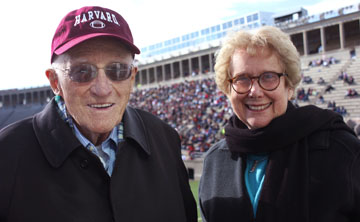 Ellen R. Gordon, GSA '69, and her late husband, Melvin J. Gordon, AB '41, MBA '43, are bolstering their advocacy and commitment to advancing research in this field with a gift of $5 million to Harvard Medical School and Spaulding Rehabilitation Hospital through the Cele H. and William B. Rubin Family Fund.
Their gift establishes the Ellen R. and Melvin J. Gordon Center for the Cure and Treatment of Paralysis at Spaulding and HMS, whose charge is to make major and lasting changes in the understanding, development of treatment interventions, and possible cure for paralysis, including that caused by brain stem injury. The center will be directed by Ross D. Zafonte, DO, senior vice president of medical affairs, research, and education for the Spaulding Rehabilitation Network and the Earle P. and Ida S. Charlton Professor and chair of the Department of Physical Medicine and Rehabilitation at HMS. Michael E. Greenberg, PhD, Nathan Marsh Pusey Professor and chair of the Department of Neurobiology at HMS, will oversee the associated fellowship program.
"When we study paralysis as a comprehensive disease model, it's clear the impact is incredibly broad, severely inhibiting the quality of life for millions of individuals, many of whom are suffering silently with little hope for improvement," says Zafonte. "Thanks to this generous support from the Gordons, this new center will be a beacon of discovery and hope."
Greenberg adds that HMS's expertise starts at the lab bench and expands to the clinic. "The more we investigate the fundamental biology of neurological damage, the stronger our clinical interventions will be. The establishment of this new center will enable those of us at the Medical School to engage even more productively with our outstanding colleagues at Spaulding. We're delighted at this opportunity."
Collaboration & Impact
The Gordon Center will enable researchers and clinicians from Harvard and Spaulding to collaborate with scientists from across the country and the world to expedite novel therapies and potential cures for the 1 in 50 Americans, according to the Christopher & Dana Reeve Foundation, affected by paralysis.
In addition to contributing to the current knowledge base through research studies, the center will convene an annual meeting of investigators to share results and review accomplishments. Zafonte and his team will also seek new ways to deliver care and share information with the broader community of people with disabilities.
"I cannot think of any greater cause than people's health in all parts of the world, and Harvard Medical School is at the forefront of solving some of the greatest medical challenges of our time," says Ellen Gordon, who is a member of the HMS Board of Fellows and Systems Biology Advisory Council. "My family and I are incredibly hopeful about this partnership and the positive impact it will have, particularly on those affected by paralysis and nerve damage."

Through this campaign, we will address the greatest health care challenges of our time to help people live longer, healthier lives. Learn more »
The Benefactor
Partners in Education, Discovery, Service, and Leadership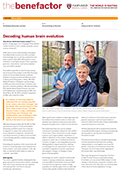 Download and read archived issues of our bi-annual publication to honor and acknowledge our most generous friends and supporters.