News
Aged human bodies are a surprising mix of old and new.
 Liver cells are renewed and replaced every few days, while the neurons that encode our memories and behavioral patterns survive as long as we do. As one of the longest-lived animals, that can be more than 100 years.
Even the proteins that make up tiny, intricate intra-cellular mechanisms, such as the pores that enable proteins to pass through the nuclear membrane, may be a mix of the very old and the very new. Some components of this sophisticated machine last a lifetime, while others need to be constantly replaced with new spare parts.
The same genes that promote growth and differentiation as the body develops often play contrasting, but equally crucial roles in keeping the body functioning during aging.
The biological machines responsible for maintaining the complex systems required for life face a series of daunting challenges over the lifespan of a human, and understanding why some bodies age gracefully and remain healthy and productive deep into old age is both a compelling scientific problem and a pressing societal concern.
In fact, as more Americans age and suffer from declining health, the costs to society continue to rise, according to Bruce Yankner, professor of genetics and neurology at HMS and Boston Children's Hospital.
One age-related illness, dementia, has recently risen to become the most expensive illness in the United States. By 2015, dementia will cost the U.S. health care system $200 billion, according to an April 2013 RAND report.
"This trend could quickly bankrupt Medicare," said Yankner, also co-director of the Paul F. Glenn Laboratories for the Biological Mechanisms of Aging at HMS. "The biology of aging, and particularly that of the brain, has become a national priority."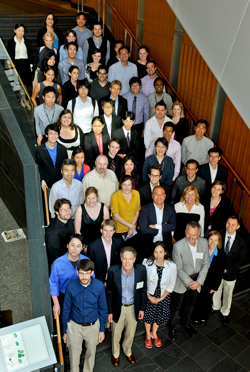 On June 17, researchers came together at the annual Harvard/Paul F. Glenn Symposium on Aging, organized by the Paul F. Glenn Laboratories for the Biological Mechanisms of Aging with support from the Glenn Foundation for Medical Research, to share their latest findings and to foster collaborations that may help increase understanding of the aging process, and may possibly accelerate the development of  therapies that can slow or reverse the pathologies of old age.
New research on aging
David Sinclair, co-director of the Paul F. Glenn Laboratories for the Biological Mechanisms of Aging and HMS professor of genetics, together with Jeffrey S. Flier, HMS dean; and Mark Collins, president of the Glenn Foundation for Medical Research, opened the symposium where researchers reported on new findings that are providing insight into the mechanisms of aging, including recent experiments that have reversed age-related pathologies in animal models. 
Amy Wagers, HMS and Harvard University professor of stem cell and regenerative biology at Joslin Diabetes Center and a member of the laboratories, for example, reported on the discovery of agents in circulating blood of young mice that reduce the size of enlarged hearts in aged mice. Her findings were published in the journal Cell in May.
Wagers, also an early career scientist at the Howard Hughes Medical Institute, along with collaborator Richard Lee, HMS professor of medicine at Brigham and Women's Hospital, discovered that a protein—GDF-11—can reverse some effects of aging in old mice, including repairing heart damage that is similar to damage that commonly causes heart failure in older humans.
Lee and Wagers are working to move their discoveries toward clinical trials to test the effectiveness of GDF-11 on people with diastolic heart failure.
"What we'd really like to understand is if, when you really get down to the mechanism by which aging impacts on tissue function, we might be able to prevent or even reverse that pathology," Wagers said. 
Martin Hetzer, of the Salk Institute, discussed the complex biology of long-lived proteins, while other researchers revealed new multi-disciplinary techniques and perspectives that combine deep whole genome sequencing, computational biology and other tools that ellucidate aging at the molecular, cellular, tissue, organism and population levels.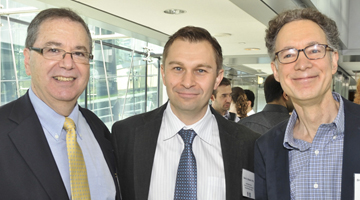 Follow
HMS
Stay informed via email on the latest news, research, and media from Harvard Medical School.