News
Tuberculosis: A Global Perspective
Part two of a two-part series on the state of tuberculosis. Treating the disease is more than just killing the bacterium; it involves working in communities to curb the spread of the disease. Click here to read Part 1: Tuberculosis Under the Microscope
Once popularly considered a disease of Romantic composers and poets, tuberculosis continues to be a global scourge, rendered much worse by its evolving resistance to drugs.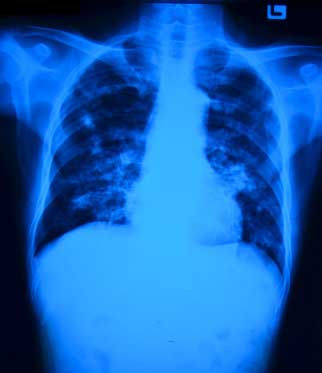 Harvard Medical School and Harvard School of Public Health scientists who have been working with Mycobacterium tuberculosis, the organism that causes this respiratory disease, are exploring better ways to overcome the adverse effects of the bacterium. But the difficulties extend far beyond the availability of effective treatment.
"The problem is three-pronged," said Eric Rubin, professor of immunology and infectious diseases at Harvard School of Public Health and Brigham and Women's Hospital. "We not only have problems with treatment options, but also with diagnostics and prevention methods that are not very good."
Whether it's developing better treatment or implementing prevention options, tuberculosis researchers are working to attack the multifaceted problem. In addition to standard clinical approaches, devising effective delivery systems and ensuring sustained methods of managing the disease may ultimately be the solution to the growing problem.
Litmus Test
Currently, the most commonly used method of testing for the disease is sputum smear microscopy. The patient coughs up a sputum sample, and a trained professional looks for M. tuberculosis under a microscope. It is a simple and relatively cheap diagnostic tool. 
It is also very inefficient, however, because the bacteria can be easily missed in the specimen.
"The goal of any diagnostic method is to be highly sensitive and specific, while also being inexpensive," said Carole Mitnick, assistant professor of global health and social medicine at Harvard Medical School. "Unfortunately, in the case of smear microscopy, for the sake of low cost, sensitivity is compromised." 
In an alternative test, bacterial culture is grown (over a period of up to eight weeks), offering higher specificity than smear microscopy. But these molecular tests are often more expensive than smear microscopy and are used less frequently in parts of the world they are most needed.
The lack of good diagnostic tools not only makes treatment tough but prevention as well. As a result, subgroups of populations that are at high-risk for contracting TB are often overlooked—subgroups such as children and people with HIV.
"Children shouldn't be an afterthought," said Mercedes Becerra, HMS associate professor of global health and social medicine. "They are like the canaries in a coal mine—they are prone to disease themselves and are good epidemiological markers for people around them who likely also have the disease."
In August 2012, Becerra, Mitnick and colleagues published a study highlighting the extent of the problem among children living with someone with multidrug-resistant TB (MDR-TB) in Peru. Based on household visits collected from 1996 to 2003, the researchers found that children accounted for approximately 20 percent of all TB cases detected in the homes. They also found that children living in homes of patients with MDR-TB had TB disease rates nearly 30 times higher than children in the general Peruvian population.
In October 2011, with collaborators at the National Institute for Research in Tuberculosis in India, Becerra launched the Sentinel Project on Pediatric Drug-Resistant Tuberculosis. This is a global effort among researchers, caregivers and advocates from more than 40 countries. Their aim is to raise visibility of pediatric drug-resistant TB to child health and to disseminate the best practices on preventing child deaths from this treatable disease.
"We are planning multisite studies in Peru, India, South Africa and other areas with high TB rates to gather better, more comparable information about how drug-resistant forms of TB are affecting children," said Becerra. Another joint project is gathering and compiling stories of children affected by drug-resistant TB to increase awareness about the new resources and new science needed to improve treatment of children with drug-resistant TB.
Multiple Drugs, Multiple Approaches
In 2008, Mitnick published a paper that highlighted the results of a large study showing that having extensively drug-resistant TB (XDR-TB) was not a death sentence. Of the 651 patients analyzed for the study, roughly 60 percent of the 48 patients with XDR-TB were completely cured compared with 66 percent of 603 for patients with MDR-TB. Furthermore, the study showed that receiving personalized care at home or in community-based settings was crucial to effective treatment.
Mitnick is now involved in a Phase II trial of rifampin (or rifampicin), one of the most commonly used anti-TB drugs, to evaluate whether higher doses may shorten treatment time.
"Currently, patients have to take drugs for at least six months," said Mitnick. "Existing data suggest that, if we increase the daily dose of rifampin, we can safely shorten the treatment time." The current dose of rifampin was selected nearly 40 years ago, when treatment was shortened to 9 months from 18 months. According to Mitnick, the traditional attitude in the development of tools to fight TB has been to "stop at what is good enough." And since cost often drives treatment, a weekly dosage that TB patients could afford resulted in the six to nine month treatment time.
The prolonged treatment time, apart from running the risk of enabling the bacteria to evolve drug resistance, poses a logistical problem for patients and clinicians alike. "The longer people are sick, the harder the disease becomes to treat," said Becerra. Shorter drug regimens are needed for both drug-susceptible and drug-resistant forms of TB. For this reason, the researchers work closely with programs that include lay health workers who support patients to either take the medicines at home or in a setting more convenient than a health center. 
Spreading the Message
Another group of HMS, HSPH and Partners In Health researchers is working in Russia on a community-based approach to improve delivery and compliance of medicine among TB patients. In addition to economic problems and the growing AIDS epidemic in post-Soviet Russia, the country has faced an epidemic of tuberculosis.  While the prison system is partly accountable for increased rates of TB—rates of incarceration are high and overcrowded conditions are conducive to the spread of TB—the epidemic has also taken hold in the civilian population. While in the United States less than four in every 100,000 people contract TB, in Russia that rate is closer roughly 80 per 100,000. And with such a crippling rate of infection, Russia also has one of the highest rates of multiple-drug-resistant TB.
"Russia has a well-developed system of hospital-based care, but, for TB patients, is lacking a good system for ambulatory care," said Salmaan Keshavjee, HMS associate professor of global health and social medicine in the Division of Global Health Equity at Brigham and Women's Hospital. "We are working to help develop a system of treatment accompaniment: If tuberculosis patients who require support have access to a nurse or health-worker, than it's easier for them to finish the course of treatment."
Just like Mitnick's and Becerra's work, this project also has roots in Peru. When the initiative showed promise, the researchers decided to begin a similar project in Tomsk, Russia and then in Lesotho, in Africa. In addition to these projects, Keshavjee and TB researchers at PIH signed the "Zero Declaration," a pronouncement drafted by an independent group of researchers, policy makers and activists for the purpose of ultimately eliminating TB deaths worldwide.
"We may not be able to stop transmission of disease at this point in time," said Keshavjee, "but we can at least prevent people dying from it."
A major obstacle to public awareness of TB is the relative lack of grassroots advocates pushing for measures to combat the disease. The researchers hope that initiatives like the ones in Peru and Russia, which have already provided large amounts of data to inform global policy on the community-based treatment of drug-resistant TB, will continue to provide examples of how to improve tuberculosis programs and treatment outcomes. In addition, Keshavjee and other TB researchers believe that partnering with HIV advocates and caregivers will raise awareness about TB at the grassroots level. 
When the AIDS epidemic broke out, private organizations, celebrities and philanthropists alike worked to campaign and raise awareness of the deadly disease. Since TB and HIV often exist as a co-infection, some of the same advocates are extending their focus to include TB and still help people with HIV.
"Now that people are living with HIV, many of them are dying of TB, including children," said Becerra. "It's an opportunity to appeal for more attention to be paid to TB." 
A Good Offense
Even if effective measures are put in place to properly administer treatment and to keep track of vulnerable subgroups, prevention should still be a priority. TB exists in two stages—latent and active. In the latent stage, a person could be carrying the bacterium, but not presenting any symptoms. When the disease is in the active phase, the patient presents symptoms such as coughing, fatigue and weight loss.
"The problem is latency," said Keshavjee. "Latent TB has to be treated as well to prevent future active cases." 
In some developing countries, children are often given the BCG (Bacillus Calmette-Guérin) vaccine as a preventive measure.
"Unfortunately, the vaccine offers limited benefits," said Mitnick. "It protects children from rare forms of TB disease, but children can still get pulmonary TB and the vaccine doesn't offer protection in adulthood either."
According to Keshavjee, it is common practice in Western countries to administer isoniazid, a commonly used TB drug, as prophylactic, or preventive, therapy.  While this is the standard of care in rich countries, the WHO has not yet made the same recommendation for poor countries.
"A lot of the problem with global TB policies outside of rich countries is that current practices are often driven not by science, but by dogma around cost-effectiveness," said Keshavjee. "We cannot let economic thinking define the management of TB, especially if we want it to be effective."
All the researchers agree that even with many effective measures in place, more can be done to curb the spread of TB.
"The knowledge of the biology of the disease—not to mention the social determinants of the disease—has not been used very well," said Keshavjee. "We need to let science drive our approaches to controlling the disease."
Becerra agrees. "We have to do something radically different to see any sort of change in the prognosis of TB," she said. "But I'm optimistic about what we can achieve if researchers, caregivers, and advocates work together."
Follow
HMS
Stay informed via email on the latest news, research, and media from Harvard Medical School.