News
From saving lives to expanding knowledge to shaping global policy, the challenges of a career at HMS and its affiliates are immense and rewarding. But for faculty, staff and students balancing work and family, another challenge can be overwhelming: arranging child care in a community where demand far outstrips supply.
That challenge drew 180 participants on Jan. 25 to "Child Care Summit: Future Directions," organized by the Joint Committee on the Status of Women at HMS and the Harvard School of Dental Medicine with the HMS Office for Faculty Affairs and Provost's Office at Harvard University. On March 15, summit organizers shared conclusions from the summit and next steps toward addressing child care needs across the HMS community.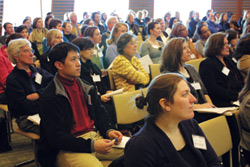 "We are energized by the combined efforts of everyone who contributed to this work," said Susan Farrell, faculty chair of the Joint Committee and assistant professor of medicine at Brigham and Women's Hospital. "And we will be moving forward in three important ways."
The Joint Committee spelled out those ways in a letter, announcing that it would support the creation of a consortium of child care champions across institutions; explore with HMS leadership efforts to address child care issues; and convene a subcommittee to guide ongoing work. The authors also summarized recommendations that emerged from breakout sessions at the summit, from expanding options for flexible work hours to building information networks across institutions.
To read the full report from the Child Care Summit, or to learn more about the Joint Committee on the Status of Women, including how to join, visit the JCSW website.
Follow
HMS
Stay informed via email on the latest news, research, and media from Harvard Medical School.