News
Every year, drug-resistant tuberculosis (DR-TB) kills thousands of children. TB, which killed one in four people worldwide in the 1800s has been widely controlled in the developing world, but it continues to cause the death of two million people in poor communities around the globe. Many of the afflicted are children.
The challenges of fighting pediatric TB are particularly daunting. A child infected with TB is likely to progress to disease and death more rapidly than an adult. Diagnostic tools are often inaccurate and can take months to determine whether a child's strain is resistant to antibiotics. In addition, without pediatric formulations of most drugs, treatment is difficult to administer.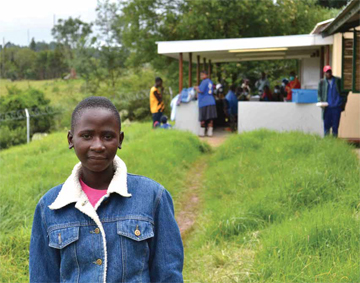 Treatment Action Group (TAG), in partnership with the Sentinel Project on Pediatric Drug-Resistant Tuberculosis (Sentinel Project) today released We Can Heal: Prevention, Diagnosis, Treatment, Care and Support: Addressing Drug-Resistant Tuberculosis in Children.
We Can Heal, published in anticipation of World TB Day on March 24, calls for urgent attention to the global problem of pediatric DR-TB. The stories of 30 children with DR-TB in 30 countries are a testament to the need for improved programs, policies, and tools to reach the goal of zero TB deaths, new infections and suffering, the authors of the report say. The report calls for political and financial investments in health systems to treat the disease and for focused research to better understand the epidemiology and treatment of childhood TB.
"Children are sentinels both for recent transmission of DR-TB and for our collective response to this disease," said Mercedes Becerra, HMS associate professor of global health and social medicine and cofounder of the Sentinel Project. "Each child's story shows us how our current inadequate tools and practices make children with TB invisible and helps us discern how to reverse this neglect."
For example, the report includes the story of Lebogang, a three-year-old from Botswana who did not receive effective therapy until nearly a year after his TB diagnosis. He was killed by DR-TB. His story reveals unacceptably long lag times between diagnosis and appropriate treatment for DR-TB, the authors say.
Menkhu, a 15-year-old from Nepal, struggles to keep down 13 pills each day and has lost her hearing due to her medications, showing the pressing need for more tolerable TB drugs in child-friendly formulations.
In the absence of reliable data on pediatric DR-TB, these stories are critical, the authors say.
"We Can Heal is vital to our understanding of this global threat to children," said Colleen Daniels, TAG's TB/HIV Project Director. "Until adequate investments are made to gather data about the real numbers of children affected by DR-TB, these individual cases are our richest source of information."
Pediatric DR-TB is preventable and curable. To achieve the goal of zero child deaths from TB, however, the global community must commit long overdue political will and resources to address the gaps identified in this collection, the authors of the report say.
As Sofia, a DR-TB survivor from Colombiafeatured in the report said, "We can heal."
Follow
HMS
Stay informed via email on the latest news, research, and media from Harvard Medical School.