2014
2014 Talks@12
---
Tuesday, December 2
Ebola and the Future of Global Health Equity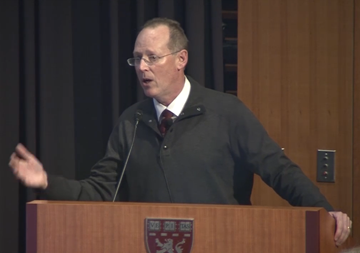 Paul Farmer discusses what the outbreak is teaching us about the fractured global health system, and how we can build on the current crisis response to create long-term solutions.
Speaker:
 
Paul Farmer
Kolokotrones University Professor of Global Health and Social Medicine
Head of the Department of Global Health and Social Medicine, Harvard Medical School
Introduction by:
Jeffrey S. Flier
Dean of the Faculty of Medicine, Harvard University
Caroline Shields Walker Professor of Medicine, Harvard Medical School
Click here to watch.
 
---
November 18, 2014
In Praise of Giving and Gratitude

Why make time for giving and gratitude? It takes only a few moments to thank a colleague or help someone in need, but for many of us, setting aside this time gets lost in the shuffle of our everyday lives. In this talk, Michael Craig Miller explains why taking time to give and express gratitude benefits not only our community, but also our own well-being.
Speaker:
 
Michael Craig Miller
HMS Assistant Professor of Psychiatry at Beth Israel Medical Center
Senior Editor for Mental Health Publishing at Harvard Health Publications
---
April 14, 2014
The Physician as Writer
Poetry, news articles and blogging all provide windows into a day in the life of today's physician. At this Talk@12, you will have the opportunity to hear from two members of the HMS faculty who reflect, through writing, on their experiences as physicians, one a poet and the other a journalist. What drives them to share what it means to be a physician through the art of storytelling? Each speaker shares their favorite work.
Moderator:
Russell Phillips
Director, HMS Center for Primary Care
William Applebaum Professor of Medicine
Professor of Global Health and Social Medicine
Speakers:
Suzanne Koven
Assistant Professor of Medicine
Massachusetts General Hospital
Rafael Campo
Associate Professor of Medicine
Beth Israel Deaconess Medical Center
Click here to watch.
---
April 7, 2014
Medical Marijuana: What are the facts?
What are the facts and perspectives related to the legalization of medical marijuana? As more states — including Massachusetts — legalize the use of medical marijuana and grant dispensary licenses, many questions have been raised about how marijuana can be used to treat patients. Faculty experts discuss their views and take questions on the history of medical marijuana and where we are today.
Moderator:
Vasudev Mandyam
Instructor in Medicine
Beth Israel Deaconess Medical Center
Speakers:
Lester Grinspoon
Associate Professor of Psychiatry Emeritus
Kevin Hill
Assistant Professor of Psychiatry
McLean Hospital
Click here to watch. (eCommons log-in required)