News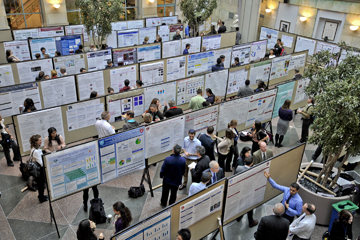 Harvard Medical School student Jay Kumar, who grew up in Oklahoma, returned to his home state last summer to study the implementation of health care reforms, specifically patient-centered medical homes. The second-year student said he learned a great deal about his state and made crucial connections related to his understanding of current health care delivery and policy questions.
"My long-term goal is to go back to Oklahoma to help improve health care," Kumar said.
Kumar, who won first place in the Leon Eisenberg Prize for Medicine in Society Research for his study, was among nearly 200 students presenting at the 74th Soma Weiss Student Research Day on Jan. 16.
The HMS and Harvard School of Dental Medicine students shared the results of research and service projects worked on last year on a vast range of topics, from the use of microstate analysis of brain waves as biomarkers for neurological disease to the shortage of surgeons, obstetricians and anesthesiologists in low- and middle-income countries worldwide.  
The annual event, which features poster sessions and oral presentations in the Tosteson Medical Education Center, honors the memory of Soma Weiss, an inspiring teacher and physician at HMS and an ardent supporter of student research. This year's projects included basic, translational and clinical biomedical research, policy studies, work in the medical humanities and analyses of innovative health systems and technologies.
The goal of Soma Weiss Day is to provide the HMS community with insights into ongoing student research efforts, and to encourage networking and cross-pollination between different segments of the community, organizers said.
Presenters included students in in the MD, PhD, DMD and MD/PhD programs at HMS and HSDM. The organizers encourage students to report on ongoing research, not only finished projects, and to emphasize the importance of communication and process in biomedical research.
Many of the students presented research that highlighted areas of interest based on previous academic work or on personal or professional interests. HMS student Madelyn Ho, a former dancer with the Paul Taylor Dance Company, wrote about the history of the emerging field of dance medicine.
Jasmine Thum, an HMS student in the Health Sciences and Technology program, built on previous graduate work in signal analysis for her work on a comparative study of pediatric and adult brain activity under anesthesia. She said her project gave her an opportunity to consider exciting ways to create a career that combines clinical and research work.
Students said that the process of thinking about a research problem, developing a method to answer questions and executing their plan, was a great learning experience.
Noor Beckwith, an HMS student who has developed tools to facilitate the implementation of a mental health program in Haiti, added that the presentations themselves were also valuable.
"When I talk to people about the project, they give me great ideas about how to continue the work in exciting new ways, both with programs in Haiti and in the Haitian immigrant community in the Boston area," Beckwith said.
Alexander Blair researched the degree of variation in local implementations of the WHO surgical safety checklist developed by Atul Gawande, HMS professor of surgery at Brigham and Women's Hospital and professor in the Department of Health Policy and Management at Harvard School of Public Health. Blair said he was surprised and excited by the collaborative nature of research in Gawande's Ariadne Labs, where Blair conducted his study.
In attempting to find new ways to perform surgery and academic research, Ariadne Labs is trying to break down highly traditional and hierarchical systems, Blair said.
"It blew the top off what I thought research was," he said.
At a reception following the poster session, Jules Dienstag, the Carl W. Walter Professor of Medicine and dean for medical education at HMS, welcomed students, faculty and community members.
While many of the research approaches used by students for their projects were undreamed of in 1940 when Soma Weiss Day began, Dienstag said that the crucial element of strong relationships between students and their faculty mentors has remained constant.
Noting that many of the students expressed great passion for the research process and a strong desire to continue their work, Dienstag said, "This day is really the beginning of something great."
Patricia D'Amore, the Charles L. Schepens Professor of Ophthalmology at the Schepens Eye Research Institute and chair of the HMS Faculty Committee on Scholarship in Medicine, introduced the student speakers selected to present their findings and presented awards for outstanding poster presentations in five categories.
2014 Student Speakers
Emilie Mitten
Physiologic investigation of the renin-angiotensin-aldosterone system in HIV patients
Lisa Rosenfeld
Assessing the use of interactive voice response technology in a smoking cessation intervention
Anna Jo Smith
The potential impact of health insurance exchanges on children's health insurance access and coverage
Caleb Yeung
Cleavage of the anaplastic lymphoma kinase in neuroblastoma
2014 Poster Award Winners
Elizabeth D. Hay Prize for Basic Science Research
1st Jenny Chen
Hearing the light: A behavioral and neurophysiological comparison of two optogenetic strategies for direct excitation of central auditory pathways
2nd Avanthi Raghavan
Functional characterization of a novel genetic locus for plasma cholesterol
Judah Folkman Prize for Clinical/Translational Science Research
1st Jasmine Thum
EEG power differs by orders of magnitude between children and young adults under sevoflurane general anesthesia
2nd Michael Lin
Foveal disorganization of retinal inner layers as predictor of visual acuity in diabetic macular edema
Charles Janeway Prize for International Research or Service
1st Marguerite Thorp Basilico
Civil society participation in HIV policy: A case study in Malawi
2nd Melanie Molina
Assessing the information on post-treatment breast cancer survivors and exploring survivorship care in Mexico
Robert Ebert Prize for Community Health Delivery or Service
1st Ida M. Bernstein
Cervical cancer screening and barriers to gynecological care in a cohort of FTM patients accessing services at an urban community health center
2nd Shruthi Rajashekara
A community-based needs assessment of the Navajo food environment: Understanding barriers to healthy food access
Leon Eisenberg Prize for Medicine in Society Research
1st Jay Kumar
Advancement of patient-centered medical homes under Oklahoma Medicaid program from entry to optimal level: Barriers and incentives
2nd Lisa Rotenstein
A patient-centered electronic care planning tool that facilitates team-based care and patient engagement
Follow
HMS
Stay informed via email on the latest news, research, and media from Harvard Medical School.