News
Social Justice and Health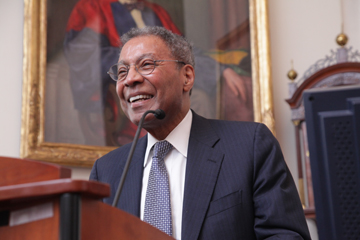 If your ZIP code is more important for your health than your genetic code, then physicians need to focus on helping patients overcome the social and economic obstacles that stand in the way of their good health.
That was the message delivered by visiting lecturer Pedro Greer at the 2013-2014 Howard, Dorsey, Still Lecture and Diversity Awards Ceremony held at Harvard Medical School on March 13.
In a lecture that attendees called both provocative and inspiring, Greer called on physicians and medical educators to address the lack of social justice that he said causes increased morbidity, suffering and mortality in impoverished neighborhoods in the United States.
Greer said this inequity contributes to the nation's "embarrassingly poor health outcomes" compared to countries that spend less on health care, noting that the United States sits just above Slovenia in international rankings.
"Are we willing to accept poor results, or are we willing to be the leaders in our nation and say, 'This isn't right?' " Greer asked.
Greer was invited to be the Howard Dorsey Still visiting lecturer in recognition of his commitment to health equity and social justice. The lecture is held in honor of the first three African-Americans who graduated from Harvard Medical School in the mid-1800s, and it recognizes individuals who have made significant contributions to advancing the nation's health.
Greer is known for his lifetime commitment to improving access to health care in the U.S. He has worked as an advisor to two U.S. presidents and helped create groundbreaking health centers and services for underserved populations in south Florida, including homeless and undocumented families. Greer was a 2009 Presidential Medal of Freedom honoree and a 1993 MacArthur Foundation "Genius Grant" Fellow.
In July 2007, Greer joined the newly established Florida International University Herbert Wertheim College of Medicine as assistant dean for academic affairs, where he led the creation of the Department of Humanities, Health and Society. In January 2009 he became founding chair of the department.
In his remarks, Greer outlined the new Florida department's unique undergraduate medical education program, which is designed to prepare physicians to assess and address the social determinants that affect health care access and health outcomes for their patients. These non-biological causes are responsible for 80 percent of disease, Greer said.
The program's approach is to embed medical students in teams with community outreach workers, social workers and others (such as volunteers from the FIU law school) who have special skills that enable them to address social, economic and logistical challenges to accessing health care.
If the lack of public transportation makes it difficult and expensive to travel to pick up prescriptions, for example, the medical school teams facilitate transportation sharing in the community, taking advantage of resources like local churches.
The program also makes each medical student responsible for the health of a group of households over several years, giving each student the chance to see the impact of their recommendations on their patients and their patients' families and communities. 
The data that the Florida teams are collecting suggest that the method is working well, Greer said. Even in households that were visited only by community outreach workers—without any medical interventions from the team at all—measures of health outcomes have already improved significantly.
By building true collaborations with community members—starting by asking what they need instead of offering predetermined solutions—Greer's program is harnessing the power of diverse perspectives and skills to improve health, he said.
"We are trained to take care of the consequences of the social determinants, we're not trained to address them," Greer said. "We need to bring in the players who can address these challenges."  
Seeing encouraging results in the most challenged neighborhoods in south Florida, Greer said, is a call to action to make the U.S. the healthiest nation on Earth, and then to turn around and make the rest of the Earth as healthy as it can be.
The lecture also provided an opportunity to recognize the contributions of HMS faculty and staff toward improving diversity at the School and providing the best possible research, education and service to improve human health.
"Diversity inclusion remains one of our most important and also most challenging goals," said HMS Dean Jeffrey S. Flier. "It's not just a matter of fairness, but of ensuring excellence in all we do." 
2013-2014 Diversity Awards Recipients
The following awards were presented at the Diversity Awards Ceremony:
Diversity Lifetime Achievement Award
Alvin F. Poussaint
Professor of Psychiatry, Faculty Associate Dean for Student Affairs, and Director, Office of Recruitment and Multicultural Affairs, HMS
The Harold Amos Faculty Diversity Award
Jose R. Romero
Assistant Professor of Medicine, BWH
Brian J. Swann
Instructor of Oral Health Policy and Epidemiology, HSDM
MGH Vincent Department of Obstetrics and Gynecology
Diversity Action and Implementation Advisory Committee
Acknowledging, in particular, the work of:
Marcela G. del Carmen 
Associate Professor of Obstetrics, Gynecology and Reproductive Biology, MGH
Aaron K. Styer
Assistant Professor of Obstetrics, Gynecology and Reproductive Biology, MGH
Partners Neurology Residency Program
Acknowledging, in particular, the work of:
Tracey A. Cho
Assistant Professor of Neurology, MGH
Tracey A. Milligan
Assistant Professor of Neurology, BWH
The Sharon P. Clayborne Staff Diversity Award
Rhuel P. Worrell, Manager, Custodial Services, HMS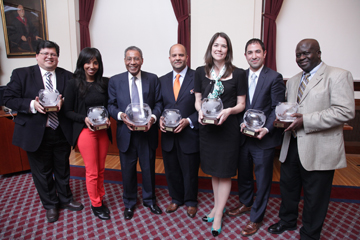 Follow
HMS
Stay informed via email on the latest news, research, and media from Harvard Medical School.