News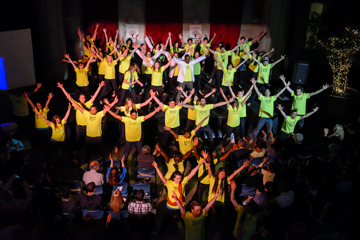 "Simunye" is a Zulu word that means "The Story of Us."
This month, students from Harvard Medical School and Harvard School of Dental Medicine told their story in FABRIC 2014, celebrating their own cultural identities but also reaching across boundaries to weave a tapestry of unity.
More than a talent show, FABRIC doubles as a persuasive pitch to prospective students weighing whether to accept an HMS invitation to join next year's class. In song, dance, video, spoken word, trivia challenge and parody, current students showed off their artistic abilities, made fun of themselves and urged the audience to embrace the student body's diversity.
"Your identity is not only here, but celebrated," said Elorm Avakame, one of three student coordinators of the show, produced by primarily first-year students.
Starting a thunderous series of musical performances, dancers shook the black-draped stage in the TMEC atrium, where whoops and rhythmic claps from the crowd echoed excitement for "Dances of the African Diaspora." Then the stage emptied for Arthur Bartolozzi, another show coordinator along with Adam Patenaude, who used the spoken word to paint a picture of the patients the medical students will meet and learn from in Boston.
In a quieter moment, classical Chinese stringed instruments played by Louise Xu and Jie Sun alternated between delicate counterpoint and thrumming tempos. Korean pop followed, with Ruby Kwak and Stephanie Koo singing in close harmony.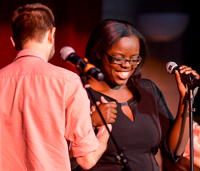 Lead singers Mary Tate and Benjamin Matthews kept the harmony tight on "Titanium," an anthem with roots from four continents that combined funk, soul and R&B. Together they nearly brought down the house with their soaring crescendo of jubilation.
Throughout the evening, while the singers and dancers caught their collective breaths, hosts Jen Bido, Grace Chao, Nelly-Ange Kontchou and Sam Slavin kept the crowd guessing with trivia questions about Boston, such as "Which languages are most commonly spoken after English and Spanish?* The prizes? Ping-pong balls thrown to winners by student host and former softball whiz Bido.
The students channeled the Ray Charles standard "I've Got a Woman" in "I Got Admitted," meshing with a later video they produced that asked members of the Class of 2017 what they did when they first heard they got their admission emails.
In the video, the students said their biggest fear was that a second email would arrive saying it was all a mistake. Their biggest worry? That all the other students would be nerds and "gunners" for grades.
But student-produced videos showed another side of HMS, highlighting ski trips and parties, along with dire warnings about physiology and sleep deprivation, balanced by delight in how down-to-earth people at HMS really are. They also showed how life in Vanderbilt Hall, the students' dorm, can be fun.
Onstage again, Latin American rhythms moved Jessica Ruiz, Nina Woolley, Daniela Delgado, Lauren Kuhn and Andrew Carranco in swaying steps and swirling turns choreographed by José Omar Gutiérrez in "Cuandro Entra La Manana."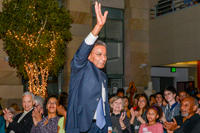 The students paused after intermission to honor the leader who expanded enrollment of underrepresented medical students at HMS: Alvin Poussaint, HMS professor of psychiatry, faculty associate dean for student affairs and director of the Office of Recruitment and Multicultural Affairs. His contributions dating to his arrival at HMS in 1969 were recognized with a warm tribute from student Mary Tate to "our living legend."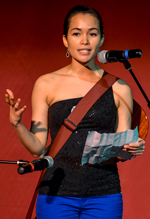 Jacqueline Boehm played classical guitar and sang a stirring rendition of "Barlovento," an example of Afro-Venezuelan culture, but first she called to mind the world's history of discrimination based on the color of one's skin.
"If nobody cares, racism will forever reign," she told the accepted students who were revisiting HMS. "Your community is here. Your people are here."
Step dancing dueled with tap dancing in "End of Time," sparked by a few Baryshnikovian ballet leaps by Alex Hahn and Patrick Vaughn. "Ain't No Sunshine" was full of yearning from singers Avakame, James Baker, Ethan Balgley, Robert Crutcher and Kristan Scott, accompanied by Sepehr Hashemi on guitar, Andreas Mitchell on saxophone, and Andrew Taliaferro on drums.
Another video called "White Coat" was FABRIC's answer to the second-year students' YouTube success "What Does the Spleen Do?"  Vaughn, Avakame, Tate and Clara Starkweather sported the white coats around the quad. Nancy Oriol, HMS associate professor of anaesthesia, dean for students and a good sport, had a cameo, to the crowd's delight.
Then the stage got really busy. Bollywood met bhangra with frenetic dances from South Asia amping up the already-high energy level. Sixty dancers pounded their bare feet on the black stage, whirling in identical neon-green T-shirts that said Simunye.
Standing ovations ensued. Their story told, the green shirts melted into the night as the students crossed Longwood Avenue and filed back into Vanderbilt Hall.
*Haitian Creole comes in third, the students said, followed by Chinese.
Follow
HMS
Stay informed via email on the latest news, research, and media from Harvard Medical School.