News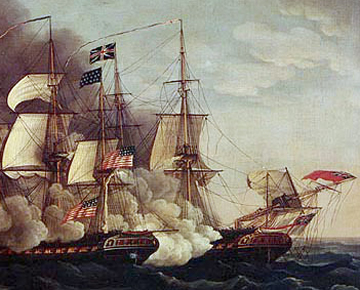 The tapestry of history is woven from the threads of the lives of the men and women who lived it. Two centuries on, what we know best about the War of 1812 are its decisive naval battles and the shifts the war caused in the balance of global power.   
As developments in the battles between the fledgling United States and Britain were unfolding, however, it was the small details that influenced the Americans' ultimate success: the type of tree a ship was built from determined how well it could withstand cannon blasts; the speed with which a naval surgeon could amputate a mangled limb might determine whether a sailor lived to see his home port again.
 To underscore the significance of early medical interventions, the USS Constitution Museum in Charlestown is currently featuring items from the Warren Anatomical Museum in the Francis A. Countway Library of Medicine at HMS and its Naval Medicine and the War of 1812 exhibit.
The Constitution exhibit examines how the interplay between military, medical, technological, environmental and personal histories contributed to the crucial role the ship played in the rise of the young United States as a world power, also allowing a glimpse into what life was like for the sailors, marines and officers of the Constitution.
Two osteological preparations from the Warren collection include a fragment of a mandible from a British officer on the HMS Guerriere, and an exfoliation from the femur of one of the Constitution's sailors, a man injured in a battle between the Constitution and the British frigate HMS Java off the coast of Brazil.
"At the USS Constitution Museum, we try to help visitors make a personal connection with the past," said Matthew Brenckle, research historian at the museum.
"The sailors of 1812 lived and loved and experienced joy and sorrow just like us. The osteological specimens from the Warren Anatomical Museum illuminate the human story in a way that no other artifact can," Brenckle said.
Both of the patients whose remains are on display were treated by the Constitution's surgeon, Amos Evans. After his tour on the Constitution, Evans was stationed at the Marine Hospital in Boston. While there, he earned a degree from Harvard Medical School in 1814 and, in 1815, was named first surgeon of the Fleet. 
Follow
HMS
Stay informed via email on the latest news, research, and media from Harvard Medical School.