News
Shedding New Light on Aging
It's an age-old question: we are all aging, but are we aging well? Whereas most people contemplate this question on the macroscopic level, researchers like Peter Kharchenko study the effects of aging at the cellular level.
"I think the process of aging is inherently fascinating to most people, as it underscores the human experience, from philosophical aspects to very pertinent health considerations," said Kharchenko. "And despite heated theoretical debates over the past century, there is little agreement over the key factors driving the natural aging process."
Kharchenko, a research associate in biomedical informatics at HMS, has recently received a New Scholar in Aging Award from the Ellison Medical Foundation to support his study of whether aging disrupts particularly sensitive parts of the genome—those containing mobile and repetitive genetic elements.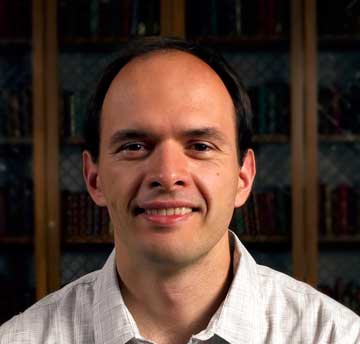 According to Kharchenko, such elements are abundant within our genomes and can in principle cause a variety of problems. Some of these elements, for example, can insert new copies of themselves at random genomic locations, whereas others can interfere with gene regulation or even lead to aberrant chromosomal rearrangements.
Such processes can lead to gradual degradation of underlying tissues. To guard against the harmful consequences of repeat activity, cells normally deploy a number of defense strategies with epigenetic mechanisms, such as DNA methylation or histone modifications, playing a key role in keeping repeats in check.
The support provided by this award will enable Kharchenko and his colleagues to conduct necessary experiments and analysis to examine how these defense mechanisms are affected by aging. As an early-career investigator, the timing of this support is critical for Kharchenko and his team.
 "The support of the Ellison Medical Foundation is allowing us to pursue an independent project and will provide excellent exposure to the aging-research community," said Kharchenko.
The Ellison Medical Foundation New Scholar in Aging Award is one of several HMS Foundation Funds. Each year, several private foundations invite HMS faculty and postdocs to apply for their fellowships and grants, which provide critical funding at the early stages of a research career. 
Interested investigators must first apply through HMS Foundation Funds. A committee then selects the final candidates to submit applications to the foundations.
The application deadline for HMS nominations is October 16, 2012. Visit HMS Foundation Funds for more information.
Follow
HMS
Stay informed via email on the latest news, research, and media from Harvard Medical School.