News
Shaping the Future of Health Care
The U.S. health care system is in crisis, and the uncertain fate of the Affordable Health Care Act is in the hands of the Supreme Court, even as $910 billion is being wasted on excessive medical spending every year.  Something has to change. But the good news is, with change comes opportunity. 
That was the consensus of a group of health care experts who spoke at Harvard Medical School's Alumni Day Symposium on June 1.
Don Berwick, HMS lecturer on health care policy, senior fellow at the Center for American Progress, and former administrator of the Centers for Medicare and Medicaid Services, gave an overview of the current state of health reform, citing the great challenges—in policy and in politics—that the nation and the medical community face, but also citing possibilities for change.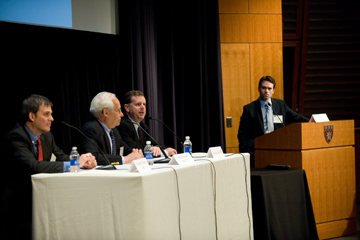 Paying for health, not procedures
One such model, Berwick said, is a new payment system in which we would pay for improved health instead of for medical procedures. In order to make that change, he stressed the need for transitional models that will allow health care providers to see the route from where they are now to where they need to go.
"Today, a hospital makes money from keeping beds full, not from keeping them empty," said Berwick, member of the HMS reunion class of '72.
The current system of rising government expenditures on health care is unsustainable, said David Cutler, Otto Eckstein Professor of Applied Economics in the Department of Economics and the Kennedy School of Government, and a research associate at the National Bureau of Economic Research at Harvard University.
Between Social Security, medical care and the defense budget, Cutler said, "The U.S. government is basically a big insurance company with a small Army."
The rising costs of health care are squeezing out all of the other public goods that a government might provide for its citizens, Cutler said, including, ironically, the cost of graduate medical education to train new physicians.
Cutler estimated that, with approximately 34 percent waste in the system, there is ample room for cost savings in the current system.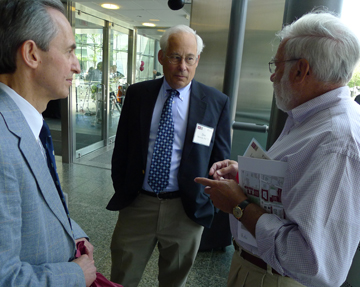 Private sector innovations
"Spending doesn't even need to fall, it just needs to rise more slowly," said
Michael Chernew, HMS professor of health care policy.
Chernew focused on private sector innovations in health care reform, where he noted similarly unsustainable trends in the rise of health care as a cost of overall employee compensation.
Health care offers particular challenges, because consumers do not always choose care rationally, he said.
"I'm an economist. I like markets. But in health care, markets don't work as well as economists would like them to," Chernew said.
Cost incentives need to be constructed and monitored carefully, Chernew said, to make sure that they are incentivizing the behaviors that will benefit health and provide overall cost savings to the system.
In some current systems, he noted, charging higher co-pays on medication has caused a decrease in the use of medications that control chronic illnesses, for example. Patients use less of the medication but their overall costs rise when their illness worsens.
He outlined a few options for containing costs to employers, such as increasing employee contributions, raising patient cost sharing, changing payment methods and promoting wellness.
"You can't say no to all of these options—they're going to happen. You have to choose which ones you want," he said.
Finding new ways                   
Fortunately, the panelists said, there are many experiments under way at the state and local level, and in private enterprise, through insurers and physicians groups.
"It's a real chance for the community of physicians and medical schools like Harvard to lead," Chernew said.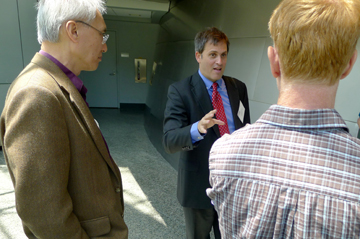 The consensus: The future will bring serious challenges to the health of the nation and to the business models of hospitals, physicians and academic medicine. It will also bring opportunities for physicians and medical schools to play a leading role in shaping a health care system that could deliver improved health across the population, a better experience of care and lower costs.
"This was a critical moment for our alumni to hear from a few members of the Harvard University family who have looked deeply at these challenges, and to share their own experiences and perspectives at a higher level of discourse than the current national debate on health care allows," said moderator Michael McWilliams, HMS assistant professor of health care policy, assistant professor of medicine at Brigham and Women's Hospital and member of the reunion class of 2002.
Follow
HMS
Stay informed via email on the latest news, research, and media from Harvard Medical School.